JICA Research Institute (JICA-RI) Director Naohiro Kitano gave an introduction to JICA initiatives related to Science and Technology Innovation (STI) at the latest Think20 Summit, an occasion for the think tanks of Group of 20 member nations to discuss various issues, held in Beijing, China, July 29-30, 2016.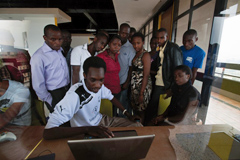 This Think20 Summit was organized by The Institute of World Economics and Politics (IWEP); Chinese Academy of Social Sciences (CASS); the Shanghai Institutes for International Studies (SIIS); and Chongyang Institute for Financial Studies, Renmin University of China (RDCY). It was supported by the China Science and Technology Exchange Center (CSTEC). China is currently chairing the G-20. A high-level dialogue and panel discussion took place under the theme of "Building New Global Relationships - New Dynamics, New Vitality, New Prospects."

Kitano spoke at a session with the theme "Prospect of STI cooperation and youth exchanges," part of the Panel 6 "T20 Innovation Forum: Towards a Collaborative, Inclusive and Dynamic Global Innovation Environment," held on July 30 and sponsored by CSTEC.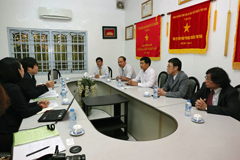 In his presentation, Kitano introduced cases that made use of ASEAN University Network/Southeast Asia Engineering Education Development Network (AUN/SEED-Net); SATREPS (Science and Technology Research Partnership for Sustainable Development), which supports joint research by researchers from Japan and developing countries; and Fab Labs, public-use workshops, in the Philippines. These were introduced as examples of contributing to youth exchange as part of JICA's STI cooperation. He explained ICT cooperation between Rwanda and the city of Kobe and its companies as an initiative related to the sixth Tokyo International Conference on African Development (TICAD VI) held in August 2016 in Kenya.

"The fact that in addition to the three Chinese think tanks that co-organized this summit, science and technology think tanks held sessions focused on innovation, is a manifestation of the Chinese emphasis on innovation. Next year, the Kiel Institute for the World Economy and the German Development Institute (DIE), both of Germany, which will chair the G-20, will lead T20 activities, and JICA-RI looks forward to continuing its participation then," Kitano said about this Think20 Summit.