Former JICA-RI Senior Research Fellow Mitsuaki Furukawa (currently chief representative for JICA South Sudan Office) contributed a chapter to the book "The Fragmentation of Aid: Concepts, Measurements and Implications for Development Cooperation," published by Palgrave Macmillan in August 2016.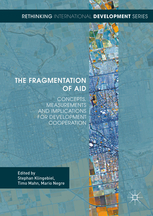 This book provides an assessment of an increasingly fragmented aid system associated with the increasing number of donors and other actors as well as goals and instruments.

Furukawa wrote Chapter 12, entitled "Aid Fragmentation and Effectiveness for Infant and Child Mortality and Primary School Completion." It discusses the effects of aid fragmentation in two social sectors: health and education. Aid fragmentation is considered a central issue to be tackled by the international aid community because it raises transaction costs by imposing administrative burdens on recipient countries.

He examines the overall effect of project aid fragmentation on the infant and child mortality rate and the primary school completion rate. He concludes that the effectiveness of aid-fragmentation reduction differs from one sector to another and depends on the degree of aid dependence of each recipient country in each sector.
Related Links