The Winter School of a graduate education program opened in Singapore in February 2013. The Program was organized by a coalition of five universities from five countries, including Japan's Waseda University. From JICA-RI, Deputy Director Naohiro Kitano was invited as a guest lecturer.
The Program (*1) was launched in 2011 by Waseda University's Graduate School of Asia-Pacific Studies (GSAPS) in collaboration with Korea University (Korea), Nanyang Technological University (Singapore), Peking University (China) and Thammasat University (Thailand). Supported by Japan's Ministry of Education, Culture, Sports, Science and Technology, it aims to foster graduates with high levels of expertise capable of contributing to the realization of both global and regional interests.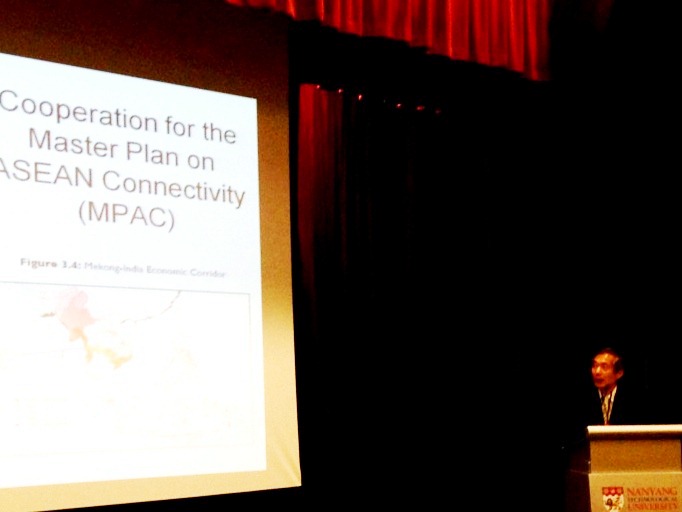 Kitano giving his lecture
Kitano lectured on the subject of "Japanese Development Assistance towards ASEAN Countries." He noted that Japan's approach to ASEAN countries can be described as the "Asian Model for Aid"—a synergy of trade, investment and aid. Furthermore, he stressed the significance of Japan's inclusive assistance approach that simultaneously supports the formation of industrial clusters through infrastructure development and comprehensive development of human resources in rural area with emphasis on education. Dr. Kitano also suggested that Japanese experience in development assistance for ASEAN countries could provide cues and suggestions to China that is rapidly strengthening economic ties with ASEAN countries.
(*1)The official name of the program is "the East Asian University Institute (EAUI) for Asian Regional Integration."
| | |
| --- | --- |
| Day | February 25, 2013(Mon) - March 01, 2013(Fri) |
| Place | Singapore |