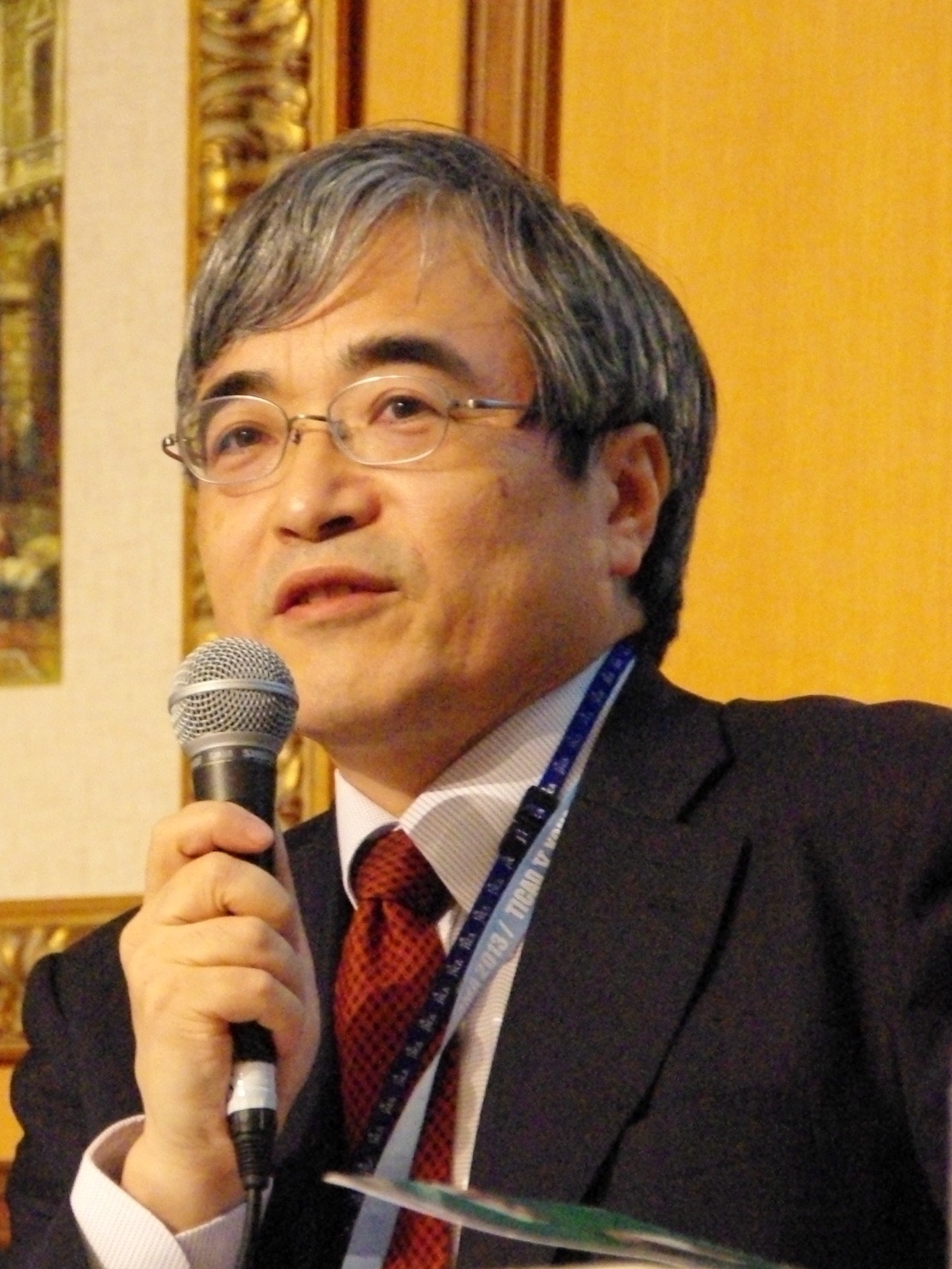 Director Kato
On June 3, JICA-RI hosted a TICAD V side event entitled "New Vision of Africa in 2050: Can Africa Achieve Inclusive and Dynamic Development?" at the InterContinental Yokohama Grand. The event aimed to forecast the economic and social structures in Africa towards 2050, and to discuss the specific policies that African governments and development partners ought to adopt for achieving better economy and society.
The event, moderated by JICA Vice-President Hiroto Arakawa, was kicked off with the presentation on a long-term vision of Africa in 2050 by Dr. Theodore Ahlers, Senior Associate at the Centennial Group in the United States. A panel discussion followed his speech; the panel included: Dr. Kanayo F. Nwanze, President of the International Fund for Agricultural Development (IFAD); Mr. Abdoulie Janneh, former Executive Secretary of the United Nations Economic Commission for Africa; Dr. Shigeo Katsu, President of the Nazarbayev University in Kazakhstan; and JICA-RI Director Hiroshi Kato.
Dr. Ahlers, based on the JICA-Centennial joint interim report on Africa 2050, first pointed out the volatility of future GDP growth rate and overseas investment in Africa. He went on to say that in a broad Africa 2050 scenario, it depends on the next 40 years or so whether African countries can catch up with the rest of the world. Introducing charts—GDP per capita growth rate, demographics and the number of the poor and others—in comparison with other regions, he stated that African countries need to promote regional integration within the continent, along with narrowing internal income disparities and providing equal opportunities to their citizens. He further indicated: "In light of different policies and growth strategies among African countries, they need leaders who are pragmatic and strong-willed and focus on results." He concluded his speech that with such strong leaders, African countries will realize the 2050 vision—: securing jobs and achieving sustained and high growth.
In the panel discussion, Dr. Janneh first stated that TICAD V in 2013 marks the 50th anniversary of the founding of the Organization of African Unity (OAU). He pointed out that the report for 2050 vision is a great contribution since it presents a guideline of priorities for future development in Africa. He also addressed that leaders with a clear vision for future Africa can establish development strategies, as well as stressing the importance of regional integration, such as a customs union. Next, Dr. Nwanze emphasized the need for 1) food security involving women, 2) overseas investment and other funds for enhancing competitive economy, and 3) agricultural development and 4) infrastructure building. Kato listed three important policy areas that JICA can make a contribution to: agriculture transformation including food security, human resources development, and infrastructure development. To pursuit these policy goals, he introduced the examples of JICA's projects in Kenya and Mozambique, where the comprehensive approaches are implemented such as infrastructure, agriculture, and social development. Dr. Katsu, the last panelist, pointed out the importance of adopting different approaches from a continent perspective to a country-specific one and of taking up a long-term strategy, because each African country has a different development challenge.
During the Q and A session, participants, especially from Africa, asked a flood of questions; in response to one of the questions on the relevance of conflicts and development, panelists replied that good governance and creating more job opportunities for the youth are keys for the resolution. They, at the same time, emphasized that sustainable growth will not be achieved without regional integration.
<Related Link>
News & Topics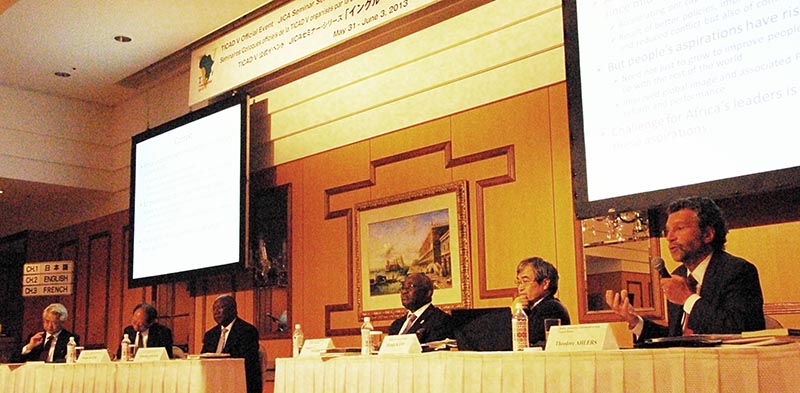 (from left) Vice-President Arakawa, Dr.Katsu, Mr. Jannet, Dr. Nwanze, Director Kato, Dr. Ahlers
MOVIE COMMENTARY
・Abdoulie Janneh / Former UN under- Secretary- General and Exective Secretary of UNECA
・Kanayo F.Nwanze / The International Fund for Agricultural Development
・Shigeo Katsu / Nazarbayev University, Kazakhstan
| | |
| --- | --- |
| Day | June 03, 2013(Mon) |
| Place | InterContinental Yokohama Grand |
| Related File | |