On July 16, JICA-RI and the Asia Foundation (TAF) co-hosted a public seminar entitled "Subnational Conflicts in Asia: Can Foreign Aid Help End Some of the World's Longest-Running Conflicts?" at the JICA Ichigaya.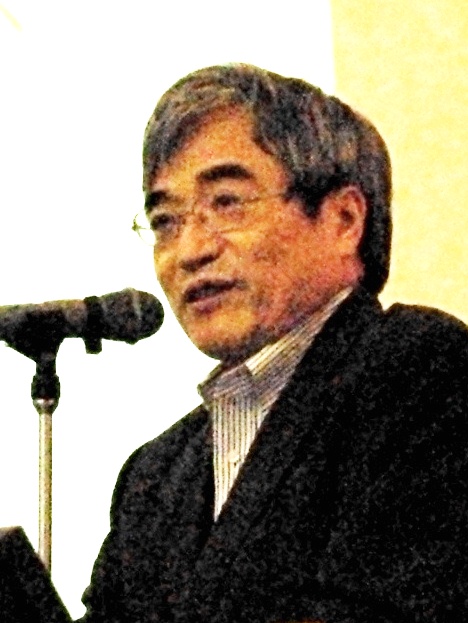 Director Kato
The seminar was the first joint event after the signature of a Memorandum of Understanding (MOU) of this April between TAF and JICA. It aimed to serve as a venue to exchange opinions based on a TAF's recently-published study "The Contested Corners of Asia: Subnational Conflict and International Development Assistance," inviting conflict prevention and peace-building experts from TAF and JICA.
In his opening remarks, JICA-RI Director Hiroshi Kato stated that the two organizations will promote their cooperation in a wide range of fields such as peace-building, environment, and gender. TAF Senior Advisor Abigail Friedman, who followed his speech, addressed in Japanese that TAF will endeavor to continue the work for the development in Asia through solid sober activities, quoting Matsuo Basho's haiku that expresses the hardship and importance of consistent work.
Subsequently, two experts from TAF gave presentations. Mr. Thomas Parks, Regional Director for Governance and Conflict of TAF, and Dr. Steven Rood, Country Representative of Philippines and Pacific Island Nations, and Regional Advisor for Local Governance, introduced their study report. Mr. Parks explained that the study aimed to examine the characteristics of subnational conflicts in Asia and to facilitate the effectiveness of aid in conflict-affected regions. Because the majority of the conflicts in Asia have taken place not in fragile states but in middle-income countries that enjoy relatively stable economic development, he stressed that new approaches should be adopted to address this type of conflicts.
Dr. Rood then introduced the case of Mindanao in the Philippines, pointing out that although numerous aid projects advocate peace and institutional transformation as their objectives, they rarely have basis analysis of how poverty reduction lead to peace and lack the evaluation and monitoring mechanisms.
Lastly, Mr. Parks, drawing on the findings of the study, made proposals to donors, such as: to build institutional knowledge and information on subnational conflicts in order to contribute to not only poverty reduction but peace-building in these areas; to enhance monitoring and evaluation on political and institutional transformation; and to design large-scale programs that are flexible and conflict-sensitive.
The panel discussion that followed the presentations focused on effective approaches for conflict prevention and peace-building in Asia. Together with Mr. Parks and Dr. Rood, Naoyuki Ochiai, JICA Senior Advisor to the Director General of Economic Infrastructure Department, JICA Senior Advisor Sachiko Ishikawa and JICA-RI Visiting Fellow Yoichi Mine (Professor of Doshisha University) joined the discussion as panelists. Ochiai introduced the J-BIRD, an aid program by the Japanese government and JICA in Mindanao, as an exemplary case that embodies TAF's suggestions. This social development support through J-BIRD has assisted the broader peace process in Mindanao in collaboration with other two processes—the International Contact Group (ICG) that facilitated peace talks and the International Monitoring Team (IMT) that monitored the local peace implementation. Ishikawa, laying out the cooperation between J-BIRD, ICG and IMT in Mindanao, explained that a synergetic effect was promoted by JICA's attempts to provide opportunities for exchanging views to a variety of stakeholders from the central government to local leaders. Visiting Fellow Mine, stating that subnational conflicts has been on the rise in Africa as is the case in Asia, briefed the outcomes of the JICA-RI research project "Preventing Violent Conflict in Africa." He pointed out the importance of the inequalities between socially defined groups—horizontal inequalities (HIs)—as well as political institutions.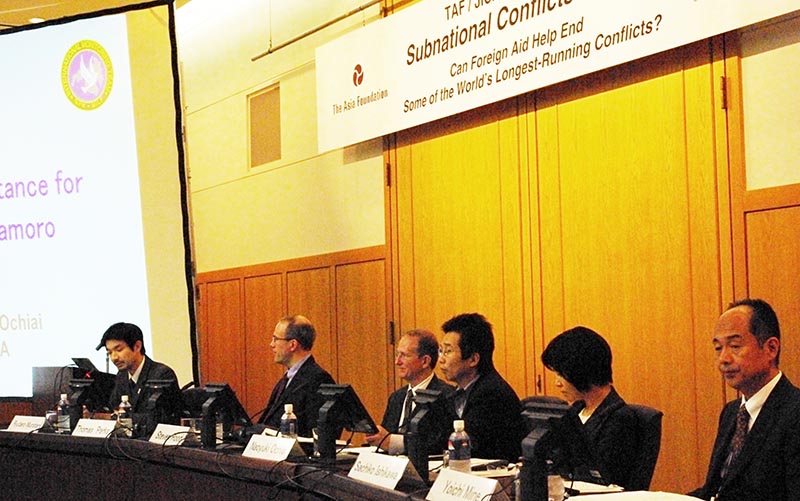 form the left, Murotani Research fellow,
Mr.Parks, Dr.Rood, Ochiai Senior Advisor,
Ishikawa Senior Advisor, Mine Visiting fellow
During the panel discussion, Mr. Parks stated that it is crucial to build institutional mechanisms within donors so that the Japanese good experience in Mindanao will be regularly applied to other conflict-affected areas. Visiting Fellow Mine pointed out that whereas in Africa subnational conflicts tend to break out suddenly in large-scale, low-intensity subnational conflicts tend to become chronic in Asia. The participants discussed the difficulty in verifying the progress of peace-building, outsiders' potential roles and their limitations, and the complexity of establishing political institutions. JICA-RI Research Fellow Ryutaro Murotani, moderator for the discussion, concluded the seminar that the concept of "human security" could be useful in tackling the challenges, while hoping to continue dialogue on the complicated tasks with many partners, including TAF experts.
MOVIE COMMENTARY
・Abigail Friedman / The Asia Foundation
・Thomas Parks / The Asia Foundation
| | |
| --- | --- |
| Day | July 16, 2013(Tue) |
| Place | JICA Ichigaya Building |