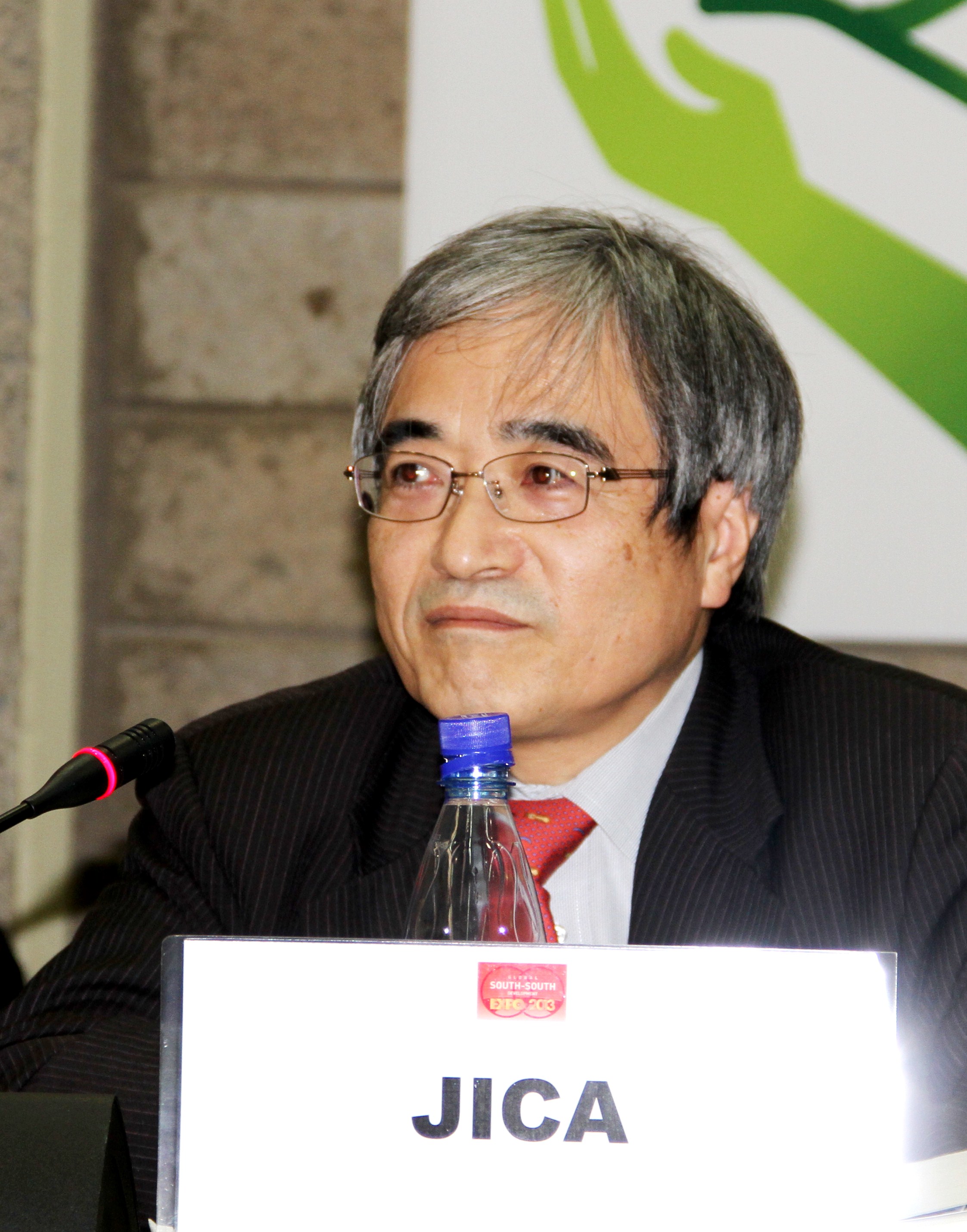 Director Kato
(Photo:UNOSSC)
The Global South-South Development Expo (GSSD Expo) 2013 took place at the United Nations Office at Nairobi in Kenya over the five days from October 28 through November 1. This was the sixth GSSD Expo since its start in 2008 and the first-ever event held in a developing country or in Africa. More than 1,000 participants assembled, including: government officials from African nations and delegates from Asian, European, and Latin American countries; officers of UN agencies such as the Deputy Secretary-General of the United Nations Jan Eliasson and Executive Director Achim Steiner of the United Nations Environment Programme (UNEP), one of the co-organizers of the Expo 2013; and representatives from international and regional organizations as well as major bilateral donors. All the participants, sharing their international experiences, held an active discussion.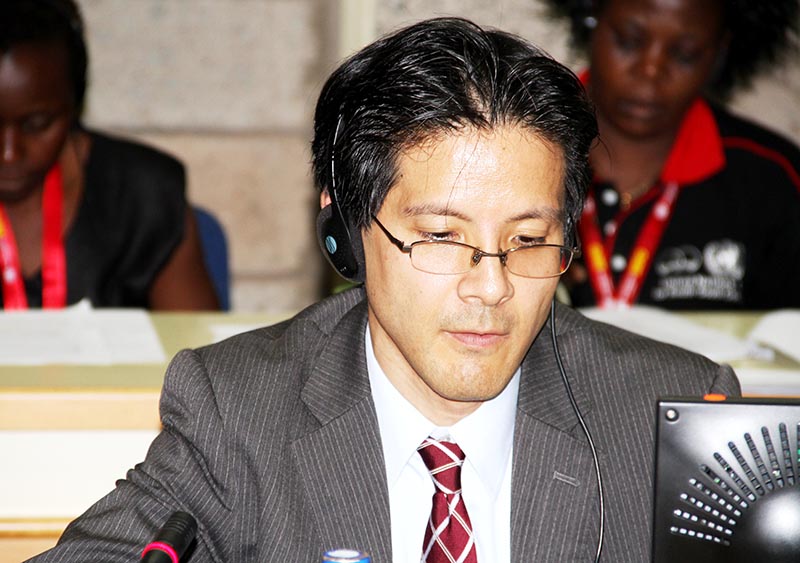 JICA-RI Director Hiroshi Kato (JICA Vice President) and Research Fellow Shunichiro Honda who have engaged in the study on South-South Cooperation and Triangular Cooperation (SSC and TrC) attended the Expo for disseminating the findings of the research projects that JICA has implemented and for sharing international trends with other participants. Representing the JICA headquarters, Senior Advisor Motohiro Hasegawa and Deputy Director Makoto Asai of the Office for Global Issues & Development Partnership of Operations Strategy Department also joined the event.
On October 31, JICA, the United Nations Office for South-South Cooperation (UNOSSC), and UNEP jointly hosted a High-level Forum of Directors-General for Development Cooperation, as part of the event, titled "South-South and Triangular Partnerships and the Post-2015 Development Agenda
<High-level Forum of Directors –General for Development Cooperation>
In his opening remarks, Director Kato stressed that TrC should be further promoted. He explained that knowledge and experience useful for development are possessed not only by developed countries and the middle-income countries, but small and poor nations also have them in abundance. He pointed out that TrC, therefore, can play a significant role in facilitating the sharing of these valuable resources among developing countries. Lastly Kato introduced two booklets: "Tackling Global Challenges Through Triangular Cooperation," a report compiled by JICA-RI on TrC of "green economy," the theme of the Expo 2013; and "Enhancing Management Practices in South-South and Triangular Cooperation," a report on case studies of capacity building for SSC and TrC jointly conducted by JICA, UNOSSC, and the Brazilian Cooperation Agency (ABC).
In the Session 1 titled "The Power of South-South and Triangular Cooperation: Learning from Experiences," JICA Senior Advisor Hasegawa and Dr. Charles S. Vairappan, Director of the Institute for Tropical Biology and Conservation of University Malaysia Sabah (ITBC/UMS), reported on the efforts of both capacity building in Sabah, Malaysia and their triangular knowledge exchange. They explained their efforts for biodiversity conservation through JICA's technical cooperation and an approach to share the experience and knowledge with other countries in Asia and Africa through third country training programs. They addressed that promoting SSC and TrC in collaboration with international frameworks and agencies is effective in tackling global issues such as biodiversity conservation.
In the Session 2 that followed, vibrant discussion was held under a theme of "Capacity Development in the Management of South-South and Triangular Cooperation." The discussion centered on capacity building for development cooperation by developing countries engaged in SSC (both pivotal and beneficiary countries) with JICA-RI Research Fellow Honda acting as the session moderator. In the final Session 3, "South-South and Triangular and the Post-2015 Development Agenda" as its theme, presentations and discussions took place on how SSC and TrC will contribute to the Post-2015 Development Agenda.
<Partnership Forum>
A partnership forum titled "South-South and Triangular Cooperation for Impact at Scale: Towards a Community of Practice and Learning Alliance" was convened on October 31, which the International Fund for Agricultural Development (IFAD) hosted with JICA, UNDP and other international agencies.
Director Kato, taking the rostrum, explained that JICA's organizational merger in 2008 enabled new JICA to pursue the synergy of the three modalities—loans, grant aid and technical cooperation. He continued to say that while scaling up has been increasingly mainstreamed into its operation, JICA has further strived to tackle the remaining challenges. As one of such endeavors, Kato mentioned collaborative research project between JICA-RI and the Brookings Institution on the scaling up, which jointly explored the opportunities and challenges of effective scaling-up.
At the Expo 2013, JICA co-hosted the High-level Directors-General Meeting as it did last year, presenting JICA's SSC and TrC research projects that focus on environmental field. They not only demonstrated Japan's and JICA's presence in SSC and TrC, but also made an intellectual contribution towards the implementation of better SSC and TrC for the future.

<Related Link>
"Tackling Global Challenges through Triangular Cooperation:Achieving Sustainable Development and Eradicating Poverty through the Green Economy"
| | |
| --- | --- |
| Day | October 28, 2013(Mon) - November 01, 2013(Fri) |
| Place | Nairobi, Kenya |