On November 25-26, the first workshop of authors on the research project entitled "Human Security in Practice: East Asian Experiences" was convened at JICA Ichigaya. The project aims to explore how the concept of "human security" and threats against human security are perceived in 13 East Asian countries—namely 10 ASEAN member countries, China, Korea, and Japan—and what added values may or may not be found in the concept of "human security".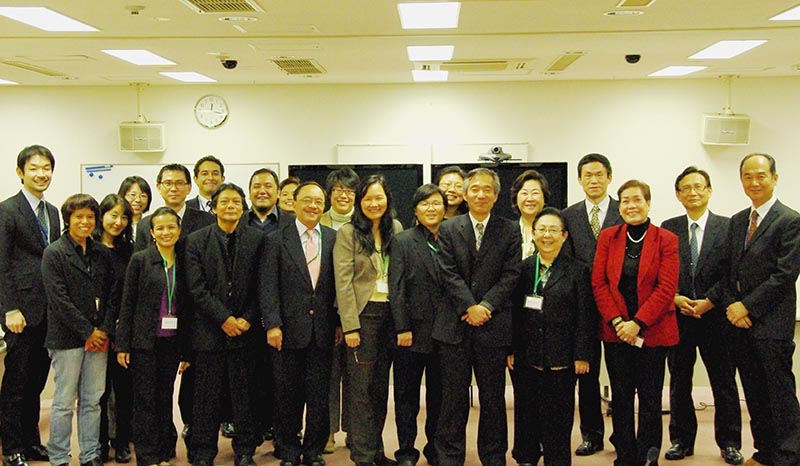 Workshop Participants on 25th
In the workshop, it was agreed that a survey will be conducted for the first phase of the project on how the concept of and threats against "human security" are perceived in the respective 13 target countries.
Professor Kaoru Kurusu of Kobe University presented the preliminary findings of the survey in Japan, which has been conducted prior to those in other countries. Among the other 12 countries, Professor Xiao Ren of Fudan University of China, Professor Eun Mee Kim of Ewha Woman's University of Korea, and researchers of the ASEAN-ISIS Network joined the workshop, each reporting on the overview of the discourse of, and the attitudes toward, the concept of "human security" and the related issues in each country. From JICA-RI, Visiting Fellow Yoichi Mine (Professor, Doshisha University), who has been heading the project on the Japanese side, Deputy Director Naohiro Kitano, Senior Research Advisor Keiichi Tsunekawa, Research Program Division Chief Hironobu Murakami, Research Fellows Ryutaro Murotani, Sachiko Goto, Oscar Gomez, and Miho Taka attended the workshop.
Various opinions were exchanged actively over the topic of how to conduct surveys in respective countries given the diversity in economic development, political situation, as well as in the challenges they have faced among the 13 countries. The research project is to conduct individual case studies in the second year and to summarize the study outcomes on the practical initiatives in "human security" in East Asia within the two-year project term.
| | |
| --- | --- |
| Day | November 25, 2013(Mon) - November 26, 2013(Tue) |
| Place | JICA Ichigaya Building |