For about two weeks from December 9 to 20, 2013, JICA-RI Executive Senior Research Fellow Mitsuaki Furukawa visited the German Development Institute (Deutsches Institut für Entwicklungspolitik: DIE) for the purpose of a personnel exchange between JICA-RI and DIE and enhancing mutual cooperation.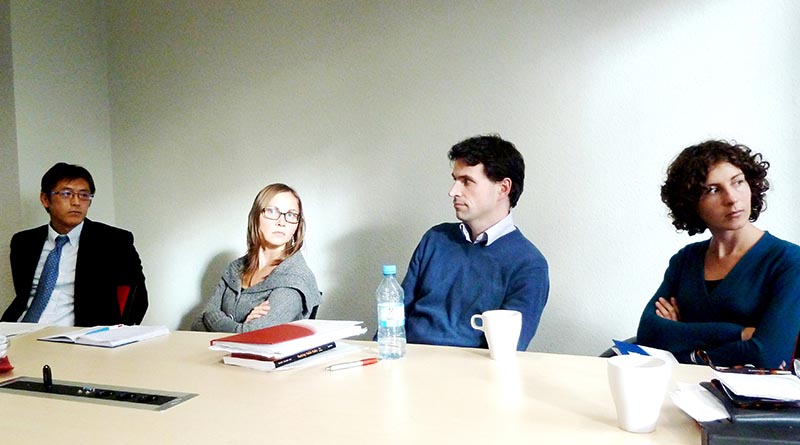 Executive Senior Research Fellow
Mitsuaki Furukawa(left)
DIE, a think tank in the international development field, has been providing recommendations to the European Commission (EC), the German government, and other agencies based on its wide-ranging research. DIE, for example, was requested to prepare the European Report on Development (ERD) 2013 by the EC, conducted detailed analyses and submitted recommendations on issues such as migration, tax, trade, and other aspects in cooperation with the Overseas Development Institute (ODI) and the European Centre for Development Policy Management (ECDPM).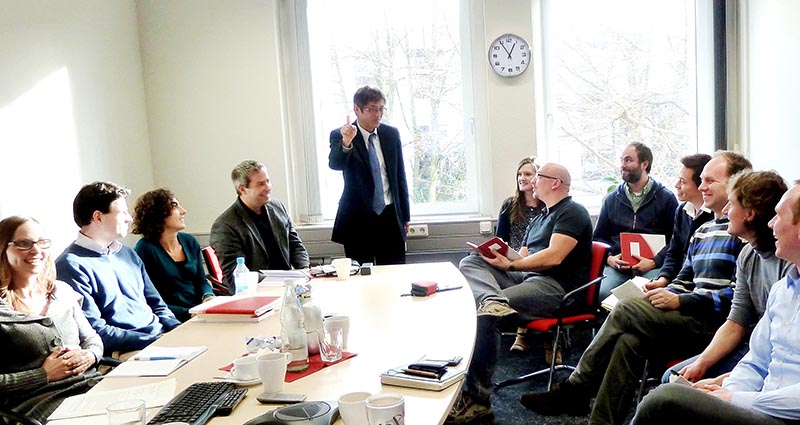 Furukawa gave a presentation
The theme of the joint research under the personnel exchange is "Aid Fragmentation." Furukawa has been working on this subject at part of his research on budget support under the framework of "Aid Strategies," which is one of the four research areas of JICA-RI. DIE's Department for Bilateral and Multilateral Development Cooperation, where Furukawa visited, has also been advancing research on "Aid Fragmentation" since Germany has taken a leading role in promoting "Managing Diversity and Reducing Fragmentation," which was discussed at the Fourth High-Level Forum on Aid Effectiveness in Busan, Korea, in 2011.
These circumstances led to the personnel exchange this time. During his visit to DIE, Furukawa attended the meetings of DIE researchers, the training programs for emerging donors, and the presentations at the Global Governance School. He also gave a presentation on the theme of "Aid Fragmentation and Aid Effectiveness: Infant and Child Mortality and Primary School Completion."
As the personnel exchange from DIE, Senior Researcher Stefan Leiderer of the Department for Bilateral and Multilateral Development Cooperation will visit Japan as JICA-RI's Visiting Scholar for three weeks starting mid-February 2014.
With the effort of the personnel exchanges, a joint workshop on the theme of the "Aid Fragmentation" will be organized at JICA-RI in late February 2014 while Senior Researcher Leiderer stays in Japan.
| | |
| --- | --- |
| Day | December 09, 2013(Mon) - December 20, 2013(Fri) |
| Place | German |