The workshop entitled "Last Mile in Ending Extreme Poverty" was co-organized by JICA-RI and the Brookings Institution in Washington, DC on January 30 and 31. With post-2015 development issues ("last mile"—those people who may be last to be included) in mind, the workshop for authors focused on three themes, namely (1) peace, (2) job security, and (3) resilience.
The workshop brought together JICA-RI representatives: Director Hiroshi Kato as an editor, Senior Research Advisor (SRA) Akio Hosono, Senior Research Fellow Go Shimada, Visiting Fellow Yoichi Mine (Professor of Doshisha University), and former Research Fellow Ryutaro Murotani (Representative, JICA Rwanda Office) as authors. The other authors include Senior Fellow Homi Kharas, Senior Fellow John Page, and Senior Fellow Bruce Jones (Professor of New York University) of Brookings Institution.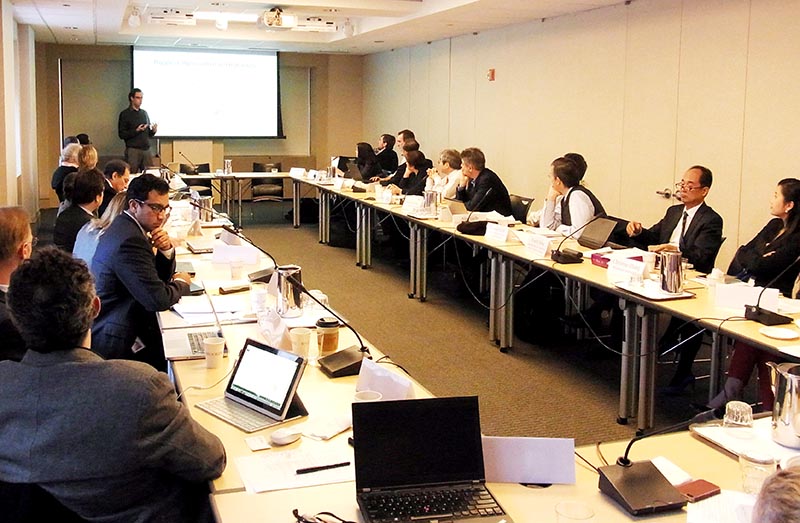 Workshop
At the workshop, SRA Hosono gave a presentation titled "Strategies for Inclusive Development in Agrarian Sub-Saharan Countries." Senior Research Fellow Shimada gave a presentation titled "Towards Community Resilience: The Role of Social Capital after Disasters." Visiting Fellow Mine and former Research Fellow Murotani presented together under the title of "Bridging State and Local Communities through Livelihood Improvements." The presentations were followed by discussions based on comments from discussants and the authors.
The authors will revise their papers based on the discussion, and the publication is scheduled to be released by the Brookings Institution Press by the end of 2014.
| | |
| --- | --- |
| Day | January 30, 2014(Thu) - January 31, 2014(Fri) |
| Place | Washington, D.C. |