On February 6, the Institute of Development Studies (IDS) in University of Sussex organized a seminar in Brighton, UK. JICA-RI Research Fellow Kamal Lamichhane made a presentation as a guest speaker. The seminar, targeted for the researchers and students of IDS is held regularly by inviting both domestic and international experts.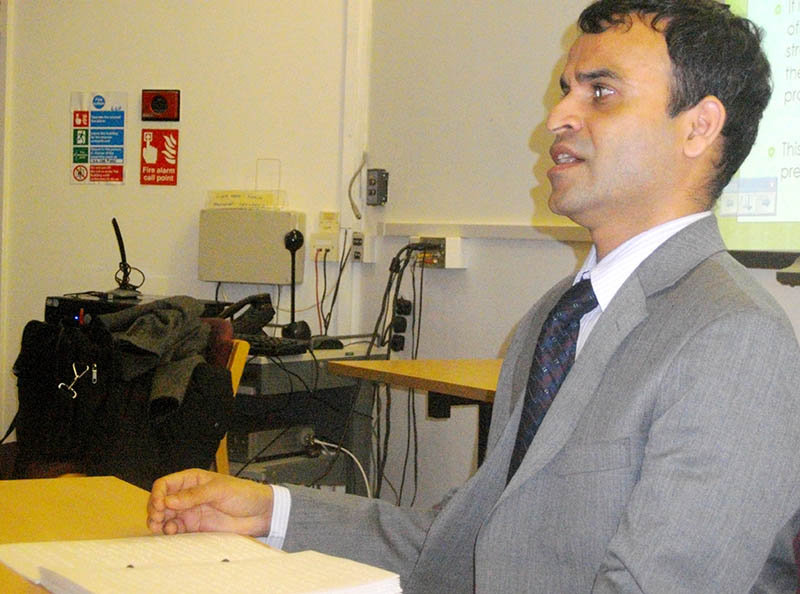 Kamal Lamichhane
Lamichhane's presentation focused on the labor market participation of persons with disabilities especially in low and middle income countries. Describing the current situation of employment for individuals with disabilities, he explained that these individuals continue to be under-represented in the workforce due to various barriers, and that even when hired, they are employed in part-time and /or jobs that are accorded low status. He further stated that people with disabilities constitute about 15 percent of the world's total population and nearly 80 percent of them live in developing countries. Additionally, around 15-20 percent of the poor are persons with disabilities in these countries. He pointed out that poor and unequal access to education or employment is one of major factors for their poverty.
Discussing policies toward increasing labor market opportunities for individuals with disabilities, Lamichhane emphasized the need of providing educational opportunities beyond primary level. Highlighting the importance of greater educational investment, he also presented other strategies such as scholarship provisions, conditional cash transfers, and building more schools that can accommodate students with disabilities.
At the end of the presentation, Lamichhane stressed, "Providing quality education and removing disabling barriers for labor market participation are key to the economic empowerment of people with disabilities."
Participants expressed their surprise on the high rate of returns to the investment in education for persons with disabilities.
| | |
| --- | --- |
| Day | February 06, 2014(Thu) |
| Place | Brighton, England |
| Related File | |