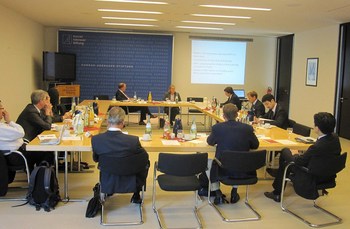 On September 12 and 13, JICA-RI research associate Ryutaro Murotani attended a workshop titled "Nexus of Security and Development: Opportunities and Prospects for Europe-Japan Cooperation" in Berlin, Germany. This workshop was co-hosted by the Konrad-Adenauer-Stiftung (KAS) and the European Japan Advanced Research Network (EJARN), a network of European researchers, as a first meeting of the initiative to discuss specific ideas of cooperation in the field of security and development between Japan and European countries.
Murotani participated in Session 3: "Promoting peace-building through EU-Japan Cooperation in ODA" as a discussant. In the session, Professor Marie Söderberg of the Stockholm School of Economics expressed her expectations towards the cooperation. "Japan remains to be a large donor in terms of funding and prefers utilizing ODA for peace-building to turning to military solutions. The prospect for Europe-Japan cooperation is very high as we share a lot of common values."
Murotani, while recognizing that Japan and Europe share many values, pointed out some of their differences such as perspective over aid modalities and efforts in "Whole-of-Government" approach. He stated that it is necessary to clarify Japanese and European priority agendas respectively (for example, Japan emphasizes issues such as human security, capacity development and infrastructure development). And he added, saying "We should look at the potential linkages between security and development, as well as different preferences in policies among European actors including the European Commission, the U.K., Germany and France. Then we can explore not only a conceptual possibility but concrete collaborative practices on the ground."
Some attendees suggested collaborations with NGOs and private companies in Japan and Europe as a possibility. Others voiced opinions such as: there need to be benefits for both Japan and Europe in order to achieve on-the-ground-cooperation; and there exists the difference in views over aid modalities such as budget support. The discussion further led to topics regarding relationship with China as a donor, democratization support and human rights concerns, where Japan and Europe could also collaborate with each other.
The second meeting of this joint initiative will be held in Tokyo while the third one is expected to be in Brussels.
| | |
| --- | --- |
| Day | September 12, 2011(Mon) - September 13, 2011(Tue) |
| Place | Berlin, Germany |
| Organizer | The Konrad-Adenauer-Stiftung (KAS), European Japan Advanced Research Network (EJARN) |