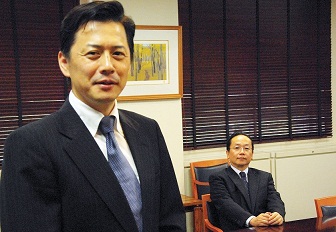 Deputy Director General Konaka and Senior Research Officer Noda exchange views on the importance of research networks
Global Development Network(GDN) is an international organization and composed by institutes and universities involved with international aid. One of the regional networks of GDN-Japan, JICA-RI plays a role as its head office .In this interview, Deputy Director General Konaka and Senior Research Officer Noda of JICA-RI introduce the purpose of research network, connecting with world organization and its future.
Outline of the research network
What are the research networks that the JICA Research Institute (JICA-RI) is currently involved with? What are their significances?
Tetsuo Konaka, Deputy Director General of the JICA-RI: The term "network" itself may sound a bit vague with a superficial image. But considering the fact that about 80 percent of research conducted by JICA-RI is joint projects with international researchers, the networking nature is already built into our studies. Unlike other incorporated administrative agencies specialized in research, JICA-RI is merely a part of an organization. Therefore, it is important for us to boost the scale of our research both in quality and in quantity by effectively utilizing the networks with outside researchers from the planning stage to the research process and to the publicizing of the studies. To mention some notable examples of such collaborations, we have contributed to the World Bank's "World Development Report" (WDR) and collaborated with the Brookings Institution of the United States and South Korea's Korea International Cooperation Agency (KOICA). It is rather difficult for a single organization by itself to cut into the trend of world development assistance, and it is essential to use such research collaborations as leverage.
Especially worthy of mentioning among the networks of JICA-RI is our relationship with the Global Development Network (GDN)—an international organization specialized in the field of developmental research. JICA-RI has been the hub for GDN's network in Japan (GDN-JAPAN). I would like to hear about that from Senior Research Officer Koji Noda, who has long acted as the head of its secretariat.
GDN and JICA-RI
Can you tell us about the activities of GDN in detail? What has been their relationship with JICA-RI ?
Koji Noda, Senior Research Officer: The GDN is a worldwide network established with an aim to make a bridge between research and policies through the exchange of information, sharing knowledge, and research collaboration among researchers and workers involved in international development. Chaired by Joseph Stiglitz—the 2001 recipient of the Nobel Memorial Prize in Economic Science and the then Senior Vice President of the World Bank, the GDN was launched within the World Bank in 1999 after plans were designed at a conference where well-informed researchers in international development from the United Nations Development Program (UNDP), International Economic Association, and African and Southeast Asian nations as well as university professors were invited. The network officially took off in the same year, became independent from the World Bank to be a not-for-profit organization in the United States in 2001 and established itself as a global organization in 2008.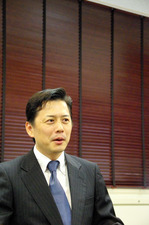 In June this year, Alan Winter—chief economist of the United Kingdom Department for International Development and former Director of the Development Research Group of the World Bank—took over the post of GDN chairman from Ernesto Zedillo—former President of Mexico. Among the board members in charge of nations and regions as well as other participants are the world's leading researchers and business experts. Therefore, one advantage the network of GDN offers is that through its channel, its members are able to build a close tie with such prominent members. The first board member representing Japan was Shujiro Urata, a professor at Waseda University, and currently in the post is Kaoru Hayashi, Bunkyo University professor and advisor for JICA-RI GDN-Japan.
While GDN currently undertakes international research projects and provides information and data on researchers through its website GDNet, its most significant activity is its annual conference led by the GDN headquarters and coordinated by the network of participating nations and regions. Each time, centered on the foremost themes concerning international development, it is a large-scale conference participated in by hundreds of researchers, policy makers, and members of aid organizations from the world over.
Of note about Japan's contribution is the Japanese Award for Most Innovative Development Project, whose final screening and award ceremony are conducted at the GDN annual conference. This award was proposed by Kiichi Miyazawa, the then Finance Minister of Japan in 1999 when GDN was established, with an aim to unearth and assist innovative development projects and research. Awards are granted in the two categories of projects and research. Regarded as the largest research competition in the field of international development that allows entries only from developing countries, it effectively demonstrates the Japanese government's dedication through GDN to the fostering of human resources in developing nations.
Eleven regional GDN networks, including that of Japan, are at work now in the world. While GDN-Japan, a network within Japan, utilizes its flexibility, it makes the most of the GDN annual conferences to publicize and share knowledge acquired from its experience in developmental work in Japan and East Asia as well as from its research on new donors and developmental finance. One such example has been the presentation of a joint research with the East Asia Development Network (EADN). It also sends its messages to the world and Japan by making use of the websites of the GDN Headquarters and GDN-Japan as well as its newsletter.
GDN is the only constant platform for exchanging and sharing information on a worldwide scale in the field of international development research. Therefore, it is highly significant not only for JICA-RI but also for other research bodies in Japan to deepen the collaboration with GDN as a place for publicizing research results.
Future possibility of expanding networks
How does JICA-RI need to maintain and develop networks at home and abroad in the future?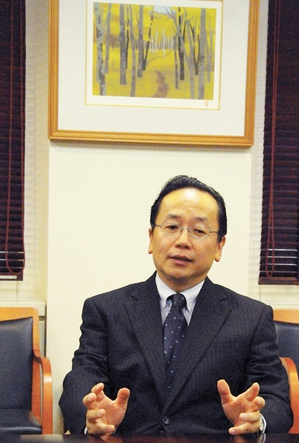 Konaka: It is efficient to utilize established networks and it will continue to be important to maintain and develop the relationships with GDN and the World Bank. In addition, I feel that it will be necessary in the near future to strengthen collaboration on the bilateral base with research organizations of key promising nations, especially Asia. In JICA-RI's research project in the past, entitled "Human Security in ASEAN Integration," the institute worked jointly with ASEAN Institutes of Strategic and International Studies (ASEAN-ISIS). This is an example of a good practice. Currently, JICA-RI holds organizational talks on a regular basis with new donors, including China, South Korea, India, and Thailand. It will be interesting if we can establish relationships with related organizations of these nations as part of the activity.
Also, while we have had research organizations and university faculty from our nation participate in our projects, JICA-RI's local centers have also established collaborative agreements with major universities in their respective regions. It will be necessary to expand on such exchange and sharing of information on research by strengthening inter-organizational ties.
Through such exchange of views and discussion through networks at home and abroad, we can often acquire a wider viewpoint and become inspired for new research projects. I am convinced that it will help enhance our research results.
I would like to make efforts in networking activities with a hope that JICA-RI will be the place where "brains" assemble in the research on development assistance in both Japan and the world.