JICA-RI is conducting research on emerging donors in Asia with the aim of uncovering facts behind so-called "emerging donors" which have been showing an increasing presence in recent years. Based on this, JICA-RI hopes to contribute to progressing harmonization of development assistance and to consideration of Japan's development assistance strategies. On June 10, a seminar was held at JICA headquarters to present the findings of the project and to exchange views among development practitioners.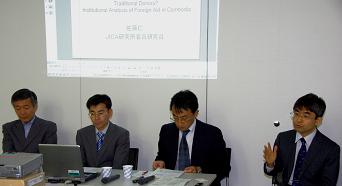 At the seminar, Senior Research Officer and team member Hiroaki Shiga briefed the audience on the project purpose and objectives. JICA-RI Visiting Fellow and team leader Jin Sato (associate professor of the University of Tokyo, Institute for Advanced Studies on Asia) and Hisahiro Kondo (associate professor of Tokyo International University) both presented findings. In his speech, Sato gave an example of Cambodia which actively receives assistance from emerging donors such as China, India, Thailand, South Korea and Kuwait. He pointed out that, contrary to the assumed negative effects "aid fragmentation" may bring to recipient countries, the Cambodian government has actually benefited by leveraging negotiations among the donor countries. What can be inferred from the example, said Sato, is that Japan will need to clearly define its aid vision in order to establish its position in the rapidly changing donor community.
From a practitioner's perspective, Naohiro Kitano, Director General of JICA's East and Central Asia Department, explained trends in China's development assistance and recent movements in its aid harmonization. In his presentation, Kitano emphasized the importance of continuing dialogue with China's aid-related parties who have started to harmonize with so-called "traditional donors." Following the presentations, participants including JICA officers and staff from the Ministry of Foreign Affairs took part in an active exchange of opinions. In conclusion, it was agreed that discussions like the seminar among practitioners and researchers should continue to be conducted.
The research team has already released a working paper which analyzes emerging donor aid trends in Cambodia from the viewpoint of the recipient government. In the near future, the team also plans to release another working paper that compares and analyzes the characteristics of development assistance of four emerging donor countries -- China, India, Thailand and South Korea.
RELATED RESEARCH AREA: Aid Strategies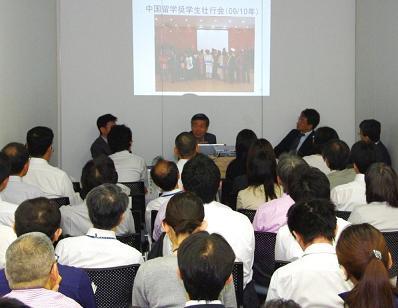 | | |
| --- | --- |
| Day | June 10, 2010(Thu) |
| Place | JICA Headquarters |