On October 1, a high-level forum on South-South and Triangular Cooperation was organized on the occasion of the meeting of the Community of Latin American and Caribbean States (CELAC) in Santiago, Chile. JICA Research Institute Director Akio Hosono, together with JICA's Central and South America Department Deputy Director General Hajime Takeuchi, attended the general meeting at this high-level forum, where Hosono gave a presentation as panelist. He spoke of JICA's support for South-South Cooperation and Triangular Cooperation in Central and South America in front of the government and donor representatives from this region.
In this forum, the subject of "Characteristics and Possibilities of Triangular and South-South Cooperation" was discussed at the plenary session, followed by the three sessions—"Participation of Civil Groups, the Private Sectors and Financial Groups," "New Themes and Challenges," and "Indicators for the Effectiveness of South-South Cooperation."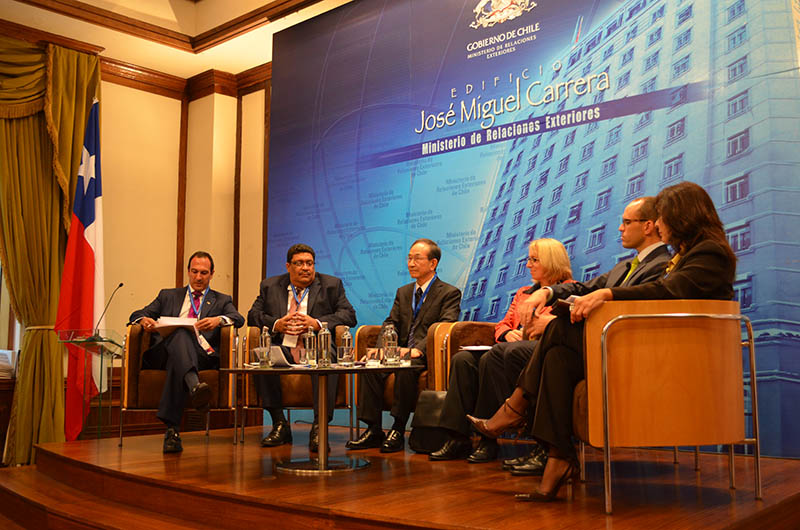 Akio Hosono,JICA-RI Director(The Third from the Left)
Hosono had a presentation on a theme of the plenary session, "Characteristics and Possibilities of Triangular and South-South Cooperation." He introduced successful cases of JICA triangular cooperation in Latin America, such as the Japan-Chile Partnership Program (JCPP) that reached an agreement in 1999, a bilateral partnership program to give support to third parties, together with other partnership programs with Brazil (JBPP), Mexico (JMPP) and Argentina (PPJA). Hosono stressed the need to address agendas related to new challenges among partners and share the accumulated experiences in order to succeed in Triangular program, while explaining the importance of understanding needs for support and creating effective mechanisms. With concrete examples, he introduced the TAISHIN Project through JMPP, which promoted the construction of earthquake-resistant houses in El Salvador where the earthquake hit in 2001, as well as the ProSAVANA, an agricultural development program in the tropical savanna in Mozambique through JBPP.
In response to Hosono's presentation, the representative of Deutsche Gesellschaft fur Internationale Zusammenarbeit:GIZ) commented: "Sympathizing with many of JICA's assertions, we think complementary input from a partner familiar with supporting area is an advantage of Triangular Cooperation and this provides a great impact." At the same time, the government officials from the Central and South America region gave positive comments and showed a great interest in JICA projects.
| | |
| --- | --- |
| Day | October 01, 2012(Mon) |
| Place | Santiago, Chile |