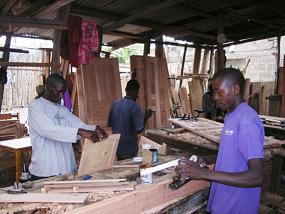 Providing a Framework for an Industrial Cluster-based Program Approach
JICA Research Institute is conducting the project, "Empirical Study on Industrial Clusters in Africa, the Role of Space, Infrastructure, Human Resources and Social Capital," as part of a joint research project with the World Bank Africa Region and the Foundation for Advanced Studies on International Development (FASID). This special topic will introduce the findings of this study thus far and the possible role it may play in the context of JICA's support to Africa's accelerating economic growth, centered on its private sector.
Outline of the Research Project
Purpose and Background of the Research
Poverty reduction led by economic growth in Africa has become a common issue for Japan and the international community, as can be seen in such efforts in achieving the Millennium Development Goals (MDGs) and the solid implementation of the Tokyo International Conference on African Development (TICAD) process. However, few existing studies have focused on the development process of industries that support economic growth, or the creation of jobs which accompanies it.
It is essential to clarify how industries are formed and grow in developing countries, and further find the corresponding policies, such as those on infrastructure, to make development assistance more effective. It is also important to note that Japanese enterprises which have been the driving force behind the rapid economic growth in the post-war period, as well as East Asian enterprises (particularly Chinese) that have shown remarkable development recently have all been micro and small in size when they were established. Therefore, in order to promote economic growth in Africa, it is critical to direct attention to such micro and small enterprises.
From these standpoints, JICA Research Institute is conducting the "Empirical Study on Industrial Clusters in Africa, the Role of Space, Infrastructure, Human Resources and Social Capital" jointly with the World Bank Africa Region and FASID. The study aims to investigate the causes of the current stagnation and provide practical policy recommendations for overcoming the obstacles. By using both micro-level data, the study also explores the development process of cluster-based micro and small enterprises in Africa and empirically analyzes economic situations of such industrial clusters in six countries: Ghana, Kenya, Tanzania, Rwanda, Cameroon, and Mauritius.
Research Findings
Present State of Africa's Private Sector
According to the World Bank Enterprise Surveys, there are approximately 700,000 micro and small-scale enterprises compared to 100,000 large enterprises in Africa's private sector. In contrast, in terms of sales, the less numerous large enterprises take in a total of USD 90 billion, while micro and small enterprises only account for USD 15 billion. Large-scale enterprises are also more likely to be foreign firms owned by foreign capital or by ethnic minorities, while micro and small enterprises tend to be domestically owned firms with domestic capital. The wide performance gap that exists between small and large enterprises is what is often referred to as the "missing middle."
When focusing on the access each enterprise type has to "international export markets," "national markets," and "local markets," international export markets make up approximately 7% of foreign-owned firms' sales, as opposed to only 2% for domestically owned firms. The share of national markets is roughly 40% for foreign-owned firms, but only 20% for domestically owned firms. Furthermore, local markets account for only 50% of sales for foreign firms while occupying almost 80% for domestically owned firms, making clear the limitations domestically owned firms have in accessing lager markets.
By analyzing these domestically owned firms by size (i.e., number of employees), it was observed that large-scale domestically owned enterprises show a similar tendency in the sales ratio of each market segment compared to that of foreign enterprises. However, for micro and small-scale domestically owned enterprises, local markets occupy almost 90% of its sales. These results suggest that the size of the enterprise determines the ratio of access to each market segment. However, it was also observed that micro and small domestically owned firms located in an industrial cluster perform better than firms outside of one. Such data suggests a possibility that small firms are able to compensate for their size constraints by locating within an industrial cluster.
Analysis of Industrial Clusters in Africa
Focusing on clusters in which micro and small enterprises can overcome their size constraints, JICA Research Institute is conducting an analysis to explore the factors that determine the success of micro and small enterprises. As a result, it has been found that the conditions of road infrastructure and ethnic networks are highly associated with the probability of formation of industrial clusters. This is exemplified in the industrial cluster of furniture workshops in the northern Tanzanian city of Arusha, on the Tanzania-Kenya border.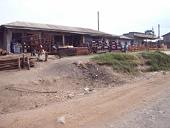 A furniture workshop along a main road in Arusha
Arusha is an important transportation hub, directly linked by main roads, including international roads to Kenya. In Arusha, the number of furniture workshops, which only a few existed in the 1970's, drastically increased after 2000 with the stabilization of the country's economy, and has now grown to be an industrial cluster with approximately 270 workshops. It has been observed that a large number of new entrants to this cluster have chosen to set up their businesses where members of the same ethnic group have already located their workshops.
In general, when industrial clusters are formed this way, eventually quantity of production of the firms will increase and similar products will emerge. Then the prices of products fall along with the profitability of the firms. When this happens, business owners will attempt to differentiate their products from their competitors' by improving the quality of their products or by developing new ones, resulting in growth based on innovation for in the entire industry. This has been observed in other regions of the world, such as in Asia.
The survey conducted in this study has revealed that production outputs of many micro and small enterprises in Africa have steadily increased, whereas sales and profits have dropped. This suggests that, although many industrial clusters of micro and small enterprises exist in Africa, the levels of innovation still remain low, and growth is stagnating at the stage of quantity expansion.
By further investigating the factors hindering innovation-led growth, it has become clear that access to funds is not necessarily the sole problem; the absence of spatial policies that support scale expansion and the lack of owners' managerial business skills contribute to the problem as well.
For micro and small enterprises to expand in scale through innovation-led development, it is crucial to expand the physical space of the production site itself. However, in most cases, systems of land ownership are rare and land with adequate infrastructure suited for industries are limited in Africa. Furthermore, land use policies may change every few of years, and such risks also play a role in lowering the investment incentives of entrepreneurs.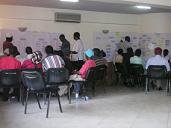 Business skill training for workshop owners
To investigate whether the lack of managerial skills and knowledge among entrepreneurs is blocking innovation, JICA Research Institute, along with the World Bank and FASID, is analyzing its impact by conducting experimental business skill training programs for the owners of micro and small enterprises. In these programs, training courses on business management such as business planning, marketing, production/quality management, book-keeping and cost accounting are taught. Results so far have shown growth in sales and profits of the trainees' businesses compared with owners who have not received training.
From these study findings, the importance of both "soft" and "hard" support has become clear for further growth in micro and small enterprises entering industrial clusters in Africa. Such support includes the development of infrastructure to provide road networks to induce businesses to industrial clusters, securing physical space needed to enlarge scale, and training programs for business owners to improve their business management skills.
Dissemination of Study Findings and Future Prospects
Expectations for Development in Africa
The findings from this research project have been released accordingly as the study has progressed. Preliminary findings were presented at the Tokyo International Conference on African Development (TICAD IV) in May, 2008, and at the World Bank's Annual Bank Conference on Development Economics (ABCDE) held in South Africa in June, 2008. Presentations on the study's final report were made this May at the Senior Policy Seminar on trade and competitiveness of African enterprise development, co-hosted by JICA and the World Bank in Kenya, and also at the Annual Meetings of the African Development Bank held in Côte d'Ivoire.
Besides, the findings of this study are expected to not only provide an outlook on JICA's industrial cluster-based program approach, such as JICA-supported cross-border infrastructure, one-stop border posts, and assistance for quality/productivity improvement, but also to contribute to the designing of assistance measures aimed at African economic development, which Japan is expected to present at the TICAD V planned for 2013.