At the 12th Spring Conference of the Japan Society for International Development (JASID), held at JICA-RI on June 4, six researchers from JICA-RI — senior research fellow Mitsuaki Furukawa, research fellows Mika Ueyama and Mari Katayanagi, research associates Mine Sato, Ryutaro Murotani, and Takaaki Kobayashi — shared the latest findings of their research. Here are summaries of some of their presentations.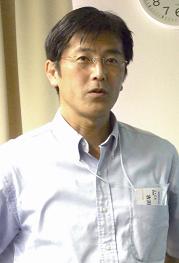 Mitsuaki Furukawa
Furukawa discussed his research in "Is General Budget Support Unearmarked?: A Test of the Flypaper Effect on Health Expenditure," examining the flypaper effect by focusing on general budget support (GBS), whose use is not specified and is up to recipient country to decide over any governmental spending. The flypaper effect is a phenomenon that an increased proportion of exogenous transfer in government revenue results in unexpectedly fewer increases in the public spending. This means in the development context that grants-in-aid in recipient's state budget is allocated off from donor's original intention of use when the fiscal transfer is unearmarked.
Major income source of developing countries are general revenue and GBS. Research results showed that the increase of GBS had a stronger tendency to boost spending for healthcare, compared to that of general revenue. Furukawa observed, "GBS has policy dialogues between developing countries and donors, based on Poverty Reduction Strategies Papers, and this makes GBS a useful measure."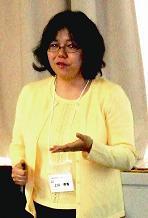 Mika Ueyama
Ueyama's presentation was titled, "Poverty Reduction Strategy beyond the MDGs: a Critical Assessment of the Correlations Among MDGs Indicators." By looking into the 60 indicators in eight goals that measure progress towards each MDG — with particular emphasis on the correlation between multiple indicators used for common goals — she presented how the selection of indicators is critical in achieving the MDGs.
One specific example is Goal 4-A, which aims to reduce the mortality rate of children aged under five. The UN refers to the infant mortality rate --results of efforts taken to decrease the rate-- and the proportion of immunized children --determinant of the mortality rate-- as two indicators for measuring the progress of Goal 4-A. "However, looking closely at the actual figures, I noticed that their correlation is low. While increasing the ratio of immunized children is not very difficult, this alone would not bring the infant mortality rate down," Ueyama said.
*Katayanagi, Sato, Murotani and Kobayashi's presentations were respectively titled; "Peacebuilding from Below: Community Development and Confidence Building Projects in Srebrenica," "Examining Knowledge Application in Development Assistance—From Anthropology and Business Administration Perspective—," "Capacity Trap and Legitimacy Trap in Fragile States," and "'Time' in Development: A Political Economy Approach."
Related Research Area: Peace and Development, Aid Strategies
| | |
| --- | --- |
| Day | June 04, 2011(Sat) |
| Place | JICA Research Institute |
| Organizer | Japan Society for International Development |