JICA, since February 2012, has engaged in a three-year joint research project on "After the Arab Spring: Inclusive Growth in the Middle East and the North Africa (MENA) Regions" with the Brookings Institution. For the first-year project, JICA-RI contributed to the research on education in Yemen and other themes, presenting the findings at a seminar in Washington D.C. this January.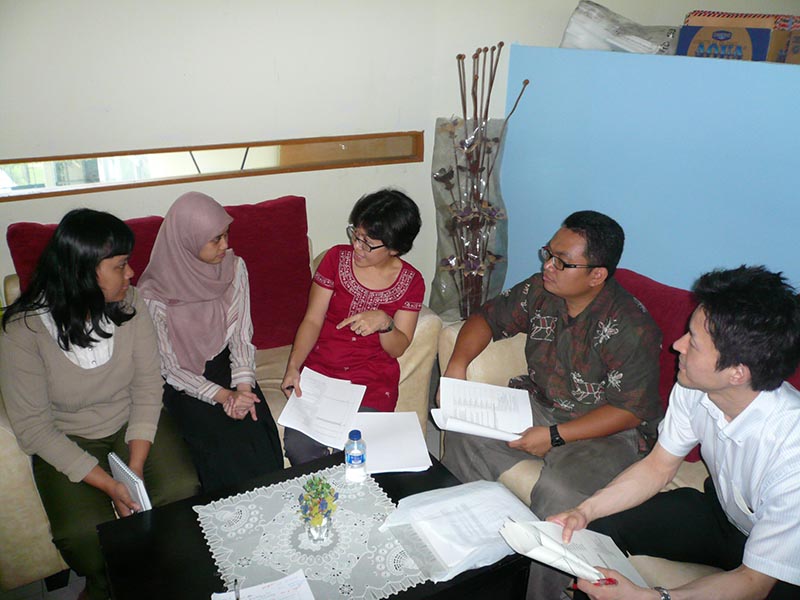 Conducting Research in Indonesia
In light of this background, during one-month stay in September 2013, JICA-RI Research Fellow Akira Murata presented an interim report of the study under the theme of "A Comparative Study of Job Preferences among Youth in Egypt and Indonesia," along with engaging in continuous discussions on other thematic studies with partners at the Institution.
At the interim report seminar on September 11, Murata gave a presentation entitled "Designing Youth Employment Policies in Egypt." In his presentation, Murata highlighted the "Youth Bulge" and high youth unemployment rate among the highly-educated, which were considered as primary factors behind a youth-led democracy movement in Arab economies. He made policy recommendations to promote more inclusive growth: how to involve the highly-educated in the domestic labor market and to incorporate them into further growth of the domestic economy.
Young people in Egypt are more likely to apply for public sector jobs than for private sectors' due to higher wages and more secure employment. Murata pointed out in his presentation based on the findings from the survey data by JICA-RI together with El Zanaty & Associates, that if the gap in wages between the public and private sectors were to narrow, there would be still policy options for improvement in the structurally-distorted job preference for public sector employment among young graduates with supports for educational opportunity, information technology, basic infrastructure and medical insurance.
The study has used the discrete choice experiment (DCE) to elicit job preferences among the youth, conducting survey for engineering students at nine universities in six cities of Egypt during the period of July-August 2013. For comparative analysis, JICA-RI conducted the survey for engineering students in Indonesia, which is one of Muslim-majority nations in Asia, also facing "Youth Bulge." This survey was conducted at eight universities in five cities of Indonesia in September 2013 by JICA-RI together with Demographic Institute, Faculty of Economics, University of Indonesia (LD-FEUI).
The final findings are scheduled to be presented around late January next year.
The interim report seminar assembled senior fellows Homi Kharas, Hafez Ghanem, and John Page of the Brookings Institution, World Bank economist Marc Schiffbauer, Ruben Lamdany of the International Monetary Fund (IMF) and other partners of the study. They commented that the study provides crucial policy recommendations concerning a pressing issue in MENA countries.
During his stay, Murata participated in a meeting with Homi Kharas and Hafez Ghanem of the Brookings Institution, Director General Mitsuhiko Koenuma and Misaki Kimura of JICA's Middle East and Europe Department. They consulted over future plans of the joint research project: holding thematic seminars for sharing information and presenting the findings of the study for outside intellectuals and local policy makers; selecting a theme for the third-year study; and publication of a book as a compilation of all research papers from the three-year joint research.
| | |
| --- | --- |
| Day | September 02, 2013(Mon) - September 29, 2013(Sun) |
| Place | Washington, D.C., US |