From March 10 to March 15, the 2014 Annual Conference of the Comparative and International Education Society (CIES) was held in Toronto, Canada. Under the theme of "Revisioning Education for All," JICA researchers made presentations on the results of two respective studies in aid strategies, one of four research areas that JICA-RI has engaged in.
Takako Yuki
JICA Senior Research Fellow Takako Yuki, JICA-RI Research Assistant Yuriko Kameyama, and Research Assistant Kengo Igei attended the conference, introducing results of analyses drawn from the two researches: "System Assessment and Benchmarking for Education Results (SABER);" and "Human Capital Formulation and Gender Equality in Conflict-affected Islamic States: Case of Basic Education in Yemen."
On March 12, Yuki made a presentation entitled "Governance quality at school and meso levels of policy implementation: the case of Burkina Faso" in the "School Autonomy and Accountability" session. She gave an interim report on the survey of schools and meso-level organizations—department offices and village offices—conducted in Burkina Faso. Yuki introduced: the correlation between the degree of activities by school management committees and the general administrative capability of meso-level organizations; and the relationship between the qualities of learning environments such as textbook dispatching as well as the hours of supplementary lesson, and students' achievement in graduation examinations. The audience, in light of the situations in other countries, asked questions on the influence of school principals' leadership on the level of authority transferred to schools, and on the relationship between existing parents' associations and school management committees established based on government policies.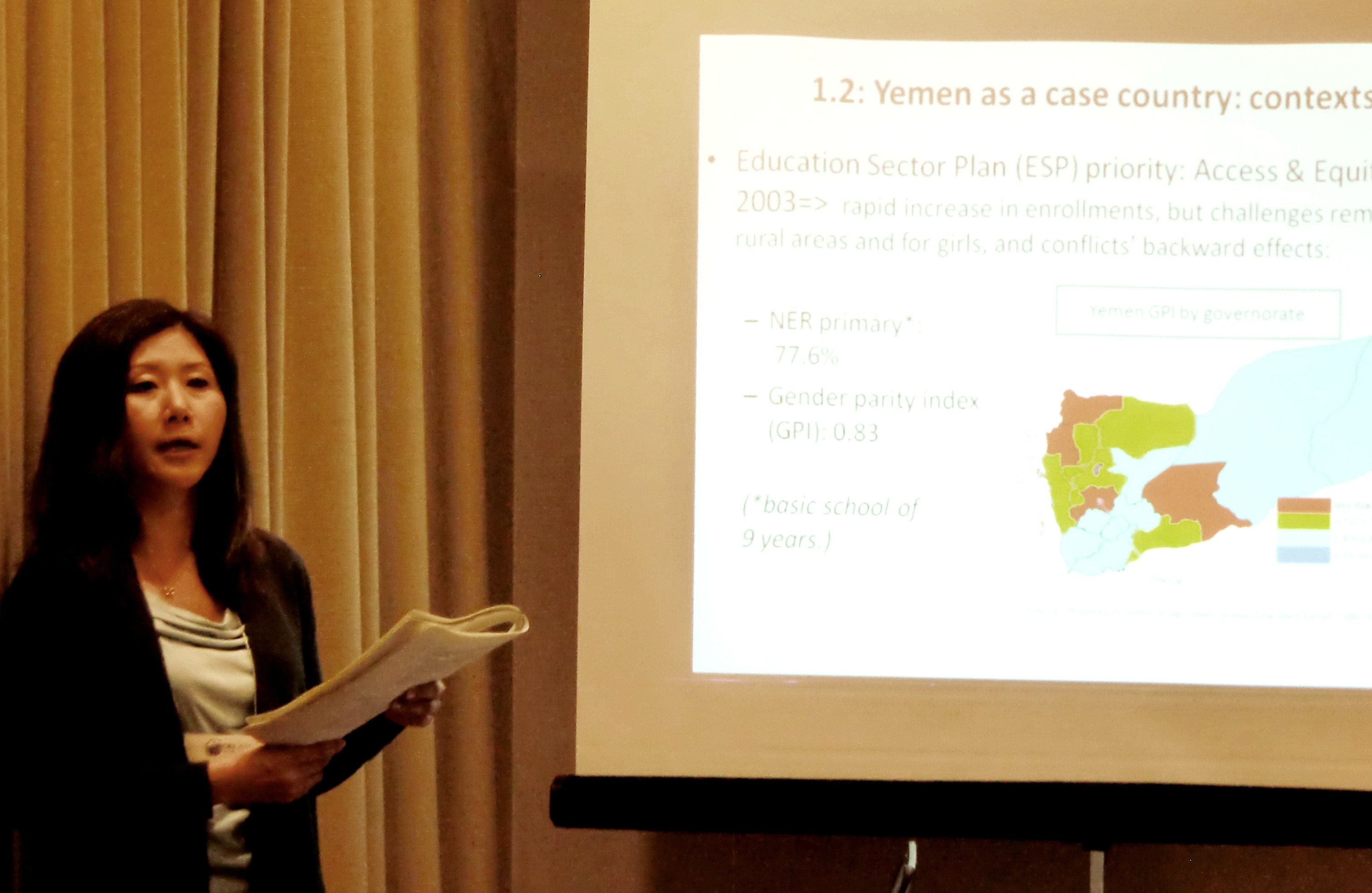 Yuriko Kameyama
On March 14, Kameyama made a presentation on the theme "Challenges in improving learning outcomes for countries with unfinished Universal Primary Education and equity agenda: the case of Yemen." Using micro data, Kameyama presented the research outcomes in order to respond to research questions such as whether there exits a negative correlation between a remarkable enrollment growth and a learning outcome, and what kind of policies could mitigate the potential trade-off relationship. In the session, both researchers and practitioners who have engaged in international aid organizations in the Middle East participated, discussing a variety of topics on the quality of learning and the administrative decentralization.
| | |
| --- | --- |
| Day | March 10, 2014(Mon) - March 15, 2014(Sat) |
| Place | Toronto, Canada |
| Related Link | JICA-RI Working Paper No.73 "Challenges of Quality of Learning Outcomes for Countries with the Unfinished Agenda of Universal Primary Education and Gender Parity: The Case of Yemen" |