JICA-RI held a public symposium to present the final results of the research project "Preventing Violent Conflicts in Africa," at International House of Japan, in Tokyo on July 26.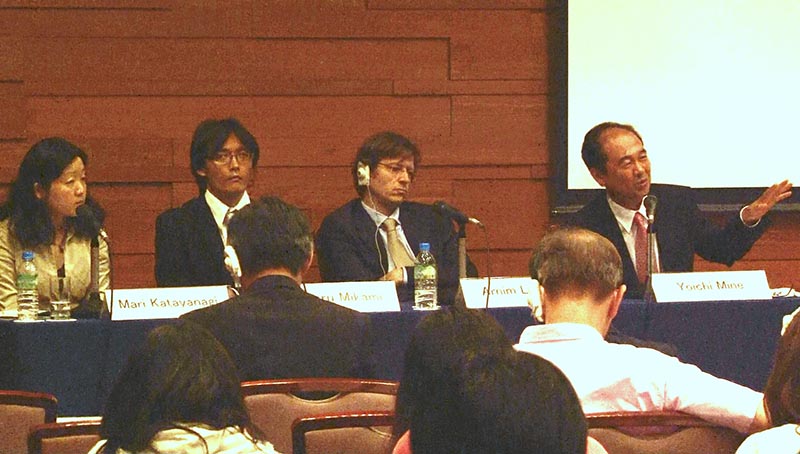 Research fellow Mari Katayanagi (left)

Research fellow Satoru Mikami (second from the left)

Visiting fellow Yoichi Mine (right)

From the Institute, lead researcher, JICA-RI Visiting Fellow Yoichi Mine (Professor of Doshisha University), attended the symposium, along with other members of the research team, including: JICA Visiting Fellow Shinichi Takeuchi (Director of African Studies Group, Area Studies Center at the Institute of Developing Economies, Japan External Trade Organization), Research Fellows, Satoru Mikami and Mari Katayanagi. They were joined by international project advisors, including: Professor Frances Stewart (Director of CRISE, Oxford University), Professor Sakiko Fukuda-Parr (The New School), Professor Thandika Mkandawire (London School of Economics), and another member of the research team, Dr. Arnim Langer (Director, Center for Research on Peace and Development, University of Leuven), who all exchanged opinions through their presentations and the panel discussions.

During the 1990s, violent conflicts in Africa broke out in several countries. Even in the 2000s, conflict occurs sporadically and the peace remains precarious. There are still concerns that conflict may recur in some countries in the near future.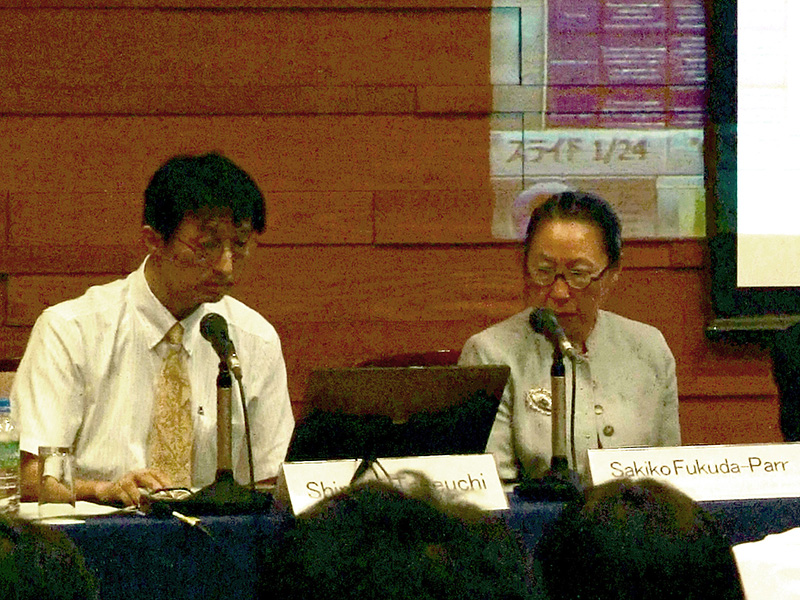 Visiting fellow Shinichi Takeuchi (left),

Prof. Sakiko Fukuda-Parr (right)

Given these background, JICA-RI started the research project entitled "Preventing Violent Conflict in Africa," in 2008. With the dedicated support of researchers from abroad, case studies were conducted on pairs of target countries, such as Rwanda and Burundi, and Ivory Coast and Ghana, for comparative research, as well as two single country studies (Kenya and Nigeria), for in-depth research on historical process over time. The Institute also conducted an independent perception survey in seven countries including in South Africa.

JICA-RI has presented its interim research findings on various occasions. This symposium provided the Institute with an opportunity to broadly disseminate the comprehensive results of the project, including the outcomes of statistical analysis and policy implications.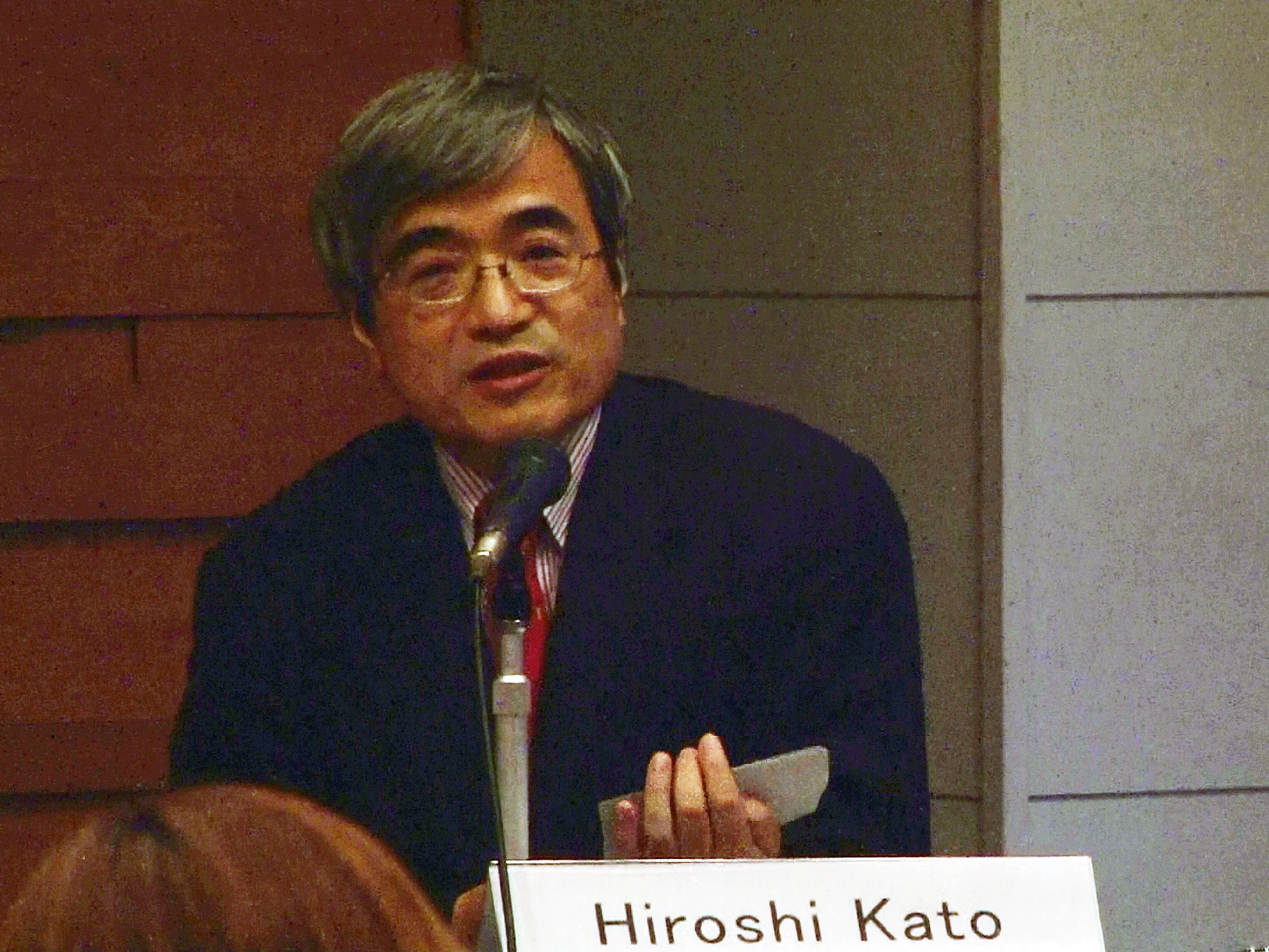 Hiroshi Kato, Senior Special Advisor

In his opening remarks, Hiroshi Kato, Senior Special Advisor at JICA stated, "In providing development assistance to Africa, it is regrettable that international aid agencies including JICA did not pay proper attention to the political situation in specific countries, such as Rwanda. In this regard, JICA-RI launched a research project entitled "Preventing Violent Conflicts in Africa," in 2008. Today on this occasion, we get the opportunity to present the final result of our research over the past years."

Following the opening remarks, in the first session, each project researcher made presentations. Firstly, Professor Mine outlined the project and said, "The motivation behind this project was the Wilton Park Conference on Conflict Prevention and Development Cooperation in Africa, which was held jointly by UNDP and JICA in the United Kingdom in March 2007." As to the research design for the project, he explained three key research perspectives: Horizontal Inequalities, subjective perceptions, and political institutions. He also introduced the methodology of contrast: 1. Stable and unstable countries; 2.Qualitative and quantitative methods; 3. Political science and economics; 4. Synergy of African, European and Japanese knowledge; 5. Interaction between researchers and practitioners. At the end of the presentation, Prof. Mine announced that these long-term research results will be published within this fiscal year, as a volume of the "Conflict, Inequality and Ethnicity" series, edited by Prof. Stewart.

Dr. Langer, another research member, discussed the historical causes of conflicts around the world, and emphasized that with the evidences from years of research, the major causes of conflict cannot be explained only by cultural or economic factors. Multidimensional Horizontal Inequalities (HIs), which Prof. Stewart advocates, can be the main factor of many conflicts."

Next, Research Fellow Mikami presented a result of statistical analysis of the perception surveys. The surveys included questions about perceptions on inequalities, identities, and hostilities toward other groups. It selected 3,745 residents living in urban areas of seven African countries. Mikami showed the findings from the analysis of five countries (Ghana, Nigeria, Kenya, Zimbabwe and Uganda). He concluded, "The horizontal inequalities among ethnic groups exist and are deeply rooted in the structure. The perceptions of political HIs affect the perceptions of socio-economic HIs."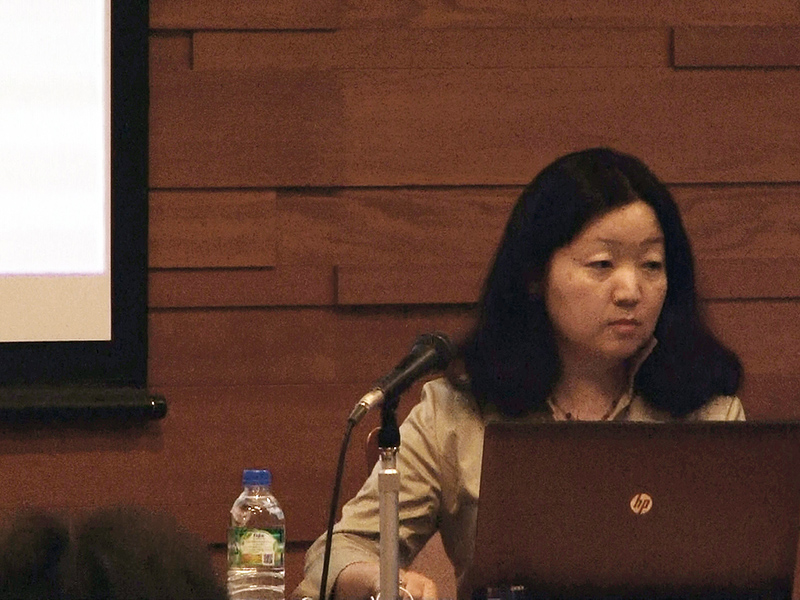 Research fellow Katayanagi at presentation

Another Research Fellow Katayanagi introduced the following three policy implications and recommendations based on the project's research findings:
1. Horizontal Inequalities (HIs) are major root causes of violent conflict in Africa. The perspective of multidimensional HIs should be included in development policy-making.
2. Objective and subjective HIs are not always in accord. Development practitioners and government officials should be sensible in their actions and behaviors in order to avoid misperceptions in terms of their fairness and impartiality.
3. Inclusive institutions, both formal and informal, are the foundation of peace. External actors should respect local initiatives for sustainable power-sharing and effective decentralization.
Katayanagi gave nine examples of concrete actions for each policy recommendation, including one advice that development agencies and their counterparts should pay attention to the regional distribution of projects to avoid a perception that certain regions are neglected in selecting project sites.

In the second session, presentations were made by the advisors; "Preventing Violent Conflicts: Policy Implications for Aid Donors," by Prof. Fukuda-Parr, "Preventing Violent Conflicts in Africa and Economic Development," by Prof. Mkandawire, and "Policies toward Horizontal Inequalities," by Prof. Stewart.

In the concluding panel discussions, Visiting Fellow Takeuchi presented the results from his research focused on two countries—Rwanda and Burundi. He pointed out that these two countries have been called "twin countries," because they have many in common including ethnic compositions (majority Hutu and minority Tutsi). A major difference in their political systems, however, existed since before colonization. They ended civil wars in different ways: In contrast to military victory of Tutsi-led forces in Rwanda, an international community intervened in Burundi, which adopted a power-sharing system. Takeuchi emphasized, "The role of international community is indispensable to realize power sharing arrangements, but an institution cannot be imposed from outside. Although institutional arrangements can contribute to conflict prevention, they always have a limit."

Special Senior Advisor Kato concluded the symposium, stating, "In order to make effective use of such outcomes, research institutes including JICA-RI should send out the findings to development aid agencies, researchers, policy makers and the international community."
MOVIE COMMENTARY
・Dr. Arnim Langer / The Centre for Research on Pease and Development, University of Leuven, Belgium
・Prof. Sakiko Fukuda-Parr / The New School, U.S.
・Prof. Thandika Mkandawire / The London School of Economics and Political Science
・Prof. Frances Stewart / University of Oxford
| | |
| --- | --- |
| Day | July 26, 2012(Thu) |
| Place | International House of Japan, Tokyo |