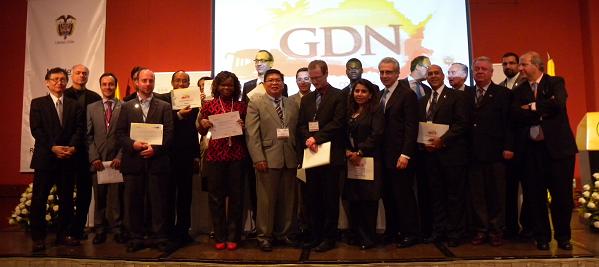 In the aftermath of the financial crisis, it has become increasingly difficult for most donor countries to deliver sufficient aid to developing countries as they are struggling for their own economic recovery. Since continuous aid is necessary for poverty reduction, finding alternatives to fill the lack of fund has become a pressing issue.
The "Global Development Network (GDN)," an international organization of research institutes and universities involved in international cooperation and development, focused on this agenda at this year's annual conference held in Bogota´, Colombia on January 13-15, 2011. This event provides an opportunity for regional networks, researchers and aid officials from around the world to engage in discussions, promote knowledge-sharing and investigate solutions. About 400 people including Colombian President Juan Manuel Santos participated in the conference titled "Financing Development in a Post-crisis World: The Need for a Fresh Look." As the secretariat of GDN-Japan, one of the GDN's regional networks, JICA-RI director Keiichi Tsunekawa and his staff attended the conference.
To shed light on the main subject from various angles, six plenary sessions were organized, covering topics such as "Financing Development in a Postcrisis World: The New Agenda" and "Financial Sector Development and Domestic Resource Mobilization." A total of 18 parallel sessions were also held, featuring themes including microcredit and overseas workers' remittances.
GDN-Japan and the East Asian Development Network (EADN) –another regional network-- jointly hosted a parallel session on "Diversification of Development Finance in Asia." Dr. Josef T Yap, president of Philippine Institute for Development Studies (PIDS) and also head of the secretariat of EADN, served as the chair. Ever since the financial crisis, donors' disbursement of aid to developing countries is declining in Asia. Under such circumstances, various kinds of development assistance are being implemented to deliver continuous aid. The following three speakers presented their research findings from the analyses on such activities' impact on the aid-recipient countries: Prof. Kaoru Hayashi, newly appointed member of the GDN board of directors, GDN-Japan adviser and professor of Bunkyo University; Dr. Jin Sato, head of JICA-RI's research project "Impact of Non-DAC Donors in Asia: A Recipient's Perspective" and associate professor of the University of Tokyo; and Dr. Guntur Sugiyarto, senior economist of the Asian Development Bank (ADB).
Hayashi shared his analysis of ODA trends surrounding the post-crisis world by focusing on the gap between past records of net and gross disbursement of ODA to Asian countries. Referring to the diversification of funding in developing Asian countries, he said that discussions based on both net disbursement and gross disbursement of funding are needed to examine the changing role and importance of ODA in these countries. The significance of development assistance varies by recipient country according to its stage of development. He pointed out that negative net disbursement does not always mean that the country is in no need of assistance.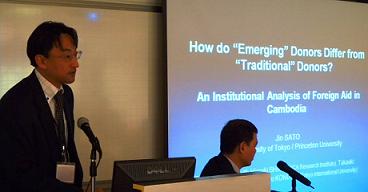 Associate Professor Sato making a presentation
Referring to the JICA-RI's research project on non-traditional donors, Sato introduced a case study of the road sector in Cambodia. He explained that compared to traditional donors who tend to provide aid in a harmonized manner, emerging donors like Thailand and China have a tendency to act individually, based on their strategies as well as their own experience as a recipient. From the aid-recipients' point of view, this difference in approach is welcoming as it could fill the assistance gap in areas traditional donors give little attention. Because of this, the Cambodian government seems to be in favor of emerging donors despite the risk of increase in transaction costs, Sato said.
Sugiyarto's presentation focused on the potential role of overseas migrant workers' remittances to their home countries as complementary and alternative funds for development. The total remittance of Asian migrants reached 162 billion dollars in 2008, 18 times more of the amount in 1988. While this has contributed to the expansion of domestic demand and stimulation of investment in recipient countries, negative impacts such as inflation and decreasing motivation among domestic labor can also be observed, according to Sugiyarto. He explained, how in some countries like the Philippines, workers' remittances not only support the household income of the poor, but play the role of a new development finance such as foreign currency acquisition that boosts the countries' development.
Meanwhile, JICA-RI director Tsunekawa served as the head of the selection committee and the presenter for the Global Development Award ceremony. This award, proposed and funded by the Japanese government, aims to discover and foster research proposals in the field of development as well as innovative development projects of NGOs. The GDN secretariat and other distinguished representatives from around the globe expressed their deep appreciation for the Japanese government's longtime support for this award.
| | |
| --- | --- |
| Day | January 13, 2011(Thu) - January 15, 2011(Sat) |
| Place | Bogota, Colombia |
| Organizer | Global Development Network (GDN) |
| Language | English |