From June 16 to 18, the Global Development Network (GDN) annual conference was held at Central European University and the Hungary Academy of Sciences. JICA-RI was represented by Director Akio Hosono, JICA-RI Advisor to GDN-Japan Kaoru Hayashi (Professor of Bunkyo University, GDN Director), JICA-RI Visiting Fellow Yasuyuki Sawada (Professor of the University of Tokyo), and Research Program Division Director Go Shimada (GDN-Japan Head).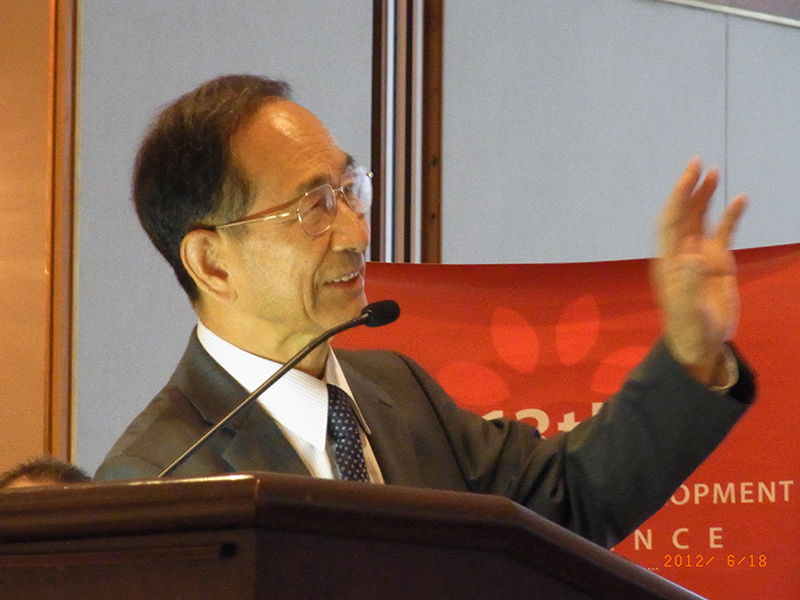 Director Akio Hosono (JICA-RI)
GDN is a global knowledge network, starting in 1999 under the leadership of the World Bank. It aims at promoting the outcomes of development policies and research study through stronger linkage, with creating and sharing new knowledge, exchanging information, and developing human resources. The theme for this year is "Urbanization and Development: Delving Deeper into the Nexus." Currently, more than half of the world population lives in cities, with an unprecedented urbanization. In particular, we face a range of problems in environment, poverty, public safety, housing, land, and disaster prevention, or overall governance issues. This conference, therefore, was held to discuss extensively these issues of urbanization and development.
This 13th conference started with opening remarks by H.E. János Martonyi, Minister of Foreign Affairs of Hungary, and John Shattuck, Rector and President of Central European University (CEU), followed by a keynote lecture by Saskia Sassen, Professor of Columbia University. In her speech, Professor Sassen listed multifaceted agendas such as the environmental burdens associated with the growing global urbanization.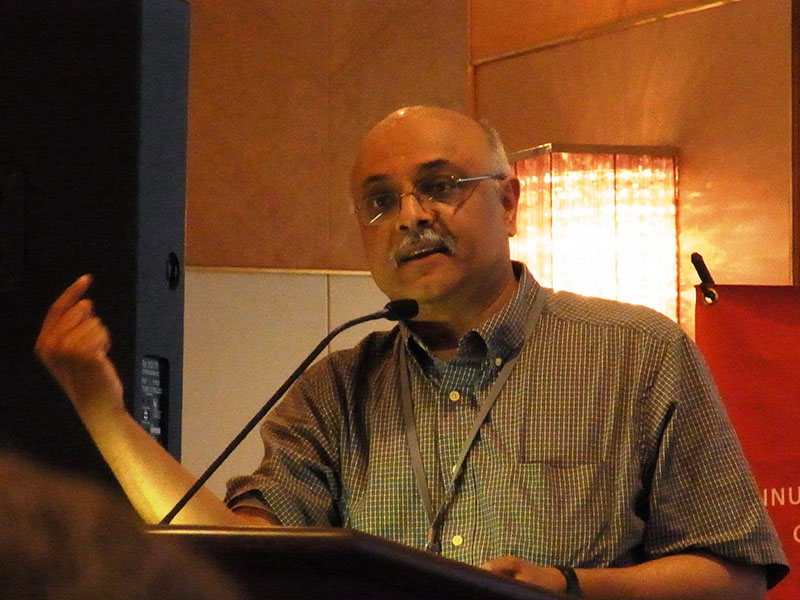 Professor Ravi Kanbur (Cornell University)
A side event was hosted by JICA-RI on the second day, with GDN Director Alan Winters (Professor of University of Sussex) acting as chair.
Director Hosono, in his presentation entitled "Urbanization and Disaster Risk Management," explained the disaster-prevention measures taken in Japanese cities, based on the experiences in the Great East Japan Earthquake and the Great Hanshin Earthquake. Furthermore, he introduced the cases examples of the cooperation of JICA, presenting the disaster-prevention measures in developing countries with fairly limited budgets. He also pointed out that developing countries needed to further increase their "resilience," adding that this idea should be incorporated into the post-MDGs framework.
In response to this presentation, Cornell University Professor Ravi Kanbur, the discussant, stated that an early-stage management of risks including natural disasters was necessary. He also emphasized that it was particularly crucial to prepare both fiscal and monetary resources that can be utilized swiftly in the event of something happening.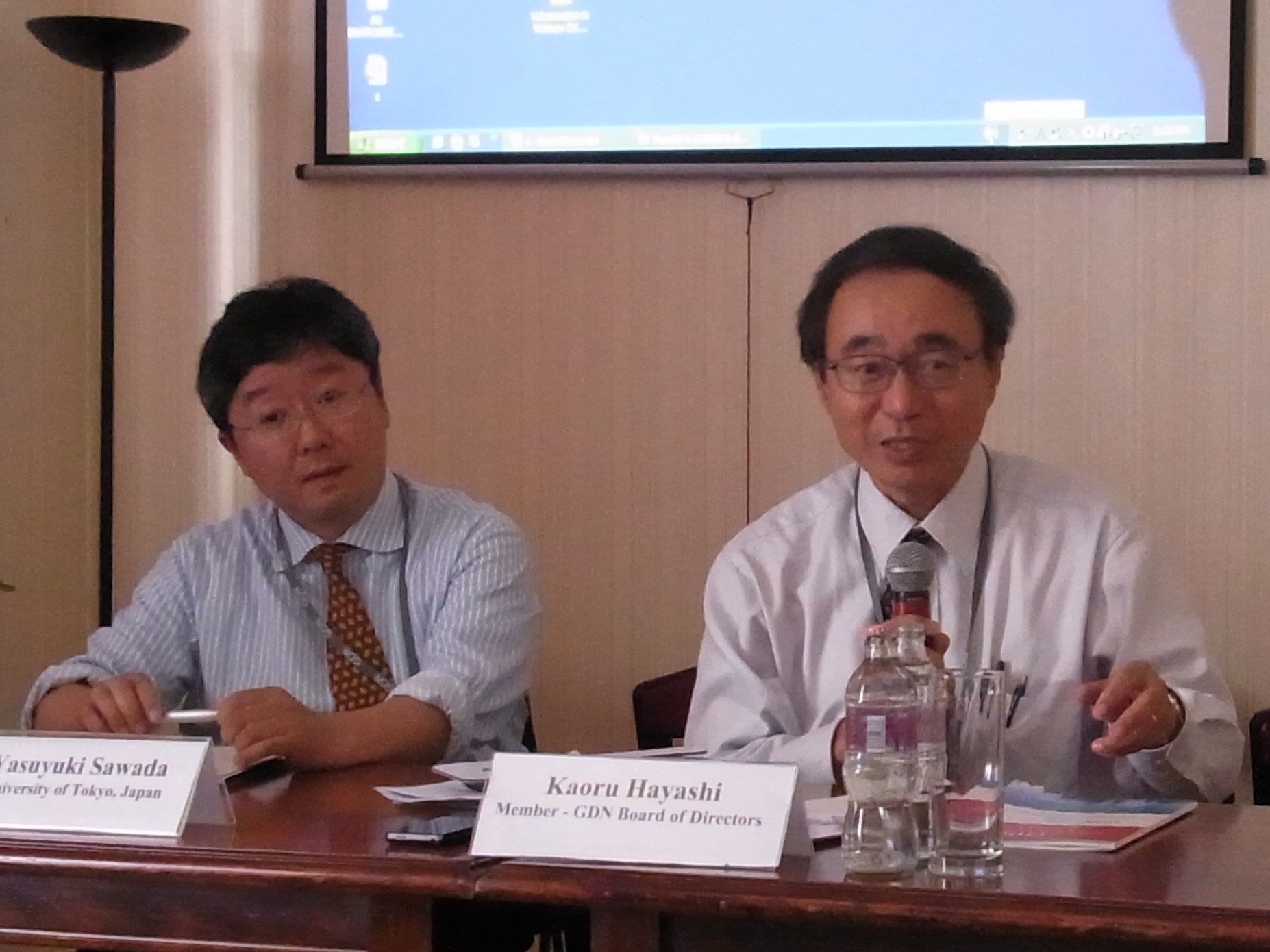 JICA-RI Visiting Fellow Yasuyuki Sawada(left),
GDN-Japan Advisor Kaoru Hayashi(right)
A parallel session was also held in cooperation with the East Asian Development Network (EADN), chaired by JICA-RI Advisor to GDN-Japan Kaoru Hayashi. JICA-RI Visiting Fellow Yasuyuki Sawada presented a report on "How Does an Urban Disaster Differ from a Rural Disaster?" Dr. Sawada explained that natural disasters have been increasing globally. He compared how the non-market mechanism, such as government subsidy and public donation for the Great Hanshin Earthquake and the Chuetsu Earthquake, as well as the market mechanism, such as earthquake insurance and capital market, helped alleviate the aftermath of the quakes. He also noted even in developed countries, urban areas are more vulnerable to natural disasters than rural areas, and that careful preparations for intangible infrastructure such as the earthquake insurance are required, in addition to the physical infrastructure.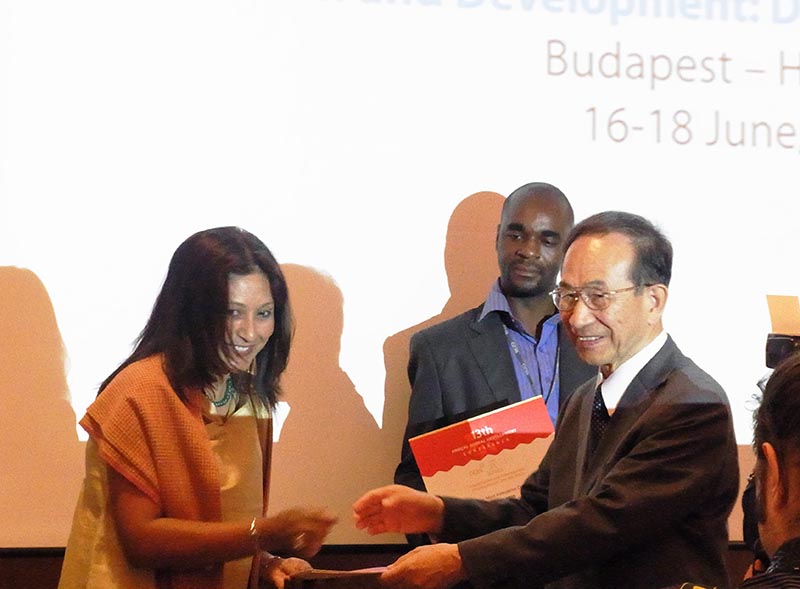 The Prize-giving Ceremony
At the plenary session, Director Hosono served as chairman of the final selection committee (proposal announcements, selections) for the Global Development Awards and Medals Competition, with Prof. Hayashi serving as a selection committee member. Director Hosono also presented award certificates at the prize-giving ceremony. The then Finance Minister Kiichi Miyazawa first proposed this special award in 1999 with an aim to encourage innovative development projects and research. It consists of the following categories; the Japanese Award for Most Innovative Development Project (Projects category) and the Japanese Award for Outstanding Research on Development (Research category), both awarded with Japanese government funds, and the Medals for Research on Development (Medals category) for outstanding researches in five different themes, funded by other national governments or associations.
At this 13th conference, a GDN Board of Directors' meeting was held at this conference, where Prof. Hayashi as GDN Director attended, while GDN-Japan Head Go Shimada attended Regional Network Partners' meeting where the future operation of the GDN network was discussed.
MOVIE COMMENTARY
Kaoru Hayashi
GDN-Japan Adviser and Professor of Bunkyo University
| | |
| --- | --- |
| Day | June 16, 2012(Sat) - June 18, 2012(Mon) |
| Place | Budapest, Hungary |