From September 28 to 30, 2014, the Urban Climate Change Research Network (UCCRN) (
www.uccrn.org
) hosted a Midterm Authors Workshop for the Second Assessment Report on Climate Change and Cities (ARC3-2) in at The Crystal in London. JICA Senior Research Fellow Tomonori Sudo participated in the three-day Workshop.
The UCCRN is a consortium of over 550 researchers dedicated to the analysis of climate change mitigation and adaptation from an urban perspective. The Assessment Report on Climate Change and Cities (ARC3), which is an important part of the UCCRN's initiatives, aims to share knowledge among researchers, decision-makers and on mitigation and adaptation to the effects of climate change in cities The ARC3 series of reports are written by expert scholars from universities and research institutions around the world. The First Assessment Report (ARC3) was published in 2011 and highly appreciated by city leaders across the world for its practical and action-oriented content.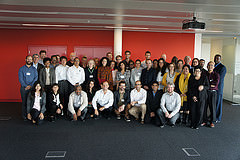 All participants at the workshop
(credit: Somayya Ali Ibrahim, UCCRN)
The UCCRN is now in the process of writing the Second UCCRN Assessment Report on Climate Change and Cities (ARC3-2). For the Second Assessment Report, 75 experts, practitioners, and representatives of fields concerned with climate change in cities attended the ARC3-2 Midterm Authors Workshop. Participants were from the continents of Asia, Australia, Europe, Africa, and North and South America. JICA funded the participation of three Asian researchers to attend the Workshop. Sudo has been participating in the UCCRN ARC3-2 project as the Coordinating Lead Author for the section on the evaluation of the finance sector.
The Second Assessment Report will cover issues related to urban planning and design, health, food, water, energy supply, transportation, coastal zones, environmental equity and justice, housing and informal settlements, economics, private-sector finance, and governance in cities. The report will be published and launched at the occasion of the 21st session of the Conference of the Parties to the UNFCCC (COP 21), which will be held in Paris in 2015. It will also be launched at the third United Nations Conference on Human Settlements (Habitat III) in 2016. The UCCRN will also be announcing the launch of its first Regional Hub in Paris at COP21, to be followed by one Hub on each continent.
| | |
| --- | --- |
| Day | September 28, 2014(Sun) - September 30, 2014(Tue) |
| Place | London, England |