The first workshop of the "Mitigation of Climate Change in Developing Countries" research project, which will be officially launched this year, was held recently at JICA-RI and involved all related project members.
The commitment period for the Kyoto Protocol of 1997 will expire in 2012. As the framework for greenhouse gas (GHG) reduction is being discussed worldwide, this study aims to disclose the current status of and possibilities for carbon reduction in developing countries, and seeks the policy measures necessary for implementation. The study will also suggest the direction for international cooperation based on these findings. The research team is comprised of members from Japan's National Institute for Environmental Studies (NIES) and other specialists.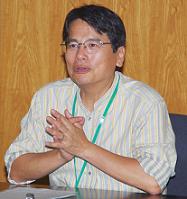 Ryo Fujikura, project leader
Findings of this study will be published as a book in English. The overall plan toward publishing was discussed at the workshop by JICA-RI Visiting Fellow and project head Ryo Fujikura. This was followed by a presentation of each individual researcher's publication contribution plan, followed by feedback and exchange of opinion with all members. JICA-RI Research Associate Tomoyo Toyota discussed her research which will focus on the coal-fueled power plants constructed as ODA loan projects in China, India, Malaysia and Vietnam. These plants will be reviewed as case studies for the effects of GHG reduction under JICA infrastructure programs. Other presenters included: Yasuko Kameyama of the Center for Global Environmental Research at NIES, Mariko Fujimori of Pacific Consultants Co., Ltd., and Hideki Nakamura and Frank Hiroshi Ring of the Institute for Global Environmental Strategies.
Readers of this book will likely be practitioners in development assistance or those in developing countries. The book will include the processes and overall picture of international negotiations on climate change made up until now, and will suggest what possible assistance would be needed to realize the Nationally Appropriate Mitigation Actions (NAMA) of developing countries -- an important discussion theme for the post-Kyoto Protocol framework. The research team aims to publish the book in conjunction with COP17 to be held next year.
Related Research Area: Environment and Development /Climate Change
| | |
| --- | --- |
| Day | September 30, 2010(Thu) |
| Place | JICA-RI |
| Map Link | |
| Organizer | JICA-RI |