JICA-RI's Senior Research Fellow Yuichi Sasaoka, Research Fellows Mari Katayanagi and Takako Yuki, and Research Associates Ryutaro Murotani and Tomoyo Toyota presented their researrch findings at the 21st Japan Society for International Cooperation Conference at Waseda University in Tokyo on December 4-5, 2010.
The Unexpected Implementation of Power Sharing in Zanzibar
Sasaoka's presentation focused on the reason for the sudden institutionalization of power sharing in Tanzania's autonomous region of Zanzibar in November, 2010. The move allows the ruling party and the main opposition to form a coalition government that prevents the concentration of power on a sole political entity.
Zanzibar's political history has been marked by repeated clashes between two main political parties: the Chama Cha Mapinduzi (CCM : Party of the Revolution), which mainly draws support from Unguja Island, and the Civic United Front, whose main support base is in Pemba Island. Race/ethnicity has played a role in disputes and skirmishes.
CCM initially gave a lukewarm response to suggestions of power sharing and talks between the two parties had suffered repeated setbacks because of deep-seated issues that went back years. Just when the chances for peace seemed to be getting slim, the two parties suddenly agreed on a referendum for a new constitution that had provisions for a power sharing agreement. The referendum, held July 31, 2010, sealed the deal with two-thirds of the votes in favor of the agreement.
The outline of the constitutional change is as follows:

1) The autonomous government of Zanzibar will be composed of multiple political parties.
2) The (two) vice presidential positions of the autonomous government will be given to members of the 1st and 2nd leading parties respectively.
3) The ratio of cabinet members will be allocated according to the ratio of the legislative seat number won in the House of Representatives.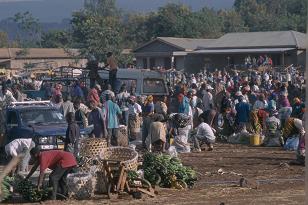 Photo:Osamu Funao/JICA
Sasaoka suggested the possibility of "a maturing sense of unity as 'Zanzibarians'" in the backdrop of the sudden acceptance of the power sharing deal. "With Zanzibar's economy lagging behind mainland Tanzania's (or Tanganyika's), they may also feel that unproductive clashes are jeopardizing their economy ," he added.
In recent years, Tanganyika's economy has been growing at a rate of nearly 6 percent annually (around 5 percent in 2009), due to strong exports of underground resources such as gold. Zanzibar's economy has similarly grown. However, the tourism industry that had been making up for sluggish growth in the agriculture sector is suffering because of political instability.
Zanzibar's October election, was held three months after the peaceful implementation of the power sharing deal, There was nary a trace of violence in the proceedings; no killings and no threats that were common in prior electoral exercises.
"With the question of long-term effectiveness aside, power sharing, for now, is contributing to the stabilization and peace of the autonomous region of Zanzibar," concluded Sasaoka.
*The root of clashes in Zanzibar is racial conflict (Africans or Arabs) but other factors such as mixed racial identity and residential island also affect the region's stability. Therefore, in this article, we use the term "racial/ethnic."
Harmonizing "Development," "Human Rights" and "Peace" Goals in Aid
Katayanagi's presentation was called "The Intersection of Development, Human Rights, and Conflict Prevention and Peacebuilding."
"Development," "human rights," "conflict prevention and peacebuilding" have been treated as separately in research based on the perception that they are "aiming at different directions." But there has been an increasing awareness of the relevance to connect any pair of these fields in different combinations. A typical example would be the concept of "rights-based development."
Katayanagi argues "there must be an overlapping area not only for two but all three of these fields. Finding such an 'intersection' and examining the ways to combine them will lead to the enhancement and efficiency of development assistance."
The intersection that Katayanagi had in mind was the system in which the state or duty-bearer provides public service to the "people" as rights holders. and the people who enjoy public services are able to find solutions to various problems through communication with the state by participation in civil forums, elections, projects, and so on. For this to happen, it is essential to enhance capacity of the state and the people.
"Properly functioning such systems will lead to the promotion of development, protection of human rights, and consolidation of peace," Katayanagi says. "It is important to verify if the aid approaches of donor countries are based on human rights, within the context of a proper understanding of the whole society of recipient countries. Also crucial is examining how much the purpose of conflict prevention and peacebuilding is sinking in. I am presenting concrete ideas on the kinds of cooperation that could stem from these intersections."
Higher Education Assistance through ODA:Living Up to Expectations
Yuki presented the findings from her survey on the Higher Education Loan Program, a Japanese ODA loan program for Malaysia. HELP is a public-funded educational project under which Malaysian students are sent to Japanese science and technological universities.
In order to prove whether the program has been helping Malaysia create a workforce suited to the changing economic and social needs of Malaysia, Yuki analyzed HELP data focused on the employment situation of program participants for a period of 10 years after completion: employment rates, fields, and locations. Findings show that around 80 percent of graduates have either found jobs or advanced to other higher education programs. Of those who started working, 80 percent found jobs in the manufacturing sector, 78 percent in Japanese firms, and 80 percent within Malaysia. With these results, Yuki said the performance of HELP graduates is comparable with the graduates of Malaysian public universities, and that HELP has lived up to its expectations.
"With further analysis of survey data, we would like to shed light on how HELP has been contributing to human resource development in Malaysia," she added.
The Effectiveness of "Multi-Donor Trust Fund" in Peace Building
Murotani's presentation focused on the effectiveness and limits of Multi-Donor Trust Funds and whether they are contributing to peace building processes.
In post-conflict rebuilding, the new government's "capacity" and "legitimacy" are important factors. For fragile states both are often lacking or absent. Instead of providing general budget support, donor countries establish MDTFs as "baskets" where they pool aid money. MDTFs are separated from recipient nations' national budget. These are not uncommon: two-thirds of the development aid for Afghanistan, as well as 10 percent of that for East Timor are delivered without passing through the national budgets.
Murotani acknowledges the immediate impacts of these methods.
"It is true that MDTFs allow donors to directly manage their finances, which makes it possible to deliver aid programs in the short-term," he says.
When it comes to long-term results however, "some European donors strongly argue the effectiveness of MDTFs by pointing out that 'recipient countries have the chance to build on capacity development (CD) to manage aid money on their own while utilizing MDTFs.' But there have not yet been any success stories of such CD in public finance management during post-MDTF implementation. MDTFs' impact on the legitimacy of states has not been studied either."
The long-term effectiveness of MDTFs has not been fully analyzed, and from this standpoint, Murotani concluded, "rather than blindly believing in the effectiveness of MDTFs, it is essential to verify objectively whether MDTFs are effective in strengthening the capacity and legitimacy of the recipient government."
Japan ODA Loan for Coal-fueled Power Plants Contribute to CO2 Reduction
Fourteen coal-fueled power plants have been constructed in four countries using Japan's ODA loans since 1990: four in China (with a total output of 2.7 million kW), six in India (5.27 million kW), one in Malaysia (1 million kW), and three in Vietnam (1.53 million kW).
Toyota found that, generally, ODA loan projects have constructed power plants with higher efficiency. According to her figures, in China, for example, the average thermal efficiency of ODA-financed plants was 42.6 percent, much higher than the country average of 32.3 percent., a figure from the International Energy Agency. In other countries, the numbers are 35 percent and 26.7 percent for India, 36.5 percent and 36.6 percent for Malaysia, and 38.3 percent and 36.1 percent for Vietnam, respectively.
Using these figures, Toyota went on to estimate the greenhouse gas reduction in ODA-funded plants. She estimates that, in 10 years, the reduction will amount to 30.1 million tons in China, 104.5 million tons in India, 1.1 million tons in Malaysia, and 3.1 million tons in Vietnam.
"Calculated figures vary depending on which scenario was used. Nevertheless, my quantitative research result shows that even coal-fired power plants, which are generally considered environmentally unfriendly, can contribute to CO2 reduction, " said Toyota.
Related Research Area: Peace and Development, Aid Strategies
| | |
| --- | --- |
| Day | December 04, 2010(Sat) - December 05, 2010(Sun) |
| Place | Waseda University, Japan |
| Map Link | |
| Language | Japanese |
| Related File | |