JICA-RI organized an international workshop for a research project titled "The Second East Asian Miracle? Political Economy of the Rapid Recovery from the 1997 Crisis"on February 13th and 14th, 2011. This project aims to draw implications for sustainable economic development in Asia by examining the recovery processes from the two financial crises of 1997/98 and 2008/09.
JICA-RI Director Keiichi Tsunekawa, Research Fellows Yasunobu Okabe and Jean-Claude Maswana take part in this project. Also involved are researchers based at universities in the U.S, Indonesia, Korea, China, and Thailand. The members are currently preparing papers respectively on different themes regarding the financial crises and the economic development in East Asia.
The main purpose of this workshop was to share the progress of their work and to exchange comments in order to polish the contents. Four discussants from home and abroad were invited to provide their insights.
From JICA-RI, Director Tsunekawa gave a presentation on what he calls Japan's "high income trap" in contemporary Japan, Okabe on the financial restructuring and its outcome in Korea and Thailand after the 1997 crisis, and Maswana on the role of the banking sector for export promotion in China and Korea.
Other presentations focused on the middle income trap and the external vulnerability of economy of Southeast Asian countries, strategies for free trade agreements of Korea and Thailand, and the role played by the Chinese Government in the 2008/09 crisis.
At the discussion session that followed every presentation, participants shared a wide range of views and in-depth questions, based on their expertise of political science, economics, and area studies.
With these exchanges, each author will continue to work on their individual paper further and the research outcomes will be released at a symposium planned for the fiscal 2011.
Related Research Area: Growth and Poverty Reduction
Related Research Project: The Second East Asian Miracle? Political Economy of the Rapid Recovery from the 1997 Crisis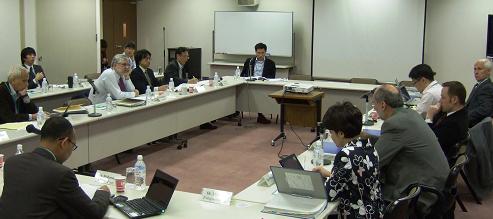 | | |
| --- | --- |
| Day | February 13, 2011(Sun) - February 14, 2011(Mon) |
| Place | JICA Research Institute |
| Organizer | JICA-RI |