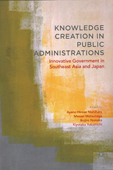 Public organizations are often regarded as inherently uncreative entities in a society. Nonetheless, their innovative capacity is a decisive factor in setting the course of a nation's development. This is particularly true of Southeast Asian countries and Japan, which have entered critical stages of socio-economic development. While the former need to avoid falling into the "middle income trap," the latter must cope with an aging and decreasing population, a challenge that has not previously been experienced by any modern nation. Innovation by public administrations, in both cases, will be required to address these challenges.

This book explores the rarely probed dynamics of innovation within public administrations. It examines regional benchmark organization cases to attempt to identify the major factors that affect innovative problem-solving capacity. It concludes with the findings and implications for practical measures to facilitate the enhancement of the innovative capacity of public administrations in the region.

Another feature of this book is that it adapts the knowledge creation theories developed by Professor Emeritus Ikujiro Nonaka of Hitotsubashi University and his colleagues to the public sector. Although they have been widely adapted in the private sector as a major framework for knowledge-based management, their application to the public sector has been disproportionately limited. This book illustrates the ways that the application of these theories can potentially open up alternative approaches to administrative reform that focus on organizational learning and innovation.

This book is the result of the project called "Case Study and Modeling of Organization Management in Southeast Asia." Conducted between March 2013 and September 2015, it was a joint project of the Japan International Cooperation Agency (JICA), the National Graduate Institute for Policy Studies (GRIPS), the Graduate School of International Corporate Strategy at Hitotsubashi University, as well as leading policy research organizations in Indonesia, the Philippines, Thailand, and Vietnam.

This study also formed the basis for its sister book, "Knowledge Creation in Community Development: Institutional Change in Southeast Asia and Japan," which was published concurrently.