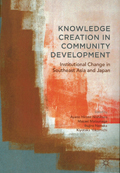 Communities are increasingly facing social issues affecting the quality of life in general. For those in developing as well as developed countries, it is critical to find new ways to be more collaborative, innovative, and effective in addressing such issues.

This book presents a new paradigm of leadership and management in community development, which can be used to solve social issues through the collaboration of multiple stakeholders who may have different objectives, interests and values. In doing so, the book endeavors to answer the following question: how can we synthesize diversity among stakeholders and mobilize them to collaborate and co-create new knowledge toward mutual goals?

Case studies conducted in this study show the steps taken by leaders for solving social issues in local communities in the member countries of ASEAN, including Indonesia, the Philippines, Thailand, and Vietnam as well as Japan. Throughout the process, people's mindsets were transformed and new ways of doing things were created—a process referred to as "social innovation." In other words, this book argues that community development and social innovation are about co-creating new social values by changing the way people think and act by establishing new relationships among multiple stakeholders. Therefore, the process of creating new knowledge will be the key to social innovation, thereby solving social issues.

This book is the result of a project called "Case Study and Modeling of Organization Management in Southeast Asia." Conducted between March 2013 and September 2015, it was a joint project of the Japan International Cooperation Agency (JICA), the National Graduate Institute for Policy Studies (GRIPS), the Graduate School of International Corporate Strategy at the Hitotsubashi University, as well as leading policy research organizations in Indonesia, the Philippines, Thailand, and Vietnam.

This study also formed the basis for another book titled "Knowledge Creation in Public Administrations: Innovative Government in Southeast Asia and Japan," which was published concurrently.