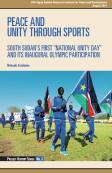 Project History is a publication series by the JICA Ogata Sadako Research Institute for Peace and Development that reviews past JICA projects and analyzes their trajectories and outcomes. "Peace and Unity Through Sports: South Sudan's First 'National Unity Day' and Its Inaugural Olympic Participation" was recently published as the third English-language book of this series.

South Sudan became independent from Sudan on July 9, 2011, after a civil war that lasted for half a century. It is the youngest nation in the world. However, within two and a half years, in December 2013, a conflict broke out. Although a peace agreement was made and an interim administration was established subsequently, the situation remained highly unpredictable.

To realize the sincere wish of the South Sudanese government to urge the people of the nation to unify as one through the spirit of fair play in sports, JICA assisted the holding of a national sports event. The South Sudanese government named this national sports event "National Unity Day," and with additional help from locally-stationed Japan Self-Defense Forces and Japanese companies, the first event since the nation's independence was held in January 2016. Since then, JICA has been assisting the holding of the National Unity Day every year.

Furthermore, JICA also assisted South Sudan in its first ever participation in the Olympic Games as an independent nation. Unfortunately, on July 8, 2016, the day the Olympic squad was supposed to be announced, gunfights broke out again and the Japanese staff of the JICA South Sudan Office were forced to evacuate the country. As such, many obstacles came in the way, but three athletes were able to compete in the track and field events during the Rio 2016 Summer Olympics held in August of that year. JICA continues to assist the realization of "peace and unity through sports" by helping the South Sudan Olympic squad to compete in the Olympics and the annual National Unity Days held in South Sudan.

This book describes the efforts for peace and unity in South Sudan through sports. It is the first book in the series to look at peace building assistance through sports. Furukawa Mitsuaki, the author, was consistently involved in these efforts when he was the chief representative of the JICA South Sudan Office. Based on his own experience, he explains why conflicts recur in the nation and why they support the National Unity Days for peace building. He also describes how the road to the first National Unity Day was not an easy one, what happened at the time of evacuation, and what significance Rio 2016 had on the people of South Sudan, while sharing some stories from the time.