Nagpur, May 30, 2019: Nagpur Municipal Corporation (NMC), National River Conservation Directorate (NRCD) and Japan International Cooperation Agency (JICA) held the "Workshop on Japanese Technologies for Sewerage Treatment and Related Facilities; Project for Pollution Abatement of Nag River at Nagpur" in Maharashtra. 13 Japanese companies delivered presentations of their special technologies on wastewater treatment, membrane process, sludge treatment, sewer pipe replacement and toilet facilities.
The main objective of the workshop was to introduce Japanese technologies in India and to facilitate interactions with Government of India and prominent Indian companies. The workshop was attended by Ms. Nanda Jichkar, Mayor, NMC; Mr. Abhijit Bangar, Commissioner, NMC; Ms. Sabita Madhavi Singh, Joint Director, NRCD; Mr. Katsuo Matsumoto, Chief Representative, JICA India Office and representatives from Japanese and Indian companies among others.
Speaking on the occasion, Mr. Katsuo Matsumoto, Chief Representative, JICA India Office, said, "This is the first commemorative moment for JICA India Office to convene such kind of workshop to introduce Japanese technologies in India. We would highly appreciate the participations from various stakeholders, especially for those who came all the way from Japan to share their knowledge and experiences with Indian partners. We have invited renowned Indian companies in water and sanitation sector, besides Indian governmental agencies. We hope the workshop would provide an opportunity for new partnerships of two countries to address the water and sanitation issues in India."
Presently, JICA is conducting Preparatory Survey for "Project for Pollution Abatement of Nag River at Nagpur," in which the establishment of the sewerage treatment system and other related facilities is expected to be supported for the rejuvenation of Nag River. The objective of the survey is to collect the relevant data to assess the relevance of the Project.
JICA has been supporting the development of water supply and sewage treatment infrastructure throughout India. Nearly 30 million people will receive water from water supply projects, while 15 million people are expected to be benefited from sewerage projects. It has also supported capacity development of water related agencies by introducing volumetric tariff system for billing water consumption, efficient asset management, and enabling non-revenue water reduction.
JICA has contributed towards inclusive and dynamic development of Maharashtra through its various projects. JICA has extended a cumulative 420,286 million Japanese Yen (approximately INR 26,430 crore) through ODA loans since 1978, for comprehensive development efforts in Maharashtra, including the Project for Pollution Abatement of River Mula-Mutha in Pune, Mumbai Trans Harbour Link (MTHL), Mumbai Metro, Ajanta-Ellora Conservation and Tourism Development Project and so on.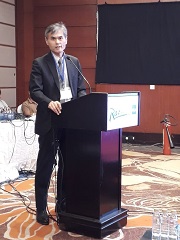 Mr. Katsuo Matsumoto making a speech at the workshop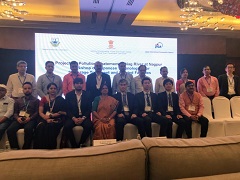 The speakers and attendees at the workshop
About JICA
Established by a specific law as an incorporated administrative institution under the Government of Japan, the Japan International Cooperation Agency (JICA) aims to promote international cooperation as the sole Japanese governmental agency in charge of ODA implementation. JICA is the world's largest bilateral donor agency. JICA works as a bridge between Japan and emerging countries, and provides assistance in the form of loans, grants and technical cooperation, so that the emerging countries can strengthen their capabilities.
For further information, please contact:
JICA India Office
Sho Naya/Vini Sharma
+91 11 49097000
Naya.sho@jica.go.jp / sharmavini.id@jica.go.jp