Lucknow, July 30, 2019: The ceremony for completion of Advanced Mould Development and Training Program under the Verification Survey for Engineer Training for Modular Dies in India supported by Japan International Cooperation Agency (JICA) was organised at the Central Institute of Plastic Engineering & Technology (CIPET) Lucknow. JICA, as the implementing agency of the Official Development Assistance of Japan, introduced the training program with an aim to provide technical training to teach students for a period of 6 months from Feb'19 - July'19, to produce base unit of modular mould and develop a business deployment plan to diffuse modular moulds. The training involved necessary technology for modular mould engineering such as technology for product designing, technology for mould designing and technology for assessment of mould product.
Gifutadaseiki, a manufacturing company from Japan, was selected by JICA to introduce their technology in India, through training activities including Training of Trainers (ToT) and Training of Students (ToS) with reference to the sector. Gifutadaseiki, has also conducted the Verification Survey at CIPET IPT Lucknow (India) for Disseminating Japanese Technologies for Engineer Training for Modular Mould in India entrusted by JICA and decided to establish the advance mould development and training facility at CIPET IPT Lucknow.
Speaking on the occasion, Mr. Katsuo Matsumoto, Chief Representative, JICA India Office said, "I want to congratulate all students for successfully completing the Advanced Mould Development and Training Programme. The knowledge that you have attained will help you contribute for improvement in manufacturing competitiveness and creating more employment opportunities in India. Our vision is in line with the Government's "Make in India" policy which is aiming to generate 100 million employment in manufacturing sector by 2020 and "Skill in India" policy to promote human resource development. The Japanese enterprises possess technological expertise in various fields that assists in fulfilling the industry needs and have a positive impact on the social welfare of a country. In the mould and die field in the manufacturing sector there is a requirement for highly skilled person/engineers who can develop the design and provide precision tooling to the customer. I believe that the TOT and TOS can strengthen current curriculum of CIPET Lucknow and every training system is conducted in sophisticated and sustainable way.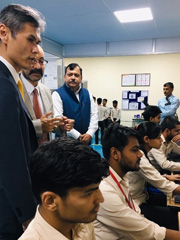 Mr. Matsumoto, Chief Representative, JICA Office observes Training of Students (ToS)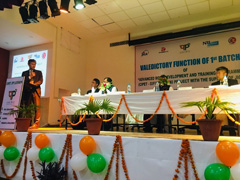 Mr. Matsumoto delivers the opening remarks at the ceremony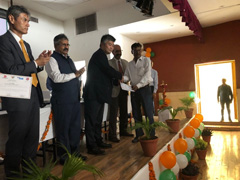 Mr. Norio Tada, President of Gifutadaseiki gives certificates to students
About CIPET
CIPET renders Technology Support Service in the areas of design, tooling, plastics processing and testing and quality assurance in India and abroad. CIPET has been in the forefront of strengthening the technological capabilities and has been constantly building capacities and leveraging its expertise, calibre and skill sets to meet the emerging and evolving needs of the industries. CIPET has 29 centres in India. The infrastructure facilities in terms machinery, equipment and technology are continuously upgraded and modernized in tune with needs of plastics & allied industries.
About JICA
Established by a specific law as an incorporated administrative institution under the Government of Japan, the Japan International Cooperation Agency (JICA) aims to promote international cooperation as the sole Japanese governmental agency in charge of ODA implementation. JICA is the world's largest bilateral donor agency. JICA works as a bridge between Japan and emerging countries, and provides assistance in the form of loans, grants and technical cooperation, so that the emerging countries can strengthen their capabilities.
For further information, please contact:
JICA India Office
Yuko Shinohara/Vini Sharma
+91 11 49097000
Shinohara.yuko@jica.go.jp
Sharmavini.id@jica.go.jp
MSL India
Nishtha Grover/Saloni Sachdeva
+91 9818021223/9999427000
nishtha.grover@mslgroup.com
Saloni.sachdeva@mslgroup.com