New Delhi, August 1, 2019: Japan International Cooperation Agency (JICA) has deployed 7 more volunteers to India on July 24th to promote international cooperation through the sharing of knowledge and experience and to work as a bridge between the people of India and Japan. With these new volunteers, the JICA Volunteers who are widely known as Japan Overseas Cooperation Volunteers (JOCV) in India now count to the total of 18 in as many as 10 states which are Telangana, Karnataka, Tamil Nadu, Odisha, Himachal Pradesh, Gujarat, Delhi, West Bengal, Uttarakhand and Andhra Pradesh.
The new JOCVs sent to India include Mr. Takuya Sakamoto, a table tennis coach who will be deployed in Odisha; Mr. Takahito Nakamura, a Judo coach, will work in Telangana; Mr. Tatsunori Takehara and Mr. Hiroto Yanaka, will be working as community development officers for income generation activities in Sericulture in Uttarakhand and Andhra Pradesh respectively; Ms. Yuki Hamochi and Ms. Kaho Ito will teach the Japanese language in Delhi and Ms. Hikari Nishizawa, a special educator, will be placed in Tamil Nadu for improvement of service to people with special needs. They have taken a 70-day pre-assignment training in Japan to deepen their skills and knowledge in the assigned fields before their arrival in India and currently they are undergoing an on-arrival training for 1 month in Delhi including local language course of Hindi, Tamil and Telugu. They will be dispatched to their places of assignment at the end of August upon completion of the training.
Mr. Katsuo Matsumoto, Chief Representative, JICA India said, "JICA has deployed these JOCVs to enhance the cooperation in the economic and social development of India as well as to promote international goodwill and deepen mutual understanding between the citizens of two countries. These JOCVs are well trained and skilled in their respective domains, and will help accelerate progress in their areas of work. JICA realizes that the existing 11 JOCVs has made to catalyze growth in income generation of farmers, improvement in Japanese language skills and enhancement of swimming skills of students. We would want such contribution to be extended to all parts of India by the new JOCVs, strengthening the relationship between India and Japan."
JICA is laying increased emphasis on facilitating skill development and capacity building in India as well as people to people exchange. JICA's volunteers have knowledge and expertise as well as strong desires to participate in cooperative activities. In addition, they work and learn together with communities, speak local languages and carry out activities with an emphasis on raising self-reliant efforts while enhance the cultural exchange between the two countries.
JOCVs have been contributing in the fields of Japanese-language education, community development, social welfare, and sports in India. India is one of the first countries where the JOCV program started in 1966 and over 200 volunteers have been dispatched to India since then.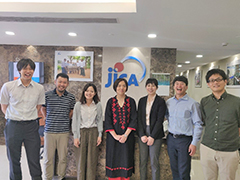 The Volunteers in the JICA India Office during their orientation session
About JICA
Established, by a specific law, as an independent administrative institution under the Government of Japan, the Japan International Cooperation Agency (JICA) aims to contribute to the promotion of international cooperation, as a sole Japanese governmental agency in charge of ODA implementation. JICA is the world's largest bilateral donor agency. JICA works as a bridge between Japan and emerging countries, and provides assistance in forms of loan, grant and technical cooperation so that the emerging countries can strengthen their capabilities.
For further information, please contact:
JICA India Office
Yuko Shinohara/Vini Sharma
+91 11 49097000
Shinohara.yuko@jica.go.jp
Sharmavini.id@jica.go.jp
MSL India
Nishtha Grover/Saloni Sachdeva
+91 9818021223/9999427000
nishtha.grover@mslgroup.com
Saloni.sachdeva@mslgroup.com