New Delhi, August 1, 2019: Under the ongoing Technical Corporation (TC) Project 'Capacity Development on Railway Safety', which aims to enhance the capacity of the Indian Railways (IR) and the Dedicated Freight Corridor Corporation of India Limited (DFCCIL), JICA Experts visited Rolling Stock Maintenance facilities to have knowledge sharing with Indian counterparts in order to deepen mutual understanding of methodology for Rolling Stock maintenance in India and Japan.
JICA Experts visited Electric Multiple Unit (EMU) Car Shed in Ghaziabad, Uttar Pradesh and Carriage & Wagon Workshop in Jagadhari, Haryana to understand Rolling Stock maintenance practices and actual maintenance status of running gear (bogie/wheelset) to promote improved maintenance quality on Rolling Stock in Indian Railways.
Speaking on the occasion Mr. Takuo Kuwahara, JICA Expert for Rolling Stock Maintenance said, "During the site survey, JICA Experts team had a discussion with Indian counterparts on details of the forthcoming training program of Indian officials in Japan scheduled in November 2019, besides the Rolling Stock maintenance practices followed in India. JICA Expert team will frame training program based on the mutual understanding with Indian counterparts. We believe that tailor-made training program in Japan would be a good opportunity for Indian counterparts to understand Japanese knowledge and experiences so as to contribute to the safe railway operation in India."
This TC project is to be implemented during the next one and half years. The first training program in Japan in the field of Accident Investigation was conducted in early July 2019. Another four training programs in Japan in the field of Rolling Stock maintenance, Rail welding, Track maintenance, Safety Management will be conducted within the current fiscal year 2019.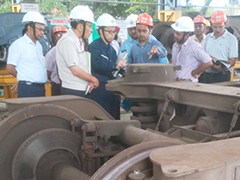 Indian officials and JICA experts while having a discussion at the site.
About JICA
Established by a specific law as an incorporated administrative institution under the Government of Japan, the Japan International Cooperation Agency (JICA) aims to promote international cooperation as the sole Japanese governmental agency in charge of ODA implementation. JICA is the world's largest bilateral donor agency. JICA works as a bridge between Japan and emerging countries, and provides assistance in the form of loans, grants and technical cooperation, so that the emerging countries can strengthen their capabilities.
For further information, please contact:
JICA India Office
Yuko Shinohara/Vini Sharma
+91 11 49097000
Shinohara.yuko@jica.go.jp
sharmavini.id@jica.go.jp
MSL India
Sahil Raina
+91 9873184999
sahil.raina@mslgroup.com