New Delhi, October 16, 2019: The Food and Agriculture Organization states India is the world's largest producer of milk, pulses and jute, and is the second largest producer of rice, wheat, sugarcane, groundnut, vegetables, fruit and cotton.[1] Agriculture, with its allied sectors, is the largest source of livelihoods in India. 70 percent of its rural households still depend primarily on agriculture for their livelihood, out of which 82 percent of farmers are small and marginal. However, as the Indian economy has diversified and grown, agriculture's contribution to GDP also needs to grow subsequently. JICA is working to enhance India's effective agricultural capabilities through its various projects in the form ODA loans and Technical Cooperation.
For development of sustainable agricultural food production practices, JICA is working on - Himachal Pradesh Crop Diversification Promotion Project, Jharkhand Horticulture Intensification by Micro Drip Irrigation (MDI) Project, Project on Capacity Enhancement for Sustainable Agriculture and Irrigation Development in Mizoram and The Andhra Pradesh Irrigation and Livelihood Improvement Project.
JICA has adopted varied techniques in its projects to increase the farm produce which has led to steady increase in the income of the farmers. JICA's agriculture and irrigation projects are aligned with the Prime Minister's goal of doubling the farmers' income by 2022.
The Project in Himachal aims to develop minor irrigation facilities, farm roads and promotion of vegetable cultivation across 5 districts of Himachal Pradesh. Due to the project around 1,000 ha has been shifted to vegetable cultivation area and some of the farmers reported that their income level has significantly increased. Similarly the Jharkhand Project, by utilizing the Micro Drip Irrigation (MDI) technology, has helped over 1800 small and marginal to benefit from the use of technology. It is planned that another 800 women farmers will adopt MDI technology this year. Munni, one of the woman farmer who after installing the system for 6 months said "Since I have installed MDI system and obtained training of horticultural practices, I have been able to produce more and better quality vegetables in a shorter period and sell them to the market in a higher price as off season vegetable. I have taken a loan of Rs.10,000 to install the MDI system, I feel that I will be able to return the loan in a shorter period than initially planned."
The state of Andhra Pradesh is leading in agriculture and horticulture production in India so far but there is further room to improve the overall food value chain. The gap between potential irrigation area and actual irrigated area is huge (over 1.1 million ha) due to a large number of aged irrigation systems and lack of proper systems. JICA supports project in Andhra Pradesh that focuses on rehabilitation of around 20 major and/or medium irrigation systems, and around 450 minor irrigation schemes across all districts of Andhra Pradesh. A unique feature of the Project pertains to pilot activities for food value chain development of selected cash crops such as mango, tomato, chilli and coconuts as well as establishment of Agriculture Mechanisation & Training Centre (AMTC) for promotion of farm mechanization.
JICA, apart from funding projects is also providing Technical Cooperation to 'Project on Capacity Enhancement for Sustainable Agriculture and Irrigation Development in Mizoram'. The Project has been launched as pilot project in 4 blocks in Mizoram. JICA has dispatched Japanese experts to assist development planning, irrigation and O&M, farmers' organization, food crop cultivation technologies, cash crop cultivation technologies, farm management and marketing, land use and resources management, and environmental and social considerations. The Project will also address gender empowerment by facilitating women's participation into planning and implementation process. Trainings in Japan have been conducted and few others have been lined up.
Speaking on the occasion of World Food Day, Mr. Katsuo Matsumoto, Chief Representative, JICA India, said, "JICA understands the need for a robust agricultural sector to ensure India meets its Sustainable Development Goal, Target- 2, which entails - End hunger, achieve food security and improved nutrition and promote sustainable agriculture. To support India's vision, our projects are designed to improve the existing agriculture system and introducing latest technology, to improve farmer's output and income."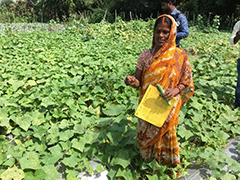 Munni, with her Kisan Card in hand, is explaining how her cucumber productivity has increased after installation of the MDI system in Jharkhand Horticulture Intensification by Micro Drip Irrigation (MDI) Project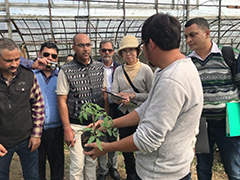 Overseas training in Himachal Pradesh Crop Diversification Project
About JICA
Established by a specific law as an incorporated administrative institution under the Government of Japan, the Japan International Cooperation Agency (JICA) aims to promote international cooperation as the sole Japanese governmental agency in charge of ODA implementation. JICA is the world's largest bilateral donor agency. JICA works as a bridge between Japan and emerging countries, and provides assistance in the form of loans, grants and technical cooperation, so that the emerging countries can strengthen their capabilities.
For further information, please contact:
JICA India Office
Yuko Shinohara/Vini Sharma
+91 11 49097000
Shinohara.yuko@jica.go.jp
Sharmavini.id@jica.go.jp