New Delhi, December 5, 2019: The International Volunteer Day is celebrated to recognize the contribution of individual volunteers, communities and organizations to promote development at the local, national and international levels. On the same lines of promoting international cooperation, JICA Volunteer programme was started in 1965 and since then, over 50,000 volunteers have been dispatched in 91 countries for the areas including agriculture, forestry and fisheries, fabrication, repair operations, civil engineering, sanitation, education and culture, sports as well as planning and administration.
In India, the JICA Volunteers programme made its start in 1966 when the first 9 volunteers were dispatched to India, to cooperate in developing India's human resource and improving lives in the field of nursing, nutrition and automobile maintenance. To this date, over 200 volunteers have been dispatched across various fields. Currently, 18 JICA Volunteers are working all over India in the field of Japanese language education, community development, sports, marketing, and empowerment for people with disabilities. Additionally, 3 JICA volunteers arrived in India on December 2 - Mr. Tatsuya Kato, Rugby coach, requested by Indian Rugby-Football Union, will be deployed to Kalinga Institute of Social Sciences (KISS), Bhubaneswar, Odisha. Ms. Miho Wakasugi, Japanese language teacher will be joining Doon University, Dehradun, Uttarakhand and Ms. Ai Higuch, Primary School Education will be working at Selvam School, Arakkonam, Tamil Nadu. They will joining their respective places of assignment at the end of the month after undergoing one-month's training on local language, life and culture of India.
Speaking on the occasion of International Volunteer Day, Mr. Katsuo Matsumoto, Chief Representative, JICA India said, "We believe that our programme has an positive impact on the lives of the people, with our volunteers working with local communities at grassroots level, nurturing friendship and developing mutual understanding with them. JICA's vision for India is in alignment with the Government's program to build self-supporting communities. Our volunteers are working with the people in India to support their efforts in being self-dependent and self-reliant by developing their skills and knowledge."
The JICA Volunteers are categorized under two wide heads – Japan International Cooperation Volunteers (JOCV), which are relatively young and energetic individuals aspiring to gain and impart knowledge, and Senior Volunteers (SV) who are experienced in their skills.
The motto of JOCV Programme is "Together with the Local Community". The JOCVs aim at promoting international cooperation through the sharing of knowledge and experience, and work as a bridge between the people of India and Japan. An activity of Ms. Yuriko Fujisawa, a community development JOCV in Himachal Pradesh (HP), is one such example. Ms. Fujisawa came to India, with a great enthusiasm to contribute towards the betterment of people living in HP. Based in the town of Hamirpur and working for Department of Agriculture, Government of HP, Ms. Fujisawa noticed that soya which is a local produce of the state, is not much appreciated although in Japan, people eat soya in many ways. Ms. Fujisawa made a recipe book on soya in Hindi and conducted cooking classes mainly for female farmers, mentioning about soya's nutrition value as well. The cooking classes were of great value to the farmers as they introduced to the variety of recipes and high nutrition value of soya, which they were unaware of.
Similarly, Mr. Koichi Watanabe, a JOCV swimming coach, working for Sports and Youth Services Department of Odisha Government has been successfully imparting his skills and experience to the children of Odisha. With an experience as coach for many years as well as himself having been a national swimmer, he coaches the Odisha kids from very scratch, bringing the Japanese method, both on skills and spirits.
With high appreciation by the people of India as well as the Government of India, another batch of volunteers will be arriving at the end of fiscal year 2019-2020. With that batch, the JICA volunteer will grow to 28 in number, forming a remarkably big figure. A group of 8 short-term JOCV on rugby will also be arriving in February to teach rugby in Bhubaneswar, Odisha for one month. JICA continues to nurture the programme for the further promotion of international cooperation through the sharing of knowledge and experience, and people-to-people exchange between India and Japan.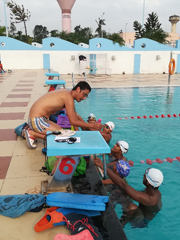 The JOCV swimming coach giving swimming lessons to children in Bhubaneshwar, Odisha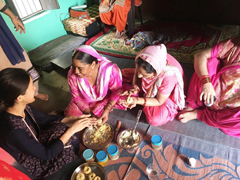 The JOCV deployed at Hamirpur, Himachal Pradesh, taking cooking classes of local residents, teaching them variety of soya recipes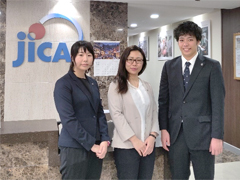 The 3 new JOCVS who will soon be dispatched to their places of assignment
About JICA
Established, by a specific law, as an incorporated administrative institution under the Government of Japan, the Japan International Cooperation Agency (JICA) aims to contribute to the promotion of international cooperation, as a sole Japanese governmental agency in charge of ODA implementation. JICA is the world's largest bilateral donor agency. JICA works as a bridge between Japan and emerging countries, and provides assistance in forms of loan, grant and technical cooperation so that the emerging countries can strengthen their capabilities.
For further information, please contact:
JICA India Office
Sho Naya/Vini Sharma
+91 11 49097000
naya.sho@jica.go.jp
sharmavini.id@jica.go.jp