Dharamshala, Himachal Pradesh, February 12, 2020: The International Workshop on "Impact of crop diversification on farmer's income and food security", held from February 10-12, 2020 in Dharamshala, Himachal Pradesh (HP) was organized by the JICA-supported HP Crop Diversification Promotion Project and Ministry of Agriculture and Farmer's Welfare, Agriculture Department of HP in close coordination with JICA.
The objective of the workshop was to deliberate on the innovations in the agricultural sector and share learnings/experiences from similar JICA projects. The theme of the workshop focused on impact of crop diversification on farmer's income andassess the level of food security, assess the impact of climate change on agriculture and so on.
120 participants representing from 10 states and overseas countries attended the workshop which included the policy makers, technocrats and the executing agencies of the projects funded by JICA in India and South Asian Region. The workshop was inaugurated by Mr. Jai Ram Thakur, Hon'ble Chief Minister of HP. The Chief Minister highlighted the collaboration between Japan and India and also emphasized on sustainable agriculture. Hon'ble Agriculture Minister, Government of HP also addressed the gathering. In addition, the officials of the Himachal Pradesh Government, representatives of JICA-supported agriculture projects deliberated at the workshop. The participants of JICA supported project presented the best practices and shared their experience in respective JICA Funded projects with experts and stakeholders including the beneficiaries and members of Self-Help Groups (SHGs).
Speaking on the occasion, Mr. Katsuo Matsumoto, Chief Representative, JICA India said, "Our relationship with the Government of Himachal Pradesh is since decades now. JICA extended ODA loan towards Forestry and Watershed Management in 2006 to "Swan Integrated Watershed Management Project", one of the most successful project in India. JICA Technical Cooperation to Himachal Crop Diversification Project started in 2005 and ODA loans extended to the agriculture sector since 2011. The ODA loan project is being implemented in 210 sub projects consisting of lift irrigation scheme, flow irrigation scheme spread across five districts viz Hamirpur, Kangra, Mandi in Himachal Pradesh for promoting sustainable crop diversification, development and rehabilitation of minor irrigation facilities benefitting 14,356 farm household and creating 370 self-help groups. The Project is ensuring large number of direct and indirect rural employment opportunities. We understand the need to introduce technological solutions in the sector, given that India's farm yield is 30-50% lower than that of developed nations. We aim to improve farming techniques, thereby facilitating higher incomes for farmers and farm dependent communities." We would take advantage of this "Himachal Model" for further cooperation in other states.
India is expected to achieve the ambitious goal of doubling farm income by 2022 and has introduced several programs to boost and generate momentum in agricultural sectors: Pradhan Mantri Gram Sinchai Yojana (PMKSY). The scheme aims to irrigate the field of every farmer and improving water use efficiency to achieve the motto `Per Drop More Crop', Paramparagat Krishi Vikash Yojna (PKVY) which aims to motivate group of farmers to take up organic farming. As stated by the Hon'ble Prime Minister that India Moving towards inclusive economic development of Aspirational India "Sabka Saath, Sabka Vikas, Sabka Vishwas".
JICA has successfully aligned its assistance to meet the social and economic development needs of India.JICA's vision to encourage "Inclusive and Dynamic Development", to provide more streamlined, effective and seamless support to the developing countries, offering both, technical cooperation and financial assistance to implement projects, all under one roof.
The current strategy of JICA's assistance in the Agricultural sector has been (1) Strengthening of capacity of Water Users Association (WUA), modernization and construction of new irrigation facilities bringing more areas under command area ensuring food security and livelihood improvement and (2) Crop Diversification and strengthening and market linkages.
The first Irrigation project in the year 1988, funded by JICA was "Uppar Kolab Irrigation Project in Orissa". JICA has extended ODA loans of 271 billion Japanese Yen (approximately INR 16,000 crore) towards the Agriculture Sector and is supporting agricultural projects across Himachal Pradesh, Mizoram, Odisha, Rajasthan, Jharkhand, Andhra Pradesh and Telangana. 19 ODA Loans, 14 Grant Aids and 17 Technical Cooperation's have been extended, thereby increasing Irrigated area by 933,000 Hectares. JICA focuses on rehabilitating the Indian agriculture system also generating rural employment. Crop diversification and strengthening market linkages are essential in improving the rural livelihoods.
In addition to the ODA Loans, JICA has been providing technical assistance; JICA experts dispatched for several ODA Loan projects in India. JICA Technical Experts has supported the Central Silk Board and sericulture farmers of Karnataka, Tamil Nadu and Andhra Pradesh. JICA technical experts have been working with the Government of Himachal Pradesh to promote crop diversification among the small and marginal farmers and with state agriculture universities implementing the "Maximization of Soybean Production in Madhya Pradesh". JICA is also assisting Mizoram through Development Study "Comprehensive Development and Management of Land and Water Resources in Mizoram" in North Eastern States of India.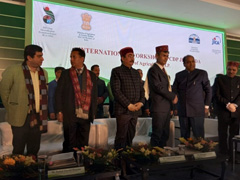 Mr. Jai Ram Thakur, Chief Minister, HP shaking hands with Mr. Katsuo Matsumoto, Chief Representative, JICA India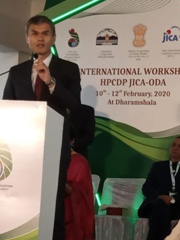 Mr. Katsuo Matsumoto addressing the audience at the workshop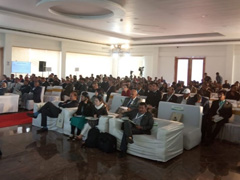 The attendees at the workshop
About JICA
Established, by a specific law, as an independent administrative institution under the Government of Japan, the Japan International Cooperation Agency (JICA) aims to contribute to the promotion of international cooperation, as a sole Japanese governmental agency in charge of ODA implementation. JICA is the world's largest bilateral donor agency. JICA works as a bridge between Japan and emerging countries, and provides assistance in forms of loan, grant and technical cooperation so that the emerging countries can strengthen their capabilities.
For further information, please contact:
JICA India Office
Naya Sho/Vini Sharma
+91 11 49097000
naya.sho@jica.go.jp
Sharmavini.id@jica.go.jp