New Delhi, March 27, 2020: Japan International Cooperation Agency (JICA) has signed an agreement with the Government of India to provide an Official Development Assistance (ODA) loan of 13,757 million Japanese Yen (approximately INR 905 Crore) for the "Project for Ecosystem Restoration in Gujarat".
The objective of the Project is to restore and enhance ecosystem services by development of mangroves and coastal shelterbelts, restoration of grasslands, wetlands and forests, management of human wildlife conflict and institutional strengthening, thereby contributing to addressing various socio-economic issues in the state of Gujarat.
The ODA loan agreement was signed between Dr. C.S. Mohapatra, Additional Secretary, Department of Economic Affairs, Ministry of Finance and Mr. Katsuo Matsumoto, Chief Representative, JICA India.
Speaking on the occasion, Mr. Katsuo Matsumoto, Chief Representative, JICA India said, "This Project is in line with the Government of Gujarat's "Sustainable Vision 2030" with special focus on sustainable ecosystem management. The project would entail interventions for improvement of mangroves, grasslands, wetlands and forest lands in Gujarat. It is envisaged that the project would contribute to development/improvement of models for rehabilitation of diverse ecosystems in the state of Gujarat. Human wildlife conflict has become a serious issue in the state and the project includes numerous interventions to strengthen the management of human wildlife conflict in Gujarat"
Different ecosystems act as "Ecological infrastructure" and provide diverse ecological services. Mangroves and shelterbelts protect agriculture as well as industries from natural disasters. Forests in catchment area slow down the speed of run-off and increase water percolation, reducing flood risks in downstream area and increase availability of water in watershed. Grasslands provide feed to livestock through grazing and fodders production.
In the Project, appropriate participatory methods are applied in accordance with the quality and characteristics of ecosystems. Community organizations such as Joint Forest Management Committees (JFMC) shall be involved in conservation and management activities for forest and grassland by adopting the principle of "care and share". It is also envisaged that State of Art GIS and MIS technologies shall be adopted for planning and implementation of project activities.
Gujarat Forest Department (GFD) is the Executing Agency of the Project.
JICA has extended ODA loans of 270 billion Japanese Yen (approximately INR 18,000 Crore) since 1991/92 towards the Forestry Sector. JICA has 27 forestry and natural resource management projects in India across Gujarat, Haryana, Himachal Pradesh, Karnataka, Tamil Nadu, Nagaland, Odisha, Sikkim, Rajasthan, Uttarakhand, West Bengal, Punjab, Uttar Pradesh and Tripura.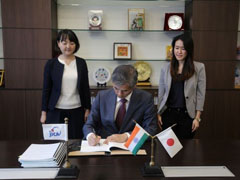 Mr. Matsumoto, Chief Representative, JICA India, signing the loan the agreements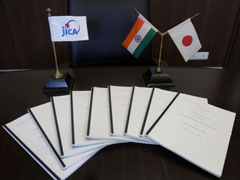 Total 9 loan agreements got signed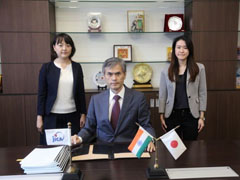 About JICA
Established, by a specific law, as an incorporated administrative institution under the Government of Japan, the Japan International Cooperation Agency (JICA) aims to contribute to the promotion of international cooperation, as a sole Japanese governmental agency in charge of ODA implementation. JICA is the world's largest bilateral donor agency. JICA works as a bridge between Japan and emerging countries, and provides assistance in forms of loan, grant and technical cooperation so that the emerging countries can strengthen their capabilities.
For further information, please contact:
JICA India Office
Shushaku Takada / Vini Sharma
+91 11 49097000
Takada.Shusaku@jica.go.jp
Sharmavini.id@jica.go.jp
MSL India
Nishtha Grover/Saloni Sachdeva
(+91) 9818021223/ 9999427000
Nishtha.grover@mslgroup.com
Saloni.sachdeva@mslgroup.com