New Delhi, March 27, 2020: Japan International Cooperation Agency (JICA) has signed an agreement with the Government of India to provide an Official Development Assistance (ODA) loan of 10,397 million Japanese Yen (approximately INR 660 Crore) for the "Project for Community-Based Forest Management and Livelihoods Improvement in Meghalaya".
The objective of the Project is to restore and conserve forest and natural resources of the village communities through sustainable forest management, livelihood improvement, institutional development strengthening thereby enhancing the capabilities of the concerned communities in contributing to conservation of environment, biodiversity, improvement of socio-economic conditions of people in Meghalaya.
The ODA loan agreement was signed between Dr. C.S. Mohapatra, Additional Secretary, Department of Economic Affairs, Ministry of Finance and Mr. Katsuo Matsumoto, Chief Representative, JICA India.
Speaking on the occasion, Mr. Katsuo Matsumoto, Chief Representative, JICA India said, "State of Meghalaya known as the 'abode of the cloud' as 'MEGH' refers to clouds and 'ALAYA' means home. Meghalaya is a Mesmerizing State with undulating hills, fertile valleys, covered with natural vegetation, large number of species of orchids, meandering rivers, dense forests, waterfalls, diverse variety of flora and fauna, dazzling mountain streams and lakes. Meghalaya is home to many rare, endangered and threatened floral and faunal species. There has been ever increasing demand for forests areas and pressure on the forest wealth in the state has increased to manifold because of shifting cultivation. This increases vulnerability of community people, especially the poor, to social and environmental change. Under these circumstances, there is strong need for ensuring livelihood opportunities to the vulnerable rural communities."
The Project is in line with "Meghalaya Vision 2030" issued by the State Government and aims at sustainable community forest management through participatory planning and inclusive growth development along with capacity development for people and institutions concerned. The project will also contribute in achieving the objectives of North eastern Region Vision 2020 which aims to alleviate poverty and emphasized inclusive sustainable development through sustainable community forest management, grassroots planning by adopting participatory development approach. The project will also contribute in achieving the objective of "Green India Mission" under the National Action Plan on Climate Change which aims to add five million hectare of forest area, enhancing the quality of Forest, ecosystem restoration and agro-forestry.
The project visualizes the need for integration of area specific cross cutting interventions including rejuvenation of springs/water streams, forest fire management, restoration of the degraded community forests through restoring 22,500 ha of degraded forest areas; 1,600 ha of Timber Resources (with Enrichment Plantation); 7,700 ha of Natural Vegetation, promotion of livelihood oriented forestry including medicinal plants, bamboo cultivation, reclaiming of shifting cultivation area, REDD Plus/Carbon finance pilots, 1,000 Self Help Groups will be supported, and community gender sensitization activities will be held to create awareness and value chain development and economic amelioration for the targeted rural communities.
The Meghalaya Basin Development Authority (MBDA) is the Executing Agency of the Project.
JICA has provided loans for the forestry sector across Gujarat, Haryana, Himachal Pradesh, Karnataka, Tamil Nadu, Nagaland, Odisha, Sikkim, Rajasthan, Uttarakhand, West Bengal, Punjab, Uttar Pradesh and Tripura and has extended ODA loans of 270 billion Japanese Yen (approximately INR 18,000 Crore) since 1991/92 towards the sector.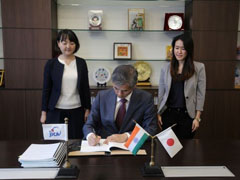 Mr. Matsumoto, Chief Representative, JICA India, signing the loan the agreements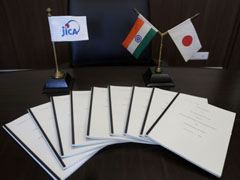 Total 9 loan agreements got signed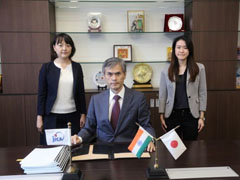 About JICA
Established, by a specific law, as an independent administrative institution under the Government of Japan, the Japan International Cooperation Agency (JICA) aims to contribute to the promotion of international cooperation, as a sole Japanese governmental agency in charge of ODA implementation. JICA is the world's largest bilateral donor agency. JICA works as a bridge between Japan and emerging countries, and provides assistance in forms of loan, grant and technical cooperation so that the emerging countries can strengthen their capabilities.
For further information, please contact:
JICA India Office
Shushaku Takada / Vini Sharma
+91 11 49097000
Takada.Shusaku@jica.go.jp
Sharmavini.id@jica.go.jp
MSL India
Nishtha Grover/Saloni Sachdeva
(+91) 9818021223/ 9999427000
nishtha.grover@mslgroup.com
Saloni.sachdeva@mslgroup.com