New Delhi, India, December 28, 2021: Under the ongoing Technical Cooperation (TC) Project 'Capacity Development on Railway Safety', JICA Experts team visited Northern Railway Track Maintenance Depot for demonstration of track geometry measurement with the help of a portable measuring trolley, lectured on the measuring mechanism and function equipped in the measuring trolley from December 13 through 24, 2021.
In the context of frequent railway accidents including consecutive train derailments, Ministry of Railways, Government of India, in 2017, requested JICA for technical cooperation to improve railway safety. this TC project commenced in December 2018, being jointly implemented by Indian and Japanese side, is expected to result in enhancing capacities of the Indian Railways (IR), Dedicated Freight Corridor Corporation of India Limited (DFCCIL) and Commission of Railway Safety (CRS) with respect to the safety of railways network in India.
In this technical cooperation project, During the 2019, JICA's Experts team visited few track maintenance depots in Northern Railways to identify track maintenance practices in India and discussed various issues to improve the quality of track conditions from railway safety point of view. Subsequently, again during the 2019, Indian counterpart team was invited to Japan to visit track maintenance works site and take lectures from Japanese railway authorities and related manufacturers / suppliers. Based on the result of the discussions between Indian and Japanese counterparts, JICA has decided to provide Northern Railways with a potable track geometry measurement trolley, commonly used in Japan to enrich the capacity improvement of the railway safety.
Speaking on the occasion Dr. Makoto Ishida, Chief Advisor JICA expert team said, "The portable, self-driving, trailer type of track geometry measuring equipment is very common in Japan. This kind of equipment is convenient and helpful in quick track conditions monitoring. On the occasion of the present Japanese expert's visit to India, the said portable track geometry measuring trolley, commonly used in Japan, was handed to Northern railways. Technical demonstration, training and lectures for its usage and measurement mechanism were taken care by JICA Experts team, based on Japanese expertise and experience. JICA experts and Indian Railways officers have discussed in detail the safety criteria against train derailment and ride comfort criteria of track geometrical irregularity which is the most fundamental and important subject in the field of track geometry management even under different circumstances of vehicle / track interaction between India and Japan. I am happy to inform that Indian counterparts have recognized the effectiveness and convenience of this equipment, and have shown positive intent and enthusiasm for utilizing this equipment in their work sites."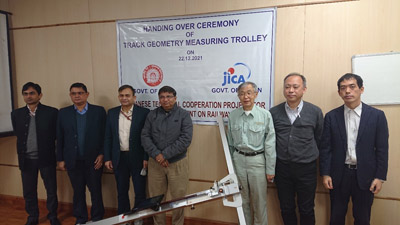 JICA transferred a potable track geometry measuring trolley to Northern Railways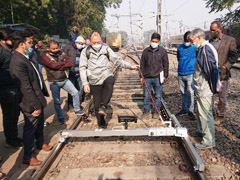 Indian engineers and JICA experts while demonstration at the site.
About JICA
Established by a specific law as an incorporated administrative institution under the Government of Japan, the Japan International Cooperation Agency (JICA) aims to promote international cooperation as the sole Japanese governmental agency in charge of ODA implementation. JICA is the world's largest bilateral donor agency. JICA works as a bridge between Japan and emerging countries, and provides assistance in the form of loans, grants and technical cooperation, so that the emerging countries can strengthen their capabilities.
For further information, please contact:
JICA India Office
Shusaku Takada / Aishwarya Mishra
+91 11 49097000
Takada.Shusaku@jica.go.jp
Mishra-Aishwarya@jica.go.jp
Edelman India
Rakhi Aurora
(+91) 95990 67185
Rakhi.Aurora@edelman.com