Name of Alumni Association: KAPPIJA-21: Keluarga Alumni Program Persahabatan Indonesia- Jepang Abad-21 (Association of 21st Century Indonesia-Japan Friendship Program)
Year of Establishment: March 18, 1985
Members: Total number is 4,200 (as of December 17, 2018). Members are consisted of the ex-participants of "JICA Youth Invitation Program for the 21st Century" and "JICA Knowledge Co-Creation Program (KCCP) of Young Leaders Training Course".
Notable alumni/member of KAPPIJA-21 in the current ministry:
1. Airlangga Hartarto (1985 Alumni), Coordinating Minister of Economic Affairs
2. Mr. Tjahyo Kumulo (1984 Alumni), Minister of Minister of Administrative
Organization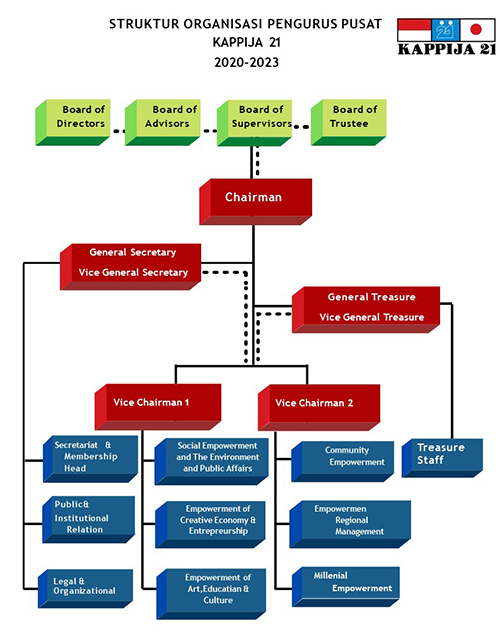 Local Committees: There are fourteen (14) Local Committees in nationwide Indonesia; Aceh, North Sumatera, Riau Islands, West Sumatera, South Sumatera, Lampung, Banten, DKI Jakarta, West Java, Central Java, Yogyakarta (DIY), East Java, Kalimantan, South Sulawesi and Maluku.
Activities:
KAPPIJA-21 organizes variety of activities in cooperation with JICA Indonesia Office and Embassy of Japan for the purpose as follows;
1) Strengthening the network among alumni members.
2) Socializing the outputs of Young Leaders Training Program in Japan to Indonesian society.
3) Promoting mutual understanding and friendship between Indonesia and Japan.
<Fiscal Year 2019>
AJAFA-21 Regional Leaders Forum (Bali, October 2019)
AJAFA-21 (ASEAN-Japan Friendship Association for the 21st Century) Regional Leaders Forum was successfully completed with 160 alumni association members from Indonesia, Cambodia, Laos, Malaysia, Myanmar, Philippines, Thailand, and Vietnam. This event was remarkably effective in strengthening friendship and mutual understanding between ASEAN countries, Japan, and JICA.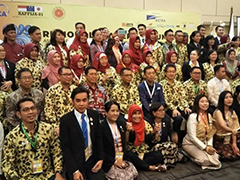 Opening Ceremony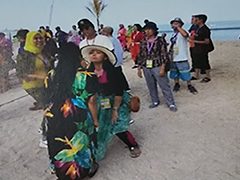 Friendship Event
KAPPIJA-21 National Conference (II) on Global Education and Environment for Sustainable Development (State University of Jakarta, Jakarta, December 2019)
This conference was organized for the purpose of enhancing the youth generation's awareness concerning global education and environment. About 150 students participated in this conference. KAPPIJA-21 members and the University professors shared their knowledge and experience and led active discussions and presentations of students.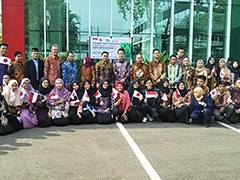 Opening Session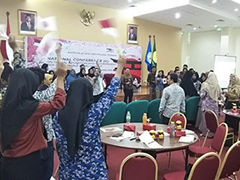 Group Discussion Session
KAPPIJA-21 National General Meeting (Jakarta, December 2019)
In this meeting, KAPPIJA-21 leadership members including the Chairman were replaced. Taking over Mr. Mulyono Lodji the former Chairman, Mr. Harry Kaligis was elected as the new Chairman. As distinguished guest, Mr. Tjahyo Kumolo, Minister of Administrative and Bureaucratic Reform, and Mr. Bambang Soesatyo, Chairman of the People's Consultative Assembly of RI (MPR-RI) participated and delivered congratulatory message.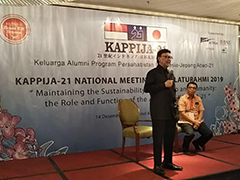 Speech by Minister Tjahyo Kumolo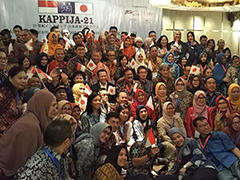 Group Photo, Closing Ceremony
<Fiscal Year 2020>
Despite of the difficult situation in 2020 year caused by Covid-19 pandemic, KAPPIJA-21 very actively organized several quality activities.
Produce of Educational Animation Video for Covid-19 Infection Prevention and Delivery of Hygiene Products through KAPPIJA-21 Network (October 2020)
In cooperation with JICA Indonesia Office, KAPPIJA-21 implemented important works to contribute the prevention of Covid-19 infection in Indonesia. One is to produce animation movie targeting children for Covid-19 infection prevention, and another work is to delivery hygiene products (masks, hand-sanitizers, etc.) to hospitals, schools, mosques, churches and so on through KAPPIJA-21's nationwide network in Indonesia.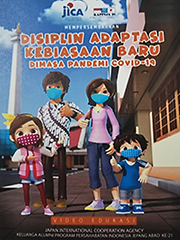 Educational Animation Video Poster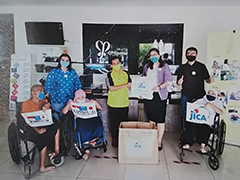 Hygiene Products Hanover to YPAC Jakarta
YouTube Link
"Educational Animation Video for Covid-19 Infection Prevention" (external link)
Tree Planting Project (West Jawa, December 2020)
In order to contribute forest resources conservation, KAPPIJA-21 organized tree planting in the suburb of Bandung, West Java. Total 566 trees were planted (KAPPIJA-21 Members: 316 Trees, JICA: 200 Trees, Astra Honda Motor Foundation: 50Trees). All the participants carried out this project in compliance with health protocol for Covid-19.


<Fiscal Year 2022>
Collaboration of JICA Program Alumni from Indonesia (KAPPIJA 21) and Malaysia (PAMAJA) to Boost Tourism Activity After Covid19
Indonesia and Malaysia shared similarities in culture, language, and religion that makes both countries form a special relationship compared with other ASEAN countries. With the reopening of flights to Malaysia and to Indonesia after the pandemic, more cooperation in various fields are expected among two countries.
Following up on strengthening the friendship between the two countries, KAPPIJA 21 and PAMAJA signed a MOU on April 18, 2022 in Jakarta, represented by Mrs. DR. Sjahriati Rochmah, SH. LLM as Chairman of KAPPIJA21 and Dato Haji Sahariman Bin Haji Hamdan, as Chairman of PAMAJA.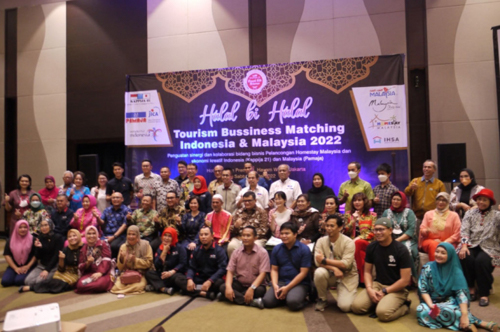 Halal Bihalal ("a gathering after Eid al-Fitr holiday") was also carried out with the theme "Strengthening Synergy and Collaboration in the field of Homestay Tourism Business Malaysia and Creative Economy of Indonesia". This occasion was also attended by representatives of the Ministry, representatives of the JICA Indonesia Office, Local Governments and tourism business actors both from Indonesia and Malaysia.
Read the full article here (in Bahasa Indonesia)