JICA technical cooperation project, 'Project on Intellectual Property Rights Protection and Legal Consistency for Improving Business Environment' in collaboration with the Directorate General of Intellectual Property (DGIP) in Ministry of Law and Human Rights (Kemenhumkam) RI organized a Competition on Creation of Digital Contents about Anti-Counterfeiting and Piracy. This competition in particular was aimed for young creators to produce a work that could educate consumers to understand the importance of buying authentic goods.
With the increasingly widespread circulation of counterfeit or pirated goods, the selected works could provide information to consumers about the health and safety risks of counterfeit or pirated goods.
The final selection for the submitted works was held on 27 February 2020, at the Oemar Seno Adji Hall in Ministry of Justice and Human Rights. Three finalists delivered presentations on their works in front of a panel of judges consisting of representatives from DGIP, Masyarakat Indonesia Anti Pemalsuan (MIAP), Indonesia media, the Embassy of Japan and JICA.
As the result of the selection, Mr. Muhammad Julius was selected as the winner. His work 'Kisah Keluarga Aspal (Fake Family Story)' is a comedy story about a family that uses fake items on a daily basis that ending up facing a misfortune due to using of these items.
Mr. Muhammad Yulius is entitled to a prize of a film making contract worth 50 million rupiah, in addition to other prizes from several Japanese and local companies that sponsored the competition.
The final short film by the winner is expected to go viral through a variety of media in July 2020.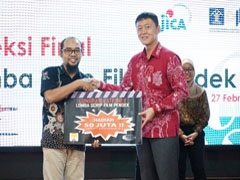 Sugiyama Takuya, Chief Advisor on Enhancement of Intellectual Property Right Protection, is handing out the main prize to the winner of the competition, Muhammad Yulius.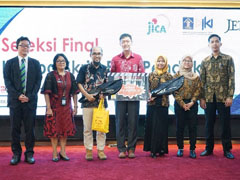 The three finalists.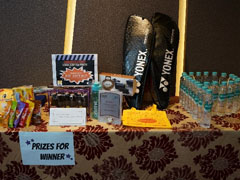 Prizes from the sponsors.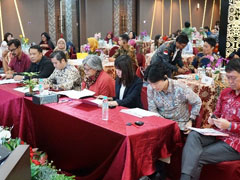 The judges.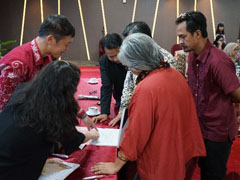 The judges are discussing about the result of the final selection.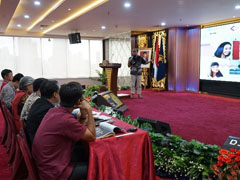 The winner, Muhammad Yulius, is presenting his work in front of the judges.