JICA Next Innovation with Japan (NINJA) accelerator program aims to boost entrepreneurship in emerging countries, by supporting entrepreneurs who take SDG on their business strategies. This program provides field mentorship, connections to the Japanese market, as well as networking opportunities with other startups. This accelerator has been the first-ever program of JICA that provides direct support for local startups in South East Asia.
15 startups from Indonesia, Malaysia, the Philippines, Bangladesh, and Thailand were selected to join its JICA NINJA accelerator 2021.
In this article we will introduce three Indonesian startups selected to join this program.
Fishlog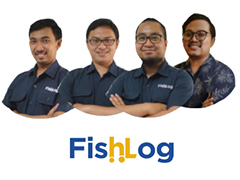 Fishlog is a B2B marketplace startup that engages and specialized in seafood industry. Using technology they want to improve the unorganized seafood industry in Indonesia.
Indonesia as the world's second largest aquaculture seafood producer still faces a lot challenges, such as fragmented supply and demand; lack of cold chain connectivity among others. These challenges has resulted with almost 40% of seafood loss every month. Understanding the situation, Fishlog is aggregating the fragmented market by linking cold storages in the supply side with cold storages in the demand side. By improving the utilization of these cold storages enabling a steady distribution network for seafood supply chain.
Unlike other startup in the same industry, Fishlog understands well that cold chain connectivity plays major role in stabilizing the seafood market and that's why they're focusing their current business model in helping cold storages to maximize their capacity. In the near future they are planning to link fishermen and final retailers as well to their business framework to complete the ecosystem, as they call.
Plepah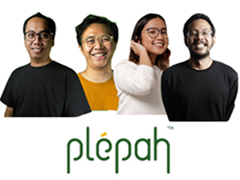 The second Indonesian startup selected to join the JICA NINJA accelerator is Plepah. Plepah is a startup that develops environmentally friendly food containers that can be decomposed naturally (biodegradable) made from agro-industrial waste (agricultural waste). Currently, Plepah markets the products of plates and food packaging made from Areca palm leaf sheath. In the future, they plan to develop other products from other agro-industrial wastes such as sorghum, coconut fiber among others.
In exclusive interview with Almira Zulfikar, Co-founder and COO; and Bintang Heru, CFO of Plepah, they open up about their relatively new company. Started in December 2019, Plepah launched its first product in January 2020, a plate made from Areca palm leaf sheath. When the first wave of the COVID-19 hit Indonesia a few months later, the number of online food orders rose, Plepah launched its second product, food packaging still made from Areca palm leaf sheath.
Plepah applies micro manufacturing as its production method. This method allows the production process to be closer to the source of the material and easy to adapt by the small-scale farmers and the community who's involved in the production. By doing so, Plepah aims to improve the socio-economic of those farmers and the community.
With the JICA NINJA accelerator, Plepah aspire to gain more experience and knowledge, especially about the market approach to prepare them for the international market, especially the Japanese market.
Sampangan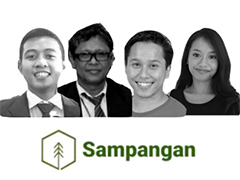 Sampangan is one of three startups that were selected to join JICA NINJA accelerator. Their line business is a waste management service. Using the technology of the "Magic Box" which they developed, Sampangan aims to solve the rising waste management issues in Indonesia.
In Indonesia, the waste from the households or industries mostly goes to landfills or is incinerated without going through a sorting process. Sampangan hopes to solve this problem with their "Magic Box" technology. This "Magic Box" will process all the waste that goes toward the box into several types of materials that can be reused later on. This technology also has a rotary shaving machine embedded into it which allows all the waste to be sorted out before being processed.
By participating in JICA NINJA accelerator, Sampangan hopes to gain more knowledge and new insight and they also aim to scale up their business from a different perspective
Fishlog, Plepah, and Sampangan will participate on the Demo Day at 17 January and 27 January, along with other twelve startups from Malaysia, Singapore, Thailand, and Singapore.