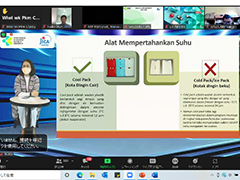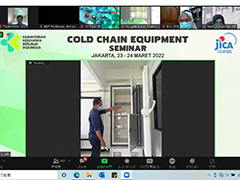 Japan International Cooperation Agency (JICA) in collaboration with the Ministry of Health, Indonesia organized a training for vaccine cold chain equipment Training on 23th - 24th March 2022. Over 800 participants who participated in this seminar from nationwide hospitals and public health center (Puskesmas).
This comprehensive training was held in line with the JICA's cold chain equipment donation program to help improve the quality to store COVID-19 vaccines and routine childhood vaccines. The equipment will be procured through UNICEF and expected to arrive in Indonesia in September or later this year. Cold chain equipment includes specially designed vaccine refrigerators, so-called Ice-lined refrigerators, temperature data loggers, thermometers, aimed to keep vaccines potent even in places where the electricity supply is interrupted. The procurement of the equipment aimed at strengthening of administration of COVID-19 vaccines and childhood vaccines by increasing storing capacities of those vaccines and minimizing the disease burdens of COVID-19 and vaccine-preventable diseases such measles, diphtheria, pertussis (whooping cough), and tetanus, hepatitis B.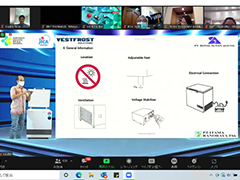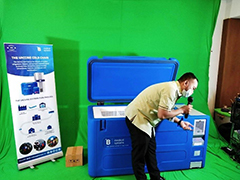 The training was held by a combination style of lectures for Zoom participants and live streaming of equipment demonstrations from Jakarta hotel venue to the Zoom participants with four hours lecture per day. Representative from Ministry of Health, JICA specialist on Cold Chain maintenance, suppliers of ultra-low temperature freezers to store Pfizer COVID-19 vaccine, and local suppliers of ice-lined refrigerators were invited to speak at this training. Local suppliers of PT. Itama Indoraya and PT. EMS Indoappliances brought their cold chain equipment to the venue where they demonstrated the features of their products, the equipment's procedure, the maintenance's procedure, and the maintenance service.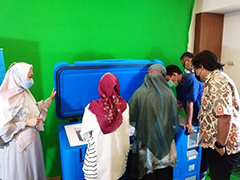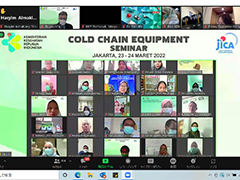 In addition, representatives from UNICEF, WHO, CHAI (Clinton Health Access Initiative) were also invited to speak on the day 2 of the training. These representatives spoke for their contributions to the national immunization programs and COVID-19 deployment programs in Indonesia. They shared the results of comprehensive assessments including cold chain management and effective vaccine management, vaccines and equipment provisions, community empowerment to improve immunization coverages, etc, with the training participants. Despite the absent of practical sessions, the participants gave favorable comments that they could refresh their knowledge on vaccine storing conditions and basic, and also the important practices to maintain cold chain equipment, since the storage and handling errors and cold chain breakdown will cost thousands of dollars in wasting new and costly vaccines. Thus, vaccine technicians and maintenance technicians need to receive vaccine and cold chain training.
JICA hopes that this two-day training workshop was practical and beneficial, and the result would be utilized utmost to strengthen immunization activities in respective areas. JICA appreciates all participants for their active participation!