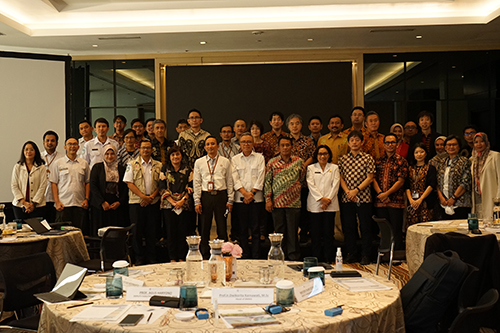 Group photo of all participants for the Kick-Off Meeting of SATREP BRICC including University Researchers form Japanese and Indonesian Institutions
Jakarta (13/09/2022) Program Science and Technology Research Partnership for Sustainable Development (SATREPS) "The Project for Building Sustainable System for Resilience and Innovation in Coastal Community (BRICC)" conducted a Kick-Off Meeting.
SATREPS is a joint research program funded by Japan Science and Technology Agency (JST) and Japan International Cooperation Agency (JICA). This SATREPS BRICC is a joint research cooperation involving various University Researchers, and Government Officials from Japanese and Indonesian institutions lead by Kyoto University and Bandung Technology Institute (ITB).
The objective of this joint research is to create coastal area with harmonized disaster prevention, environment, and economy by improving the protective functions of coastal areas including monitoring, modelling, optimal green-gray combination measures and DRR education and evacuation using the latest technology. By the implementation of this project, it is expected that the resilience and sustainability of coastal areas against disasters will be improved by green-gray infrastructure and non-structural measures.
The research will be implemented in Bali and Ambon as the main sites; as well as East Kalimantan and Pangandaran as the sub-sites.
Mayor General Fajar Setiawan, Deputy for Emergency Response of The National Disaster Management Authority/BNPB stated on his remark "I really appreciate this collaborative research initiative which I believe will provide a new foundation to sharpen our thinking framework to be more focused, on target and able to expand the concept of resilience to be adopted into community level by utilizing the harmonization with technology".
"I would like to extend our sincere gratitude and appreciation to all institutions who attended and provided important insights for the project's implementation. Furthermore, I believe that accumulated knowledge in Japan's experience on the Disaster Risk Reduction in coastal areas can be shared through Japanese University researchers to Indonesia so that Japan and Indonesia can gain more experiences and lessons from this joint research project", stated Ono Nozomu, Senior Representative of JICA Indonesia on his remark.
The hybrid meeting was attended by Prof. Dwikorita Karnawati, Head of Meteorological, Climataological, and Geophysical Agency/BMKG; Prof. Reini Wirahadikusumah, Rector of Bandung Institute Technology/ITB; Mayor General Fajar Setiawan, Deputy for Emergency Response of The National Disaster Management Authority/BNPB; Dr. Arie Setiadi Moerwanto, Head of Taskforce for Rehabilitation and Reconstruction of Ministry of Public Works and Housing/PUPR; Prof. Agus Haryono, Deputy for research and innovation facilitation, National Research and Innovation Agency/BRIN. Also attending the event various Government Officials and University Researchers form Japanese and Indonesian Institutions.
For more detail information, please kindly contact:
Tomoko Kashihara: Kashihara.tomoko@jica.go.jp
Hastin C Diantari: hastinchandra-diantari@jica.go.jp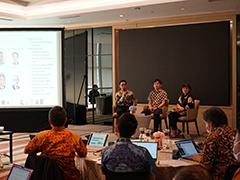 Plenary Session by Dr. Mohammad Farid (ITB), Prof. Nobuhito Mori (Kyoto University) and chaired by Dr. Harkunti P Rahayu (ITB/Head of Indonesian Association of Disaster Experts)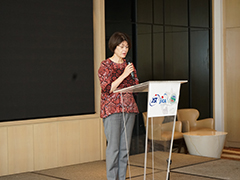 Prof. Keiko Tamura (JST) was giving a welcome remarks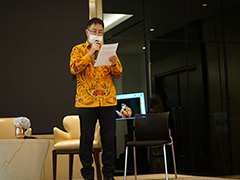 Ono Nozomu (Senior Representative JICA) presented a closing remarks of the Kick Off Meeting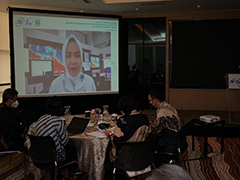 Remarks from Prof. Ir. Dwikorita Karnawati, M.Sc., Ph.D. (BMKG) which joined the meeting virtually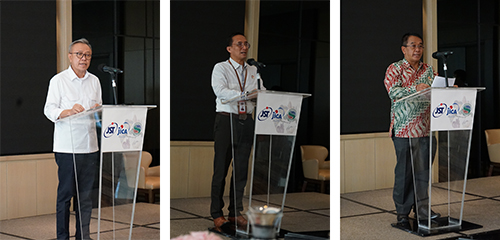 Remarks from representative of Government of Indonesia. Left to right: Dr. Arie Setiadi Moerwanto, Head of Taskforce for Rehabilitation and Reconstruction of Ministry of Public Works and Housing/PUPR; Prof. Agus Haryono, Deputy for research and innovation facilitation, National Research and Innovation Agency/BRIN; Mayor General Fajar Setiawan, Deputy for Emergency Response of The National Disaster Management Authority/BNPB