Japan International Cooperation Agency (JICA) in collaboration with West Java Provincial Health Office organized the 2-day training on the maintenance of Cold Chain equipment on 13 and 14 September 2022 at Bandung, West Java. The training was implemented under the JICA's technical cooperation "The Project for Strengthening Capacity Building Management of Vaccination and Laboratory for COVID-19 and Other Infectious Disease".
There are a total of 14 participants, vaccine and cold chain technicians, from 7 provinces such as South Sulawesi, West Java, and West Kalimantan participated in the training. The training was weld at the auditorium of SMK Negeri 1 Cimahi (a vocational school). About 35 students of the Department of Heating, Air Conditioning, and Refrigeration Engineering also attended one of training sessions.
The training was held in association with the above-mentioned JICA project that made donation of 330 units of Vestfrost-made Vaccine Ice-lined refrigerators to Indonesia, which also include voltage stabilizers, temperature data loggers, as well as the spare part kits all of which are procured with collaboration with UNICEF.
This equipment supply is aimed at strengthening administrations of COVID-19 vaccines and childhood vaccines by increasing storing capacities of those vaccines and minimizing the disease burdens of COVID-19 and vaccine-preventable diseases such as measles, diphtheria, pertussis (whooping cough), and tetanus, hepatitis B. The units will arrive in Jakarta in the end of November 2022 and will be transported to the target 22 provinces to strengthen Cold Chain infrastructure to store COVID-19 vaccines and routine childhood vaccines.
On day 1, the training was composed of lectures and theories and practical "hands-on" sessions to train trainers, in order to brush up their knowledge and skills on proper maintenance of the equipment and accessories to be supplied by JICA. The practices include a technical session on how to replace the faulty compressor in a safe way, because recent models use R600a, environmentally friendly but flammable gas, as refrigerant, repair work needs special attention to handle the units.
On day 2, the trainees visited Biofarma, a state enterprise manufacturing vaccines in Indonesia, for a facility tour and to receive explanations on the Cold room, Ultra Cold Chain and vaccine packing areas for their management systems with maintenance. Following the facility tour, active discussions were made by training participants and Biofarma staff on how they can improve the Standard procedures on vaccine handling, challenges of vaccine cold chain at vaccination sites, etc.
Training participant appreciated the training with comments such as, "This is the first technical training focusing on management and maintenance of Vaccine Cold Chain", "Although the period of the training was too short to master the technique, this was unique and beneficial".
The training participants are expected to organize domestic training to train their staff and colleagues at their workplaces in order to share what they learned from the training. JICA hopes that the result of this 2 days training will be utilized utmost to strengthen immunization activities in respective areas. JICA appreciates all participants for their active participation!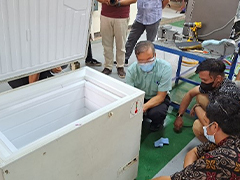 Practices on Vestfrost made Icelined refrigerators (refrigeration mechanism, routine preventive maintenance, etc)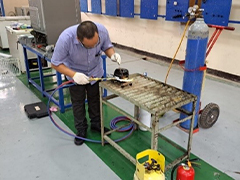 Shortage of the repair tools, such as gauge manifold, welding set, special tools, is a constraint to conduct repair work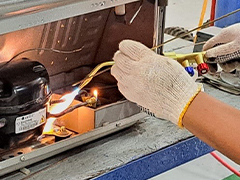 Demonstration on how to change faulty compressor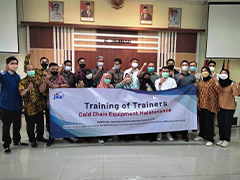 Group photo