Pohuwato District is one of the priority areas listed on Indonesian extreme poverty reduction program 2024. Moreover, Pohuwato District has been facing many challenges in health sector, such as high maternal mortality rate and infant mortality rate, high prevalence of stunting and the increase on case number for highly contagious diseases, such as tuberculosis (TB), chronic infectious disease of leprosy and HIV/AIDS. Therefore, as an effort to improve health, Government of Pohuwato makes Healthy District (Kabupaten Sehat) as a priority program for 2021-2026. Considering these priorities from the Central Government and the Government of Gorontalo Province above, JICA's expert, who dispatched as the Regional Development Policy Advisor (RDPA) for Sulawesi Region facilitated the implementation of the district's initiative in the Facilitator Training for Kecamatan Sehat.
The support given by JICA RDPA is in the form of advisory and comprehensive, from the preparation stage, implementation of the training until post-training. In the preparation stage, a series of virtual preparations as well as field visit had been conducted, led by district development planning agency (Baperlitbangda) and district health office (Dinas Kesehatan). As the result, thirty one (31) indicators of Kecamatan Sehat are sharpened and formulation of standardized competence for the Program's facilitators including the form of competency test are made for facilitators accreditation.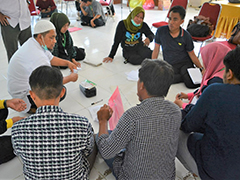 Next, using training design which more focusing on case studies, simulation and practice, the facilitator training is conducted on 14-20 November 2022 in Pohuwato. The training was attended by 37 participants from primary health care centre (Puskesmas) workforces and newly recruited district's young leaders of Pohuwato District.
JICA's support also will be continued in the post-training activities such as implementation of action plan and designing of its monitoring and evaluation. These action plans were formulated by the participants during the training by combining community-based strategy and technocratic one. For these future activities, JICA will be supported by Professor Darmawan Salman from the Post Graduate School of Hasanuddin University and Ruslan Situju and Jumardi Lanta from COMMIT Foundation Makassar. COMMIT Foundation itself was funded as one of the output of the JICA's technical cooperation in Sulawesi Island during the year of 2007-2012 through Sulawesi Capacity Development Project (CD Project).