Capital: Kathmandu
Nepal, the birthplace of Lord Gautam Buddha lies landlocked between India and the Tibetan region of China. It contains extremely diverse terrain ranging from lowland (Terai region) in the south, central lower mountains and broad valleys in the hill region and high mountain region in the north containing eight of the world's ten highest peaks including, Mt. Everest, the highest at 8,848 meters.

Photo: Capt. D.B.Shah
Nepal is one of the least developed countries in the world with the per capita GNI of US dollars 400 (World Development Indicators database, WB, 2009). About 31 percent of its people are still living below the poverty line. 80 percent of the total population derives their livelihood from agriculture and related activities.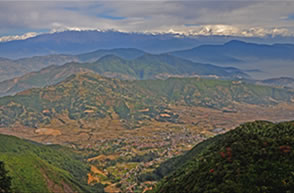 Photo: Fungma Fudong
Nepal has five climatic zones based on altitude that range from subtropical in the south, to cool summers and severe winters in the north. Rainfall varies between 250 to 4000 millimeters, with about 80 percent of the precipitation occurring during the monsoon season, which typically lasts from June until September.
| Nepal | 2007/2008 |
| --- | --- |
| Surface Area (sq. km) (thousands) | 147.2 |
| Population, total (millions) | 28.6 |
| Population growth (annual percentage) | 1.7 |
| Life Expectancy at birth, total (years) | 64 |
| GDP (current US dollars) (billions) | 12.6 |
| GNI per capita, Atlas method (current US dollars) | 400 |
| External debt stocks (percentage of GNI) | 35.0 |
| School enrollment, primary (percentage net) | 79.6 |
| Primary completion rate, total (% of relevant age group) | 78 |
| Ratio of girls to boys in primary and secondary education (%) | 98 |
| Military expenditure (% of GDP) | 1.5 |
Source: Key Development Data & Statistics, World Bank, 2009