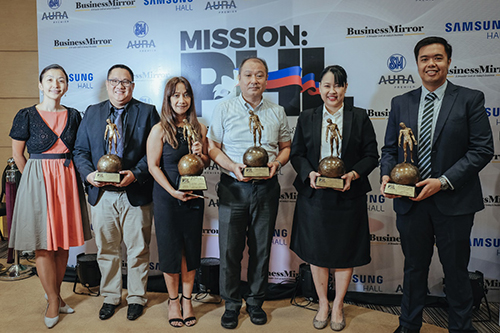 (From left to right) JICA Philippines Senior Representative Kiyo Kawabuchi, Senior Program Officer Kessy Reyes, Senior Program Officer Joan Salapare, Chief Representative Yoshio Wada, Section Chief Leah Peñarroyo, and Senior Program Officer Patrick San Juan at the Mission: PHL Envoys & Expats Recognition Awards on April 4
The Japan International Cooperation Agency (JICA) acknowledged the role of its government agency and local government unit partners after being named Development Aid Partner of the Year and receiving the top honors in Science, Technology, and Innovation; Trade and Investment; Infrastructure Support; and Transportation Infrastructure for its contribution to Philippine economic development.
JICA Philippines Chief Representative Yoshio Wada and other JICA officials received the awards from executives of the Business Mirror, a local business newspaper that spearheaded the Mission: PHL Awards that aims to foster understanding and appreciation for nations that helped the Philippines.
"What truly sets JICA's development cooperation activities apart is how we also try to promote self-reliance among our partner countries like the Philippines by sharing Japanese know-how and expertise. Japan's economic success as a nation did not happen overnight. We also learned from other nations and adopted values and systems that could work in Japan. We are sharing the same with the Philippines and we are honored to work with our counterpart government agencies and local communities all these years," said Wada.
JICA is the executing agency of Japan's Official Development Assistance (ODA) in the Philippines. As a strategic and trusted partner of the country, JICA implements about 90 development cooperation projects nationwide anchored on three assistance pillars: achieving sustainable economic growth, overcoming vulnerability, and peace and development in Mindanao.
JICA is one of the Philippines' biggest development partners, with total commitment for ongoing ODA loan projects amounting to 897 billion yen.
The Mission: PHL Awards recognized JICA and its projects as important contributors to economic growth, social progress, peace, security, and stability.
JICA has also provided many opportunities to Filipinos to further their learning and development through trainings or study opportunities in Japan. Its training program for young leaders benefited some 3,000 Filipinos over the years. "We truly value our relationship and friendship with the Philippines. We look forward to deepening our partnership with the Philippines in the years to come," added Wada.
Aside from Mission: PHL Awards, JICA also received the Magsaysay Award or Asia's Nobel Peace Prize equivalent for its JICA volunteers in 2016.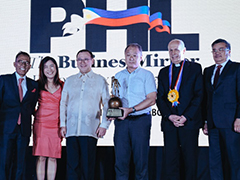 JICA Philippines Chief Representative (third from right) receives the Development Aid Partner of the Year award from Foreign Affairs Secretary Teodoro Locsin Jr. (third from left) and other Mission: PHL panel members