The Japan International Cooperation Agency (JICA) and the Philippine government kicked off recently the installation of the electro-mechanical system of its Light Rail Transit (LRT) Line 2 East Extension Project to boost the train's capacity and to promote seamless connectivity in Metro Manila.
The electro-mechanical (EM) system is the last component of said railway extension project. The extension is within a 4-kilometer span of viaduct and two additional stations built by the government along Emerald Drive in Marikina City and Masinag in Antipolo City. Said EM system follows the government's completion of the train's viaduct and station.
The assistance forms part of the Japanese bilateral aid agency's support to the Philippine railway sector to help mitigate traffic congestion and reduce air pollution.
"The project is our way of contributing to a better quality of life of many Filipinos, especially the commuters who suffer from traffic everyday and deserve better connectivity. By supporting the Philippines' transport infrastructure, we are also helping attract investments and create jobs in the country," said JICA Philippines Chief Representative Yoshio Wada.
The EM system package for LRT Line 2 includes the power distribution system, signaling and telecommunications, operation control center, tracks, among others to meet the technology demands of an efficient railway system. The extension project is expected to be completed in the latter half of 2020 and transport an additional 80,000 passengers daily from the current daily ridership of 240,000.
Marikina City District Representative Bayani Fernando, Antipolo City Mayor Casimiro Ynares, DM Consunji Inc. Managing Director Daniel Villaviray, Light Rail Transit Authority Administrator Reynaldo Berroya, Marikina City Mayor Marcelino Teodoro, JICA Chief Representative Yoshio Wada, Transport Secretary Arthur Tugade, Ambassador of Japan to the Philippines Koji Haneda, Metropolitan Manila Development Authority Chairman Danilo Lim, Marubeni Philippines Corporation President and CEO Naoto Tago, and Transport Undersecretary Timothy John Batan (shown in photo from left to right) attended the ceremonial track laying of said project at the LRT Emerald Station.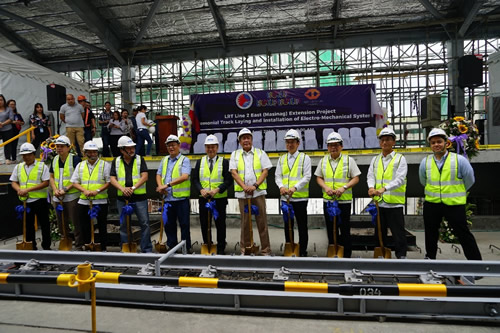 JICA has been supporting the Philippine railway sector since the 1970s through detailed design studies and strategic mass rail transit development and capacity enhancement for LRT Lines 1 and 2 in Metro Manila. Most recently, JICA announced extending its continuing support to Philippine sustainable development through the Metro Manila Subway Project and the North-South Commuter Railway Project meant to develop the north-south transport backbone of the country.