The Japan International Cooperation Agency (JICA) has dispatched young Japanese volunteers to support Filipino manufacturers in the design and marketing of local products.
The volunteers Yuka Ishihara, Midori Morita, and Misato Shiina support local manufacturers in the provinces to help manufacturers understand international standards and trends, and make local products attuned to the global market.
In the Philippines, the manufacturing sector is considered one of the key sectors for long-term employment, value-added, and innovation. Data from the Philippine government showed that manufacturing accounts for about 23% of the country's economy. By 2020, the Philippines sets its sights to increase the sector's contribution to 30% of Gross Domestic Product (GDP).
"JICA wants to continue contributing to the Philippines' sustainable economic growth through development cooperation. We are reaching out to sectors in the provinces through our Japanese volunteers to help entrepreneurs keep up with global standards and become globally competitive," said JICA Senior Representative Aya Kano.
Under the JICA Volunteer Program, Japanese volunteers are training teachers as well as producers on industry standards and processes. "The Japanese volunteer assigned to us is training the teachers on how to teach students to develop new designs that are acceptable in the international market. The volunteer also helps us collaborate with other universities so we can build our network and share ideas," said Deceryl Gen Tumampos, instructor at Bohol Island State University (BISU).
JICA Volunteer Yuka Ishihara (right, standing) with BISU students at the Fab Lab
Japanese volunteer Yuka Ishihara is working at the BISU where the country's first fabrication laboratory (FabLab) was established. The FabLab was introduced in Bohol in 2013 under the JICA Volunteer Program in collaboration with Department of Trade and Industry (DTI)-Bohol, Department of Science and Technology (DOST)-Bohol and BISU to help manufacturers translate their unique designs into actual forms using technology. The Philippines has since adopted the FabLab into its Shared Services Facilities (SSF) project to help more micro, small, and medium enterprises (MSMEs) in designing their products.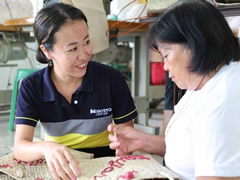 Misato Shiina assists women associations in Siquijor in designing souvenir products
Aside from Ishihara, another Japanese volunteer Misato Shiina is supporting the Department of Trade and Industry's (DTI) efforts to expose local manufacturers to global market trends. "While the government provides knowledge and skills to enhance the business of small entrepreneurs, there is still a huge gap in market trends and the designs available in the provinces," said Nicole Quilicot, trade and industry specialist at DTI.
With help from Shiina, several women associations in Siquijor receive technical assistance in designing souvenir products using local materials but with global appeal.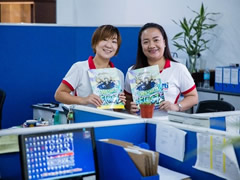 Midori Morita (left) together with DTI counterpart Gevi Sandoy, developed a manual for food manufacturers in Capiz
Aside from these, Japanese volunteer Midori Morita supported the DTI-Capiz towards developing a Good Manufacturing Practice (GMP) Manual to help food manufacturers in getting licenses for their products.
"One of the challenges of the food processing industry in the Philippines is complying with the Food and Drugs Administration (FDA) requirements. Through the GMP Manual, we developed with the Japanese volunteer, we hope that more local food producers will become aware of the standards and understand the quality requirements of the industry," said Gevi Kristina Sandoy, trade and industry specialist at the DTI.
Under the Philippines' Food Safety Act of 2013, manufacturers of food, cosmetics, or health products must secure a license to operate to ensure that they follow safety and health standards. The GMP Manual that the Japanese volunteer and the DTI-Capiz developed will be helpful for local manufacturers to meet such standards.
Through the JICA Volunteer Program, government agencies and organizations can seek technical assistance in various development fields including agriculture, disaster risk reduction and management, support to persons with disabilities, among others. To date, 1,658 Japanese volunteers have been dispatched to the Philippines as part of JICA's development assistance.