The Japan International Cooperation Agency (JICA) reiterated its support to the Philippines' transport infrastructure development as construction for the Light Rail Transit-Line 1 (LRT-1) South (Cavite) Extension Project begins this week.
The project includes extension of LRT-1 by 11.7 kilometers up to Cavite. JICA supports the provision of new rolling stocks, rehabilitation of the existing Baclaran Depot, and construction of a new satellite depot in Zapote, Cavite using Japanese technology, and products, while the civil and station works are implemented via Public-Private Partnership. Once completed, the project will increase the capacity of LRT-1 to 800,000 passengers daily from the current 500,000.
A ceremony held this Tuesday marked the commencement of the construction for the project and unveiling of mock ups of the new train models.
A JICA Follow-Up Survey on Roadmap for Transport Infrastructure Development for Greater Capital Region in 2017 showed that traffic demand in Metro Manila has reached 13.4 million trips per day, and 5.1 million trips per day in its adjoining areas (Bulacan, Rizal, Laguna, and Cavite).
"The expansion of LRT Line 1 is part of JICA's continuing support to the Philippines' growing demand for quality mass transportation system. Improving the railway system in Metro Manila and surrounding areas will also help build the north-south transport backbone, attract more investments, and help create jobs," said JICA Philippines Chief Representative Yoshio Wada.
JICA has been supporting quality transport infrastructure in the Philippines since the '70s with 45% of its Official Development Assistance (ODA) loan portfolio channeled to improving infrastructure even in the remotest areas.
Aside from enhancing the Philippines' existing mass transit systems, JICA also supports the construction of the North-South Commuter Railway (NSCR), the first Metro Manila Subway, and the capacity building on Philippine railway management via the Philippine Railway Institute (PRI).
The JICA transport infrastructure projects are envisioning shift from road-based transport to rail-based mass transit to help ease the worsening traffic situation in Metro Manila due to rapid urbanization and population growth. Metro Manila's urban rail systems have operated since the mid-1980s (LRT Line 1, MRT Line 3, and LRT Line 2) and transport demand has increased since.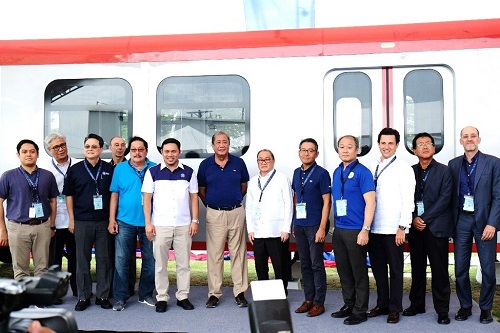 Representatives from the Department of Transportation; Department of Public Works and Highways; Light Rail Transit Authority; Light Rail Manila Corporation, Embassies of Japan, Spain, and France; JICA; and other partners at the unveiling ceremony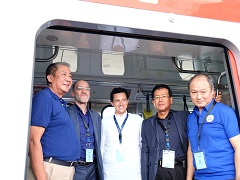 Transportation Secretary Arthur Tugade (leftmost) and JICA Philippines Chief Representative Yoshio Wada (rightmost) onboard the mock up of the fourth generation light rail vehicle (4G LRV)